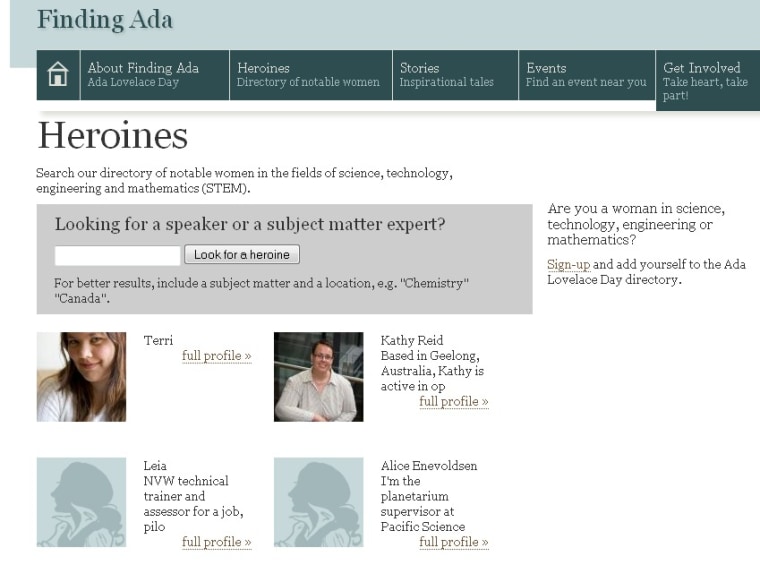 Oct. 16 is the fourth "Ada Lovelace Day," on which women  in science, tech, engineering and mathematics are celebrated for their work, whether contemporary or historical.
Ada Lovelace was a 19th-century mathematician who collaborated with Charles Babbage on his theoretical "Analytical Engine," perhaps the earliest ancestor of today's computers. Though Lovelace died at 36, her intellect and tenacity in the face of a male-dominated field have made her something of a legend.
The day to honor her began in 2009, when nearly 2,000 people pledged to blog about women in technology, using Oct. 16 as a marker. The tradition continued, growing in popularity and visibility, and is now a more general occasion on which to recognize the contributions of women in the science, tech, engineering and mathematics fields.
This year, stories and articles are being tracked at Finding Ada, a site dedicated to Ada Lovelace Day and women in scientific fields.
If you'd like to contribute, it is suggested that you highlight or tell the story of a woman, past or present, who is involved in science, tech, math, or any related field. Or you can simply browse the Web to find the stories others have posted. More information on the day and its history can be found at Finding Ada.
Devin Coldewey is a contributing writer for NBC News Digital. His personal website is coldewey.cc.