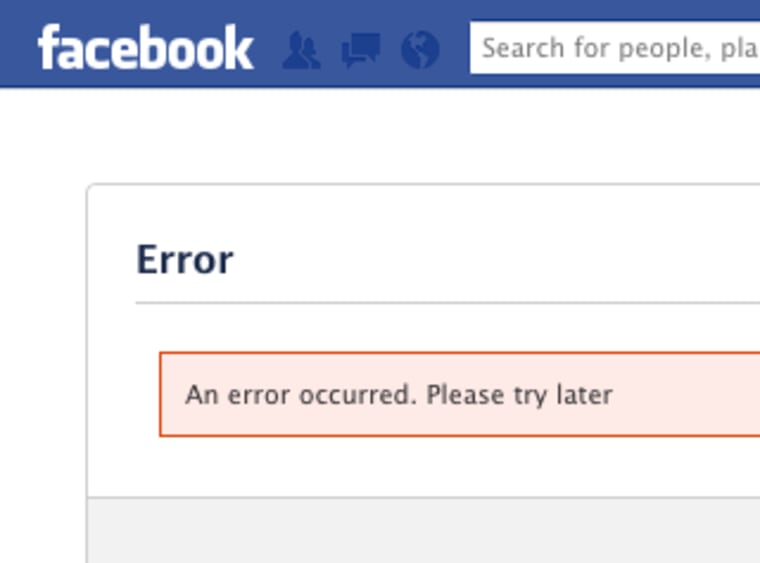 A bug with Facebook's ubiquitous embedded widgets redirected millions from the websites they were visiting to Facebook itself Thursday. It's now fixed, but for awhile, some of the largest sites in the world were inaccessible.
Visitors to such sites as CNN, The Washington Post, BuzzFeed, the Gawker network (including Gizmodo), and NBC News were instantly transferred to a Facebook error page upon loading the intended site.
Users not logged into Facebook did not get the error, which led people to conclude, correctly, that the problem was with the Facebook Connect service, which governs "likes," "comments" and other Web-based features of the social network.
Facebook declined to disclose the specifics of the error, but offered the following statement via email to NBC News:
For a short period of time, there was a bug that redirected people from third party sites with Facebook Login to Facebook.com. The issue was quickly resolved.
It was "quickly resolved" for some, at least: On NBCNews.com, the disturbance lasted for less than 15 minutes, from 4:30 to 4:42 p.m. PT. For other sites it was longer; ReadWriteWeb said the bug lasted about an hour, from 4 to 5 p.m. PT.
Those on Twitter (and Facebook, of course) jammed those sites nearly instantaneously with comments on how it was a little disturbing that Facebook could essentially hijack a large part of the Internet — even if it was unintentional.
If the error had not been fixed by Facebook in a timely manner, the affected sites would likely have be able to intervene by disabling the widgets themselves. The temporary loss of Facebook login and likes would be a small price to pay for an accessible website.
Because the outage was so widespread and public, a more thorough explanation can probably be expected from Facebook once officials there have time to take a closer look at what went wrong.
Devin Coldewey is a contributing writer for NBC News Digital. His personal website is coldewey.cc.