By John Cook, GeekWire
Google continues to hold a strong lead in the Internet search business, with two reports out this week highlighting the Mountain View, Calif., company's strong position. The latest numbers come as U.S. legislators and regulators investigate whether Google uses its dominance in Internet search to its advantage in other areas of the tech industry.
According to comScore, which released its search share ranking report on Tuesday, Google accounted for 65.3 percent of searches in the U.S. during the month of September, up slightly from August. That compares to Yahoo sites, which registered 15.5 percent, down less than 1 percent; and Microsoft sites, which registered 14.7 percent, the same as the prevous month.
(Msnbc.com is a joint venture of Microsoft and NBC Universal.)
Meanwhile, Experian Hitwise — which released its own report today — put Google's search share slightly higher at 66.1 percent. It showed Yahoo at 15.2 percent and Microsoft's Bing at 12.8 percent, both of which represented single-digit declines on a month-to-month basis.
The numbers come amid rising speculation that Yahoo may be on the auction block again. Microsoft supplies the underlying search technology for Yahoo under a partnership between the companies that was meant to give them better traction against Google.
Here's a look at the chart from comScore.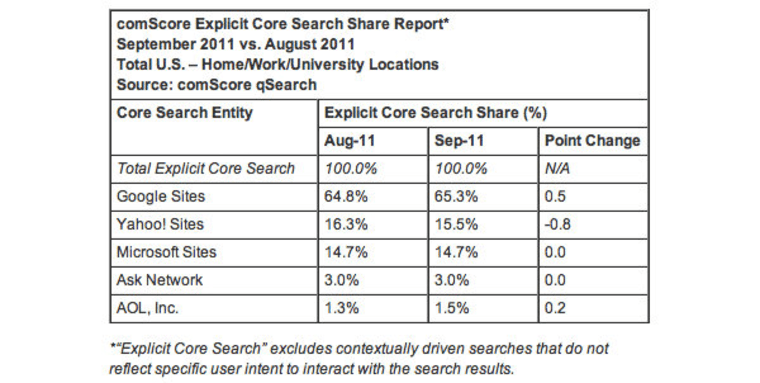 Related content on GeekWire: