Government demands for user data worldwide from Google have "increased steadily," the search giant says in a new report: "One trend has become clear: Government surveillance is on the rise."
"Government demands for user data have increased steadily since we first launched the Transparency Report," writes Dorothy Chou, Google senior policy analyst, on the company's blog about its latest "transparency report."
"In the first half of 2012, there were 20,938 inquiries from government entities around the world. Those requests were for information about 34,614 accounts."
The finding comes in the wake of revelations of government email snooping in the case of former CIA director David Petraeus and Paula Broadwell. 
U.S. government agencies continue to make the most requests for user data, Google says: 7,969 such requests in the first half of the year. Google says it complied with 90 percent of those requests.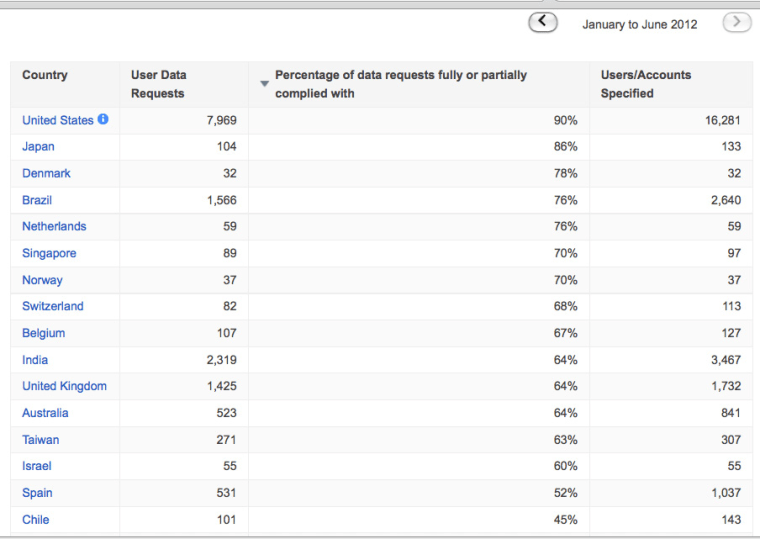 Second to the U.S. in the number of government requests for user data: India, with 2,319 requests; then, Brazil (1,566), France (1,546), Germany (1,533) and the United Kingdom (1,425):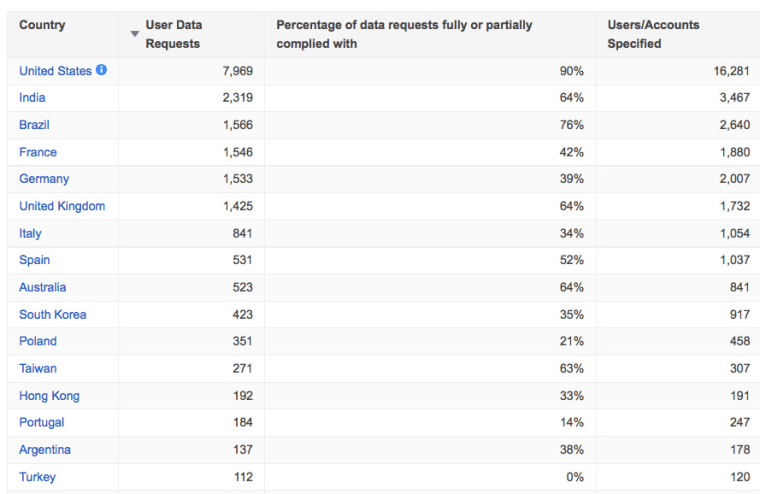 Here's Google's look at the number of government requests worldwide to turn over data it has received from 2009, when it started sharing the transparency data, to now: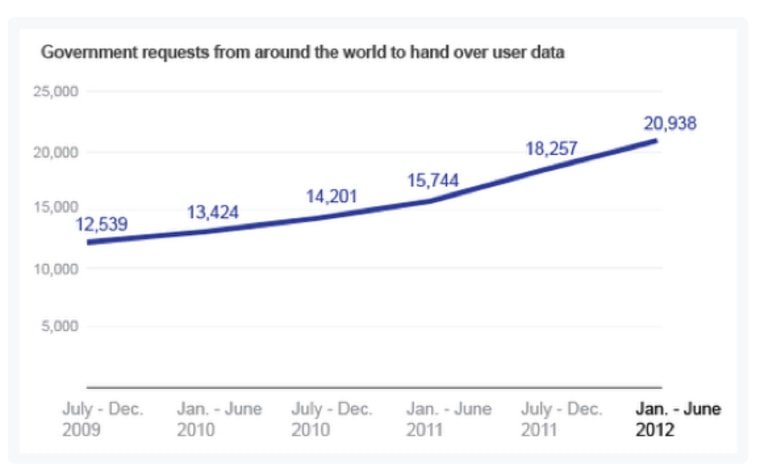 "You can see the country-by-country trends for requests to hand over user data and to remove content from our services in the Transparency Report itself, but in aggregate around the world, the numbers continue to go up," Chou wrote.
An important note to all of this, Chou adds: The information shared in the report represents "only an isolated sliver showing how governments interact with the Internet, since for the most part we don't know what requests are made of other technology or telecommunications companies."
Google, she says, is "heartened that in the past year, more companies like Dropbox, LinkedIn, Sonic.net and Twitter have begun to share their statistics too. Our hope is that over time, more data will bolster public debate about how we can best keep the Internet free and open."
Check out Technolog, Gadgetbox, Digital Life and In-Game on Facebook, and on Twitter, follow Suzanne Choney.