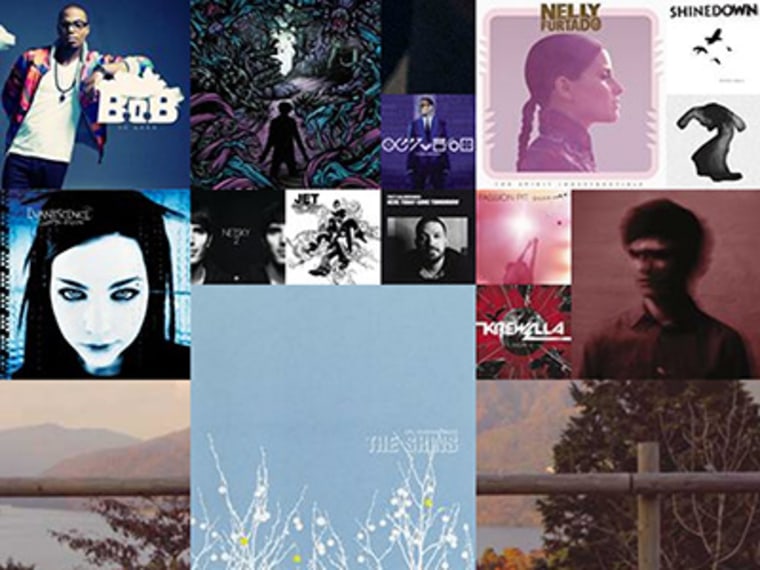 Illegal music file-sharing "declined significantly," down by 17 percent in 2012 compared to 2011, according to The NPD Group.
With more services available, such as Spotify, Last.fm and Pandora for streaming and buying music, and giant digital music retailers like Amazon and Apple, consumers have more choices than ever for getting music legally, easily and relatively cheaply.
"For the music industry, which has been battling digital piracy for over a decade, last year was a year of progress," said Russ Crupnick, NPD's senior vice president of industry analysis, in a statement about the research group's findings, part of its "Annual Music Study 2012" report.
NPD's findings come on the heels of a recent report that says music sales actually saw a small gain, 0.3 percent, in 2012 to $16.5 billion, the industry's first revenue increase in 13 years, according to the International Federation of the Phonographic Industry.
Meanwhile, a new, U.S.-based Copyright Alert System is kicking in this week to target consumers who use peer-to-peer software to illegally share music, as well as movies and TV shows. The alert system will be used by five major Internet service providers to notify a customer whose Internet address has been detected sharing files illegally.
Peer-to-peer (P2P) file sharing peaked in 2005, NPD said, when about 20 percent of Internet users ages 13 and older used P2P services, such as LimeWire (now shut down), to download music. In 2012, "that number fell to 11 percent."

P2P services are still out there, of course. But The NPD Group notes that the volume of illegally downloaded music files from P2P sites "also declined 26 percent, compared to the previous year."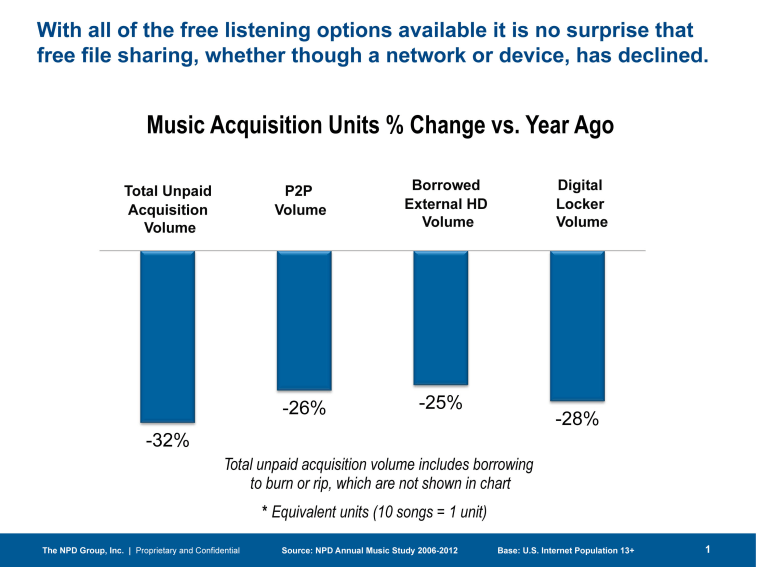 Also down: the "number of music files being burned and ripped from CDs owned by friends and family fell 44 percent, the number of files swapped from hard drives dropped 25 percent, and the volume of music downloads from digital lockers decreased 28 percent."

The NPD Group says the main reason for the reduced sharing is the "increased use of free, legal music streaming services. In fact nearly half of those who stopped or curtailed file sharing cited the use of streaming services as their primary reason for stopping or reducing their file-sharing activity."
"In recent years, we've seen less P2P activity, because the music industry has successfully used litigation to shut down Limewire and other services," said Crupnick. "Many of those who continued to use P2P services reported poor experiences, due to rampant spyware and viruses on illegal P2P sites."
NPD's research was based on 5,406 completed online surveys in the U.S., a spokesman told NBC News. The survey was done between Dec. 12, 2012 and Jan. 9, 2013.
Check out Technology, GadgetBox, Digital Life and In-Game on Facebook, and on Twitter, follow Suzanne Choney.