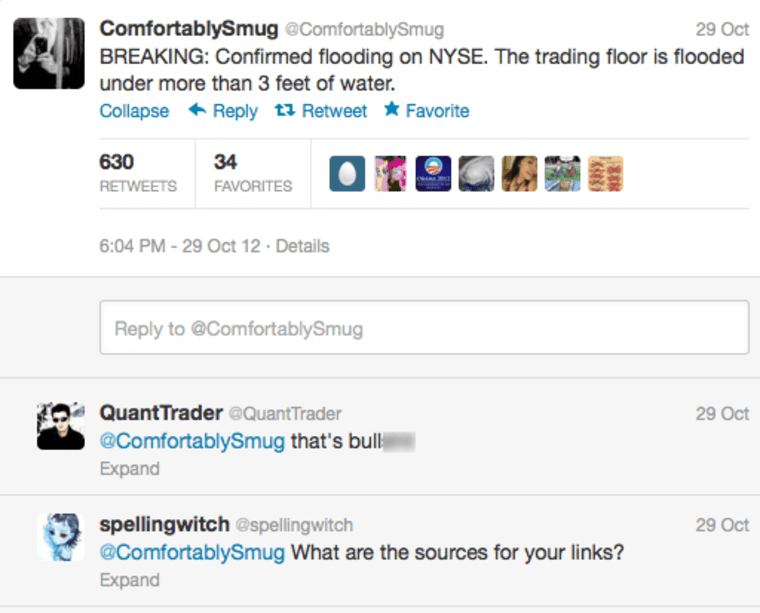 A Wall Street analyst who tweeted misinformation that was then spread by others about the New York Stock Exchange's trading floor being under more than three feet of water because of Hurricane Sandy, may face criminal charges.
The analyst, Shashank Tripathi, 29, posted the tweet during Sandy's onslaught Monday night, and it created even more panic, with more than enough real tragedy and confusion to go around as New York and New Jersey were slammed by the storm. 
Anger at Tripathi's misinformed tweet — he also had other false tweets related to Con Edison shutting down power — spurred others on Twitter to call him on his posts. His Twitter handle, "ComfortablySmug" probably did not earn him any sympathy, either.

By Tuesday evening, Tripathi took to Twitter again to apologize, admitting that "[d]uring a natural disaster that threatened the entire city, I made a series of irresponsible and inaccurate tweets," but the damage — this time, to his own reputation — had been done.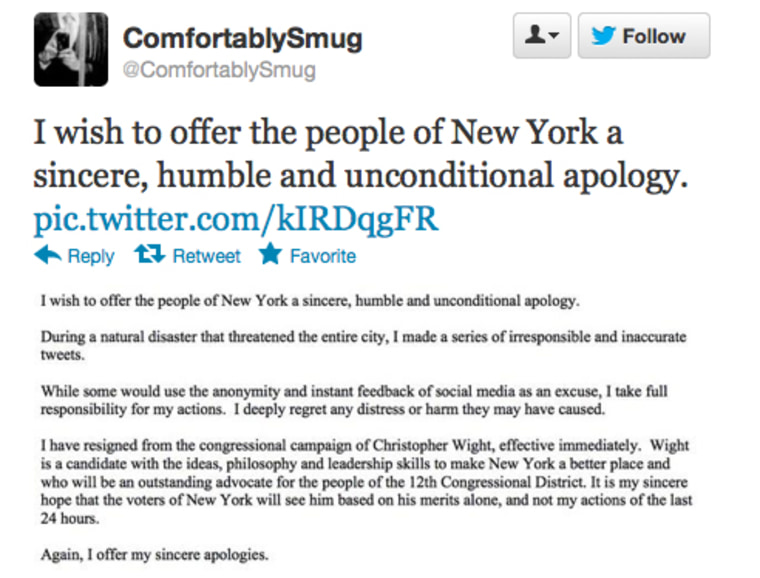 Tripathi, who was the the campaign manager for Christopher Wight, Republican candidate for Congress in New York's 12th District, resigned from that role.
The candidate, in a statement Wednesday, said, "[n]ot only are we reeling from the shock of Hurricane Sandy's destruction to our communities and surrounding areas, but I also remain shocked and disgusted by the actions of my former campaign manager, Shashank Tripathi."

Tripathi's "actions were all the more distressing, occurring as they did, in the midst of Monday's disastrous weather — during a time when no one was truly safe," Wight said in the statement.
"I learned from online reports yesterday, just as others did, that Shashank had been spreading false information from a personal and anonymous Twitter account. While he had been with my campaign for seven months, I had no indication that he was capable of the type of behavior he exhibited."

New York City Councilman Peter F. Vallone Jr., in an interview with BuzzFeed, said he has asked the District Attorney's office to see whether charges can be filed against Tripathi. The basis of the charges would need to be that the tweets were sent on purpose to fool the public, "with no legit basis for the tweets themselves," Vallone told BuzzFeed. And that may be difficult to prove.
Still, he said, "I hope the fact that I'm asking for criminal charges to be seriously considered will make him much less comfortable and much less smug."
NBC News has asked for Vallone for further comment, and also contacted Twitter to see if the site plans to take any action against Tripathi. We've also asked the ACLU to comment on the possibility of such a case succeeding. We will update this post when we hear back.
Certainly, it's not the first time Twitter has been used to spread misinformation. Perhaps one of the more well-known cases is Kim Kardashian, who with 14 million followers, tweeted last January: "Did I just hear that Cher has passed away? Is this real? OMG." 
But the gravity of Hurricane Sandy, its impact, the confusion that reigned — and still reigns as those in New York and New Jersey struggle to get back to "normalcy" — may make a case against Tripathi a tempting possibility, for no other reason than to make an example of his misdeeds. 
Check out Technolog, Gadgetbox, Digital Life and In-Game on Facebook, and on Twitter, follow Suzanne Choney.