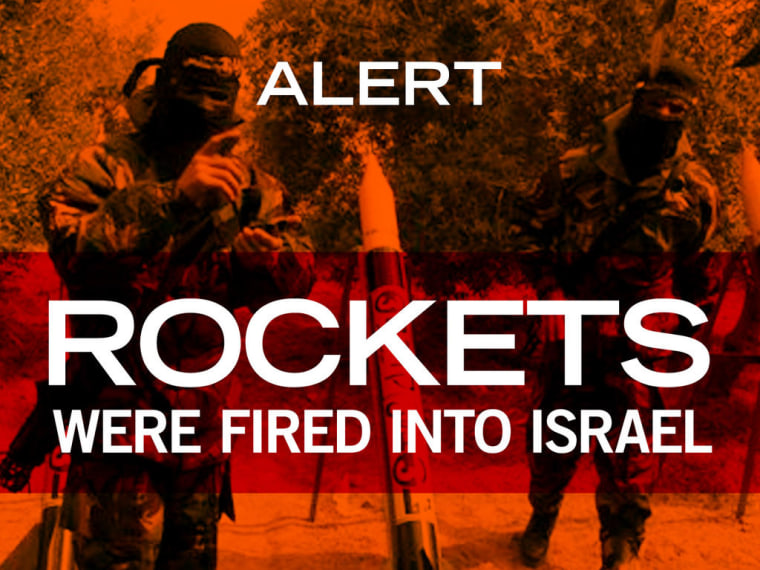 As Israeli and Palestinian forces clash in Gaza this week, those same armies are engaging in a real-time battle of hashtags and twitpics, trying to win the hearts and minds of watchers around the globe.
Propaganda used to be about full-color posters and dropping leaflets from airplanes. Now, the Israel Defense Forces and the Hamas military Al Qassam Brigades are taking to Twitter, Facebook, YouTube and Flickr, instantly sharing photos, videos and granular news bites in English, so that they can reach the broadest possible audience.
"What is happening here is that both Israel and Hamas are using social media to communicate over to the other side in the conflict and the broader international community," Charles Ries, former ambassador to Greece and vice president of the international division of the RAND Corporation, told NBC News.
"Both sides immediately appeal to world opinion to make the case that the other side was depriving it of human rights," Ries said.
What's ironic about the Twitter activity is how, on these occasions, the two accounts reply and retweet each other, even though they are run by sworn enemies. Mediators have been unable to get them to talk to each other directly in the real world.

On Wednesday, Israel announced its attack on Gaza via the @IDFSpokesperson Twitter account, saying, "The IDF has begun a widespread campaign on terror sites & operatives in the #Gaza Strip, chief among them #Hamas & Islamic Jihad targets." The action, labeled #PillarOfDefense, had two main goals, according to the Twitter feed. "To protect Israeli civilians and to cripple the terrorist infrastructure in the #Gaza Strip." At the same time, the group launched a blog that it would live-update as well.
Though many of the IDF's early tweets present arguments in support of the military actions, and notified of strikes including a hit on Al Qassam leader Ahmed Al-Jabari, one tweet addressed the rest of Hamas directly:
We recommend that no Hamas operatives, whether low level or senior leaders, show their faces above ground in the days ahead.
Across the frontier in Gaza, a Twitter feed representing Al Qassam presented the other side of the story, quickly seizing on the #GazaUnderAttack hashtag to rally social-media supporters. It confirmed the death of Al-Jabari and other casualties, announced that the group was shelling Israeli military bases, and then directed its own threat to Israel — by way of @IDFSpokesperson:
@idfspokesperson Our blessed hands will reach your leaders and soldiers wherever they are (You Opened Hell Gates on Yourselves)
The tweets continued throughout Wednesday and Thursday, and as violence escalated, the IDF and Israeli tweeters picked up the #IsraelUnderFire hashtag. 

But reams of scrolling text is not the point of these campaigns. The true impact comes when you click a link. A 10-second video of an IDF assassination of a Hamas military leader was viewed hundreds of thousands of times, despite a brief — and accidental — takedown by YouTube. A link to a photo of a dead baby makes the nightmare real like no Life magazine spread ever could, mostly because it was delivered overnight.
Many observers have noted that these two Twitter accounts have served up information more quickly than mainstream news outlets. However, the content in the tweets show that while propaganda may be confused with news, it is not news.

"There have been cases of falsified video or video and pictures that are stripped of context and posted on YouTube or Instagram or Flickr," Neal Ungerleider, a former Middle East correspondent who reports on the intersection of defense and technology, told NBC News. "You can't identify where it came from and that's a big issue right now."
A link to one of the Al Qassam feed's most horrific images appeared with no attribution or accompanying text. Sharp-eyed Twittizens quickly noted that the horrific image was first published in October — and came from Syria.
The IDF, for its part, has turned propaganda postering into a real-time affair. In its stream of Twitter images — along with a press shot of army officers departing from a helicopter — are a full-color illustration of a family in the crosshairs ("Israeli civilians are Hamas' target") and an all-caps "ALERT" saying that "rockets were fired into Israel."
As many tech publications have noted, social media companies that are quick to yank hate speech and inappropriate content posted by American 15-year-olds aren't censoring videos, images — and even threats — coming from these governments, even if they breach the terms of service. (An excellent look at this conundrum was presented by Joseph L. Flatley in The Verge.)

Whatever the ramifications for Twitter, YouTube and the rest, it's clear that the battling armies benefit from this new level playing field. For example, the Israeli ambassador to the U.S. has been making rounds of media outlets, but the same airtime is rarely given to a Hamas spokesman. In the cyber world, the two don't necessarily need traditional media to make their points.
Media-savvy Israel may gain traction as well, said Michael Makovsky, foreign policy director of the Bipartisan Policy Center. "My guess is that the Israelis also would find it effective to skirt traditional media and to get the message out unfiltered," Makovsky told NBC News. "There might be a view that historically the Israelis haven't always gotten a fair shake from mainstream media around the world."
It's not the first time this sort of thing has happened — Ungerleider cites the tension between the Kenyan army and the Islamic Al-Shabaab group in Somalia that occasionally surfaces on social media — but it is the biggest example yet of an increasing trend. 
With all of the social-media chatter, it can be hard for those located thousands of miles from the Middle East to remember that there's a real war on.

Ungerleider, who now writes for Fast Company, and lived in southern Israel at the time of the last Gaza conflict in 2009, recommends looking past the propaganda and connecting with civilians, many of whom are also posting using the #GazaUnderAttack and #IsraelUnderFire hashtags. 
"For ordinary Americans trying to make sense of the conflict, look at the civilians who don't have agendas, showing themselves running down stairs to a shelter," he told NBC News. "They're just talking about life during wartime."

— With reporting from NBC News' Ayman Mohyeldin in Gaza and Suzanne Choney
Wilson Rothman is the Technology & Science editor at NBC News Digital. Catch up with him on Twitter at @wjrothman, and join our conversation on Facebook.