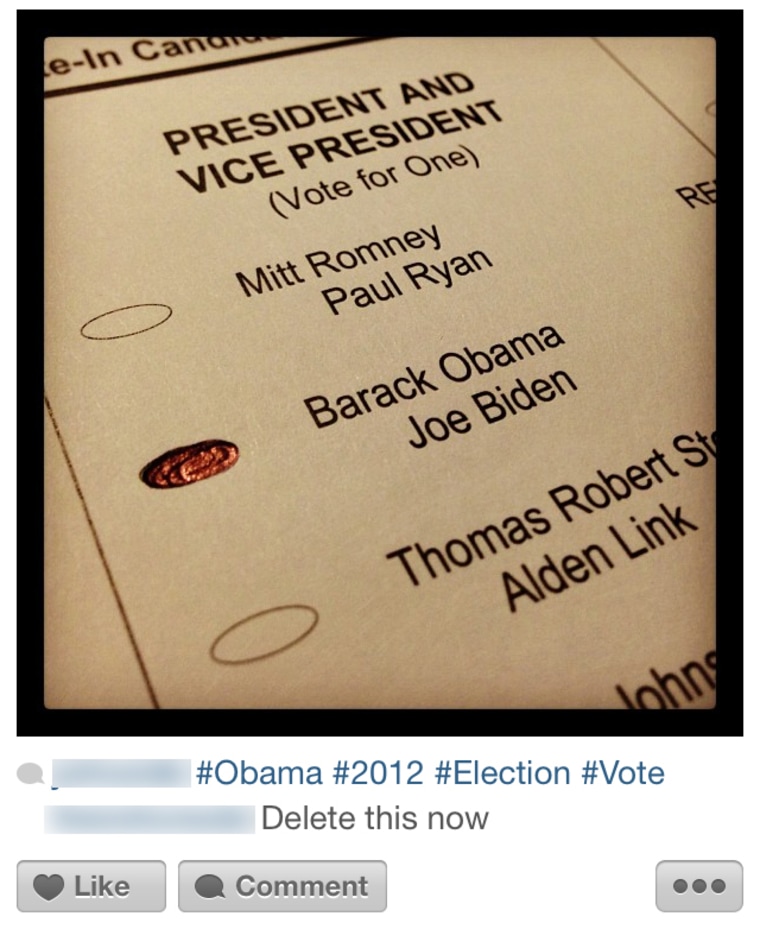 No matter how enthusiastic you are about your candidate or your right to vote, before you put a photo of your ballot online, check to make sure what you're doing is not illegal.
That's right; illegal. That means tweeting a photo of your ballot, showing it on Instagram or Facebook or on other sites could lead to your being prosecuted. That hasn't stopped scads of voters from doing it anyway Tuesday. 
The Citizen Media Law Project at Harvard University's Berkman Center for Internet & Society posted a chart showing how all 50 states handle this kind of activity, as outdated as it may seem in the age of social media and oversharing.
"We did not publish this information to discourage anyone from trying to exercise their First Amendment rights," Jeff Hermes, attorney and director of the Citizen Media Law Project, told NBC News.
"But there are special rules that apply in the very unique environment of the polling place, and activities that are generally allowed elsewhere, even involving political speech, run into special limitations when you're talking about voting."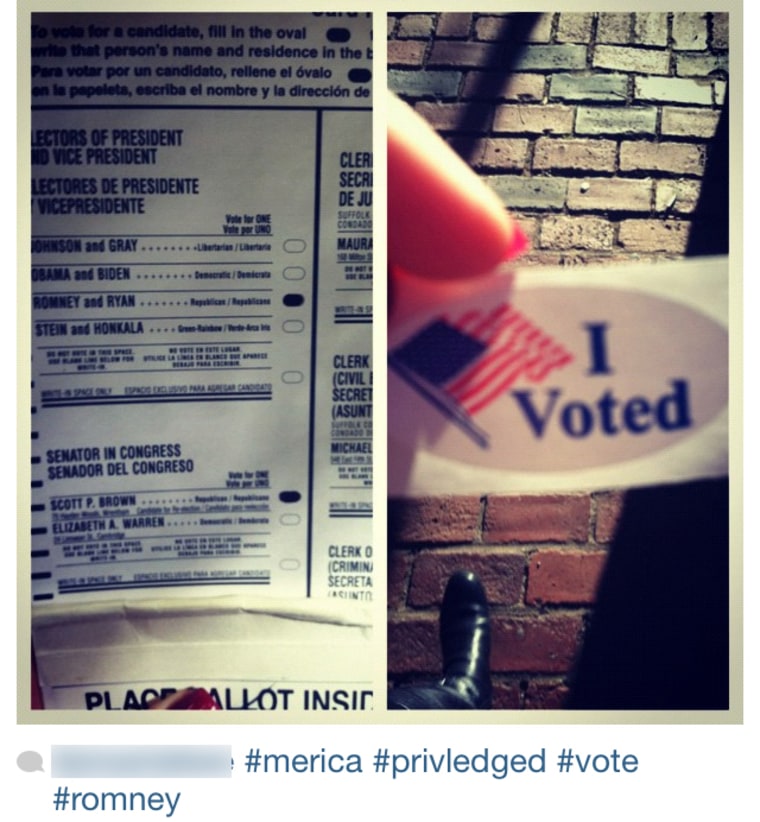 The reasoning behind it is to "prevent bribery and vote purchasing," Hermes said. "When you think of it in that context, the reasons might be more clear to people."
Pete Williams, NBC News Justice Department correspondent, reported that the laws banning and restricting photography are "from a bygone era before the ubiquity of cellphone cameras and social media," and that they were passed "to prevent employers or union bosses from pressuring people to vote in a certain way and demanding proof of it."
Also read: Fox News' Sean Hannity may have broken law with ballot tweet
Around the country Tuesday, secretaries of state in several states issued statements warning voters to knock off the social media photos of ballots.

In Florida, a spokesman for the Secretary of State's office there took to Twitter to warn voters not to post photos of their completed ballots. Among them, Chris Cate, spokesman for the Florida Secretary of State, who urged voters to "resist your social media urges."
Kay Stimson, communications and special projects director of the National Association of Secretaries of State, a professional organization for secretaries of states around the country, told NBC News, it's not just about photographing ballots; it's about displaying them.
"Note that the (Citizen Media Law Project) chart documenting one's vote shows that while most states do not expressly prohibit recording/photography inside of polling sites, the majority of states do prohibit the public display of marked ballots," she said. "The states that do have such laws have adopted them to prevent vote buying and voter coercion."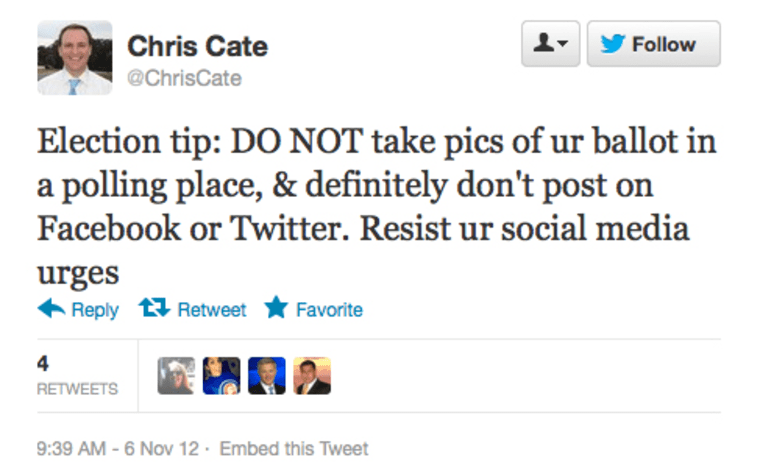 Additionally, she said, "it is important to respect the integrity of the voting process. States generally prohibit any form of conduct that serves to intimidate voters, interferes with their right to exercise their vote, or disrupts voting."
One thing that will not — and we emphasize not — happen if you post a ballot photo online is that your vote will be invalidated. Some troublemakers or, at best, well-meaning but misinformed types, are posting that on Twitter and other sites. Again, you may be prosecuted, but your vote will still count.
How likely is it that someone would be prosecuted for slapping up a photo of their ballot?
Hermes, of the Citizen Media Law Project, said that in states where disclosing, or photographing, your own ballot is a misdemeanor, "it is possible, albeit unlikely, that a person could be arrested. This is a situation where enforcement would be at the discretion of the police and public prosecutors. I hope that those enforcing the law would be reasonable, and not prosecute those engaged in mere discussion of their voting experience."
Hermes thinks the laws could evolve. He hopes "today's discussion of these laws would encourage state legislatures to reconsider statutes that, by their terms, could be interpreted to the mere sharing of photos online," he told NBC News.
"We have seen certain ballot disclosure laws that are limited to disclosures within the polling place or disclosures prior to deposit of a ballot in the ballot box. These kinds of laws seem more reasonably tailored to the interests at stake, and do not implicate a broad array of basically innocent activity."
— via Gizmodo
Check out Technolog, Gadgetbox, Digital Life and In-Game on Facebook, and on Twitter, follow Suzanne Choney.