Being "the front page of the Internet" comes with power, and Redditors have often, if not a bit spontaneously, channeled that power for fundraising.
Among their good deeds: giving a bullied senior citizen bus monitor a $700,000 vacation budget, scrounging up $31,000 overnight to help a three-year-old who needed a bone marrow transplant, and contributing more than $180,000 to Haiti earthquake relief efforts.
Now, for the first time, Reddit users will be able to execute some of these fundraisers within Reddit-branded pages.
Starting today, managers of the site's topic pages, or Subreddits, can opt to accept donations to specific nonprofits by installing new "Donate" buttons on their Subreddit pages. The TwoXChromosomes Subreddit, for instance, will add a button to support She's the First, an organization that supports girls' education in the developing world.
The buttons and the donation system they're attached to, Reddit Donate, were developed by payment startup Dwolla in partnership with another payment startup called Stripe. It will launch with 12 nonprofit partners, including Kiva, Charity: Water, and DonorsChoose.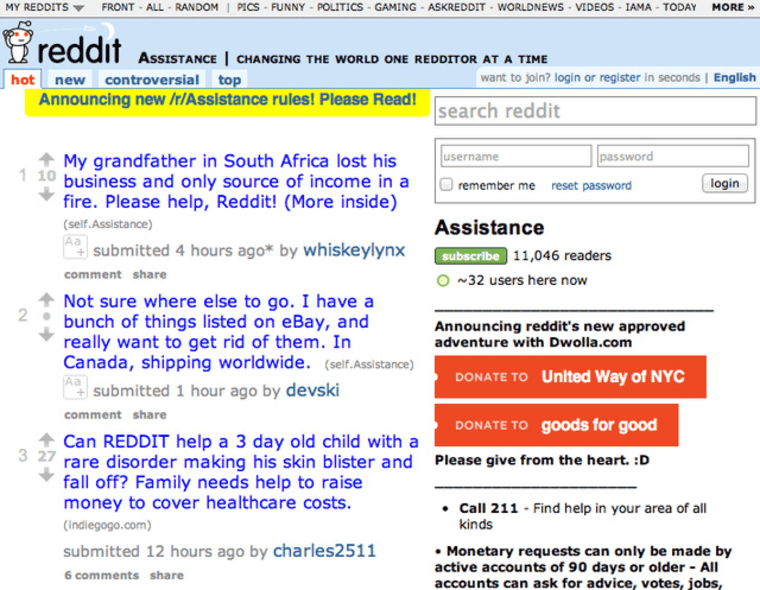 Many Subreddits are already active fundraisers. The atheism Subreddit, for instance, helped raise more than $200,000 for Doctors Without Boarders by directing traffic to a third-party fundraising page.
Without a Reddit tool for accepting donations, most fundraising Redditors have, like the athiest group, pointed each other to crowd funding sites such as Indiegogo, independent funding sites, and custom landing pages on charities' websites to contribute.
At times it can be unclear, however, where the money is actually going. Money raised for the bullied bus monitor's vacation, for instance, was collected on an Indiegogo page that was not set up in her name, but a Redditor's name. If a less scrupulous person had created the page, the story may have lost its happy ending.
"We want to protect our community, and for it to know that if it donates $100, that it's going to the right person and not to various fees," Erik Martin, the general manager of Reddit, tells Fast Company.
Dwolla removes credit card numbers from transactions--and with them a handful of third-party financial-service providers–-and thus is able to charge an impressively low fee of $.25 for transactions more than $10 (transactions involving less than that are free). Money travels directly from donors' bank accounts to nonprofits' bank accounts. Stripe keeps the credit card in the process and charges 2.9% plus 30 cents per transaction.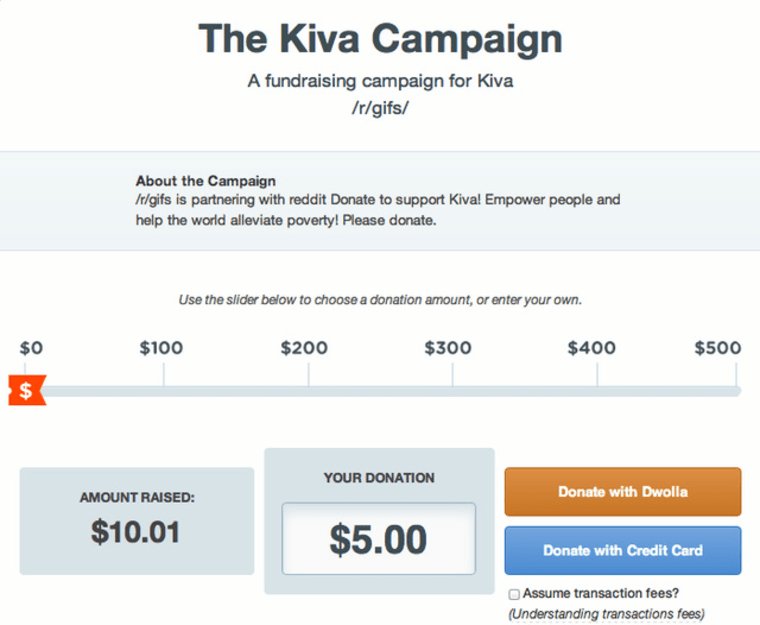 Reddit has taken other steps to support charitable efforts initiated in its site, but none so significant.
Earlier this month, the site named Crowdtilt its official fundraising partner. A newly-launched startup, Crowdtilt enables anyone to raise money for any kind of project, and it promised Reddit to wave fees and verify that donated money ends up where it is intended.
It's difficult to verify how organizations that aren't registered nonprofits are spending their money, so the Dwolla and Stripe button only applies to nonprofit partners for now. That leaves out the individual-specific causes Reddit is famous for supporting.
Ben Milne, the CEO of Dwolla, tells Fast Company that if Redditors embrace it, there's likely room for the project to evolve. For now, the new feature formalizes a giving habit that has already become part of Reddit's reputation.
"It's just like anyone could always raise money for their project," says Milne, "but it got way easier when Kickstarter launched."