Tablets will become the "preferred, primary device for millions of people around the world" by 2016, as not only consumers, but businesses gravitate toward convenience over computing power, according to a new report from Forrester Research.

"There will still be lots of personal computers sold and in use — in fact our casual estimate is that there will be 2 billion PCs in use by 2016, despite growing tablet sales," said Frank Gillett, a Forrester analyst who focuses on predicting future scenarios, on his company's blog.
Gillett's comments are part of a larger report, "Tablets Will Rule The Future Personal Computing Landscape," which says that because of the "compelling user experience" of tablets like the iPad, Kindle Fire and other similar devices that worldwide, table sales will "continue to grow sharply over the next five years."
"We forecast sales rising from 56 million in 2011 to 375 million in 2016," Gillett said. "Given that a majority of tablets will be retired within three years of purchase, we forecast that there will be 760 million tablets in use globally by 2016. One-third of these tablets will be purchased by businesses, and emerging markets will drive about 40 percent of sales."
While tablets "aren't the most powerful computing gadgets ... they are the most convenient," he wrote. "They have longer battery life and always-on capabilities better than any PC — and will continue to be better at that than any ultrathin/book/Air laptop. That makes them very handy for carrying around and using frequently, casually, and intermittently even where there isn't a flat surface or a chair on which to use a laptop."
In the workplace, tablets are also "better for sharing and working in groups. There's no barrier of a vertical screen, no distracting keyboard clatter, and it just feels natural to pass over a tablet, like a piece of paper, compared to spinning around a laptop," he said.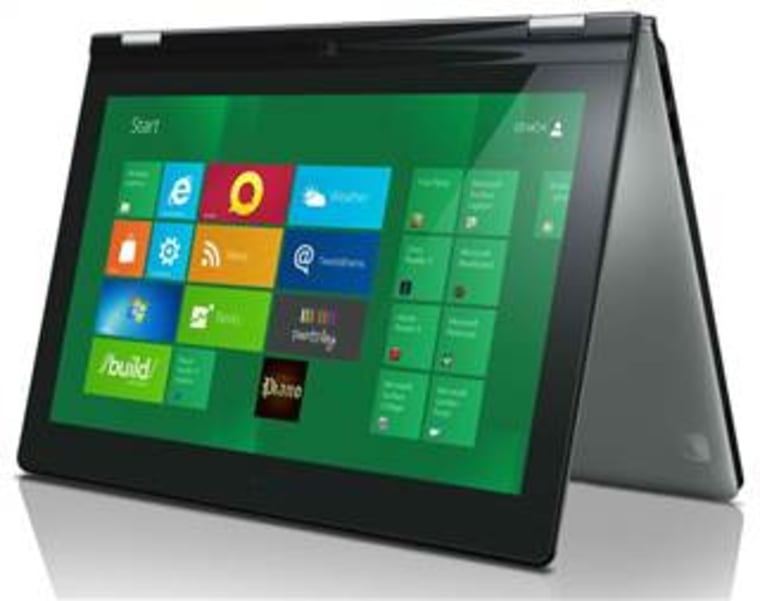 Tablets appear to be more of a threat to the laptop industry than to the desktop one. "Our casual estimate is that there will be 2 billion PCs in use by 2016, despite growing tablet sales," says Gillett. "That's because tablets only partially cannibalize PCs. Eventually tablets will slow laptop sales but increase sales of desktop PCs. That's because many people, especially information workers, will still need conventional PCs for any intensely creative work at a desk that requires a large display or significant processing power."
"Hybrid" devices — combo tablet-laptops, like the Lenovo Yoga — or those that will include a keyboard — "qualify" as a tablet, in Gillett's eyes, although not in Apple CEO Tim Cook's.

(Cook said Tuesday, "You can converge a toaster and a refrigerator, but those things are probably not going to be pleasing to the user.")
Some who have read Gillett's posting are taking a you'll-have-to-pry-my-laptop-from-my-cold-dead-hands stance, and Gillett says he understands.
"I agree that laptops are still preferred today, if you had to pick one device," he notes. But he is firm in believing that preference "will flip in the next few years. Tablets will get good enough at many, but not all creation tasks — plus they'll become so important and convenient for every day use and consumption, that they become an individual's primary device."
Check out Technolog, Gadgetbox, Digital Life and In-Game on Facebook, and on Twitter, follow Suzanne Choney.