Twitter says it turns over user data to government agencies in the U.S. in 69 percent of the requests made for such information, according to a new transparency report released by the microblogging site.
"It's our continued hope that providing greater insights into this information helps in at least two ways: first, to raise public awareness about these invasive requests; second, to enable policy makers to make more informed decisions," writes Jeremy Kessel, Twitter's manager of legal policy, on the site's blog Monday. 
Last year, 81 percent "of all information requests we received worldwide originated from the U.S.," Kessel said.
In 2012 in the U.S., there were 815 "user information requests" about 1,145 Twitter user accounts, and for 69 percent of those requests "some or all information" was given to the agencies. The majority of the "requests" — 60 percent — were subpoenas, 19 percent were search warrants and 11 percent were court orders for the information.

Another 10 percent are requests are from law enforcement agencies that aren't in any of the categories above, but might be "exigent emergency disclosure requests and other requests received for user information without valid legal process," Twitter says in its transparency report.

When Twitter gets such requests, it notifies affected users about them, "unless we're prohibited by law."
And when requests for information are not complied with, it's because Twitter "may seek to narrow requests that are overly broad," or fail to identify a Twitter account. "In other cases, users may have challenged the requests after we've notified them."
(You can see here how the U.S. stacks up against other countries when it comes to requests for Twitter user information, but no other country even comes close.)

Google, which has been doing transparency reports longer than Twitter, is comparable in terms of the user data turned over to government agencies, about 66 percent, as of Dec. 31, 2012.
This is Twitter's second transparency report. Its first was issued last July, and at that time, Kessel wrote, "We've received more government requests in the first half of 2012 ... than in the entirety of 2011."
Twitter also shared the number of requests to take-down tweets that allegedly violate the Digital Millennium Copyright Act. There were 3,268 such requests in 2012; Twitter complied in 53 percent of the cases: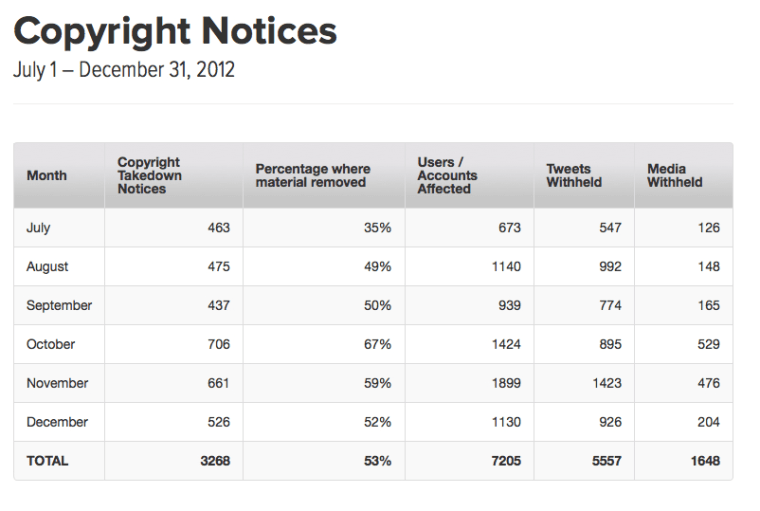 Twitter says that it "may not comply with with every request" for several reasons, including "takedown notices that fail to provide sufficient information for us to locate material on Twitter." 
The site also gets a "large number of misfiled, non-copyright complaints" through its Web form.
"Over the course of 2012, we saw a steady increase in government requests (with a slight decline in copyright takedown notices)," Twitter said in its report, which should serve as a warning of sorts to those using the social media site. "All signs suggest that these government inquiries will continue to climb into the foreseeable future."
Check out Technology, GadgetBox, Digital Life and InGame on Facebook, and on Twitter, follow Suzanne Choney.