A new startup, Watsi, aims to help the impoverished sick worldwide by funding their medical bills with many small, combined donations. The site shows those who are sick and describes their needs and the associated costs with their care; visitors can donate any amount they want.
In 2010, Chase Adam, founder of the site, was passing through a town in Costa Rica called Watsi when a woman boarded the bus he was on, soliciting donations for her son's medical treatment. Such pleas are far from uncommon (and occasionally fraudulent), but she inspired Adam to create a site where such needs can be addressed by exposing them to thousands of potential donors, instead of just the passengers of a rural bus line who may too be needy.
Since then, Watsi has come together in Chase and his collaborators' spare time. It presents visitors with pictures and summaries of the cases provided to them by their health care partners around the world. While other charity sites allow a person to donate towards a shared goal or good, like providing a village with water, Watsi is all about highlighting single, solvable problems.
"I'm really big on focusing on individual stories," Adam told NBC News. "We dont want to have this huge marketplace of profiles."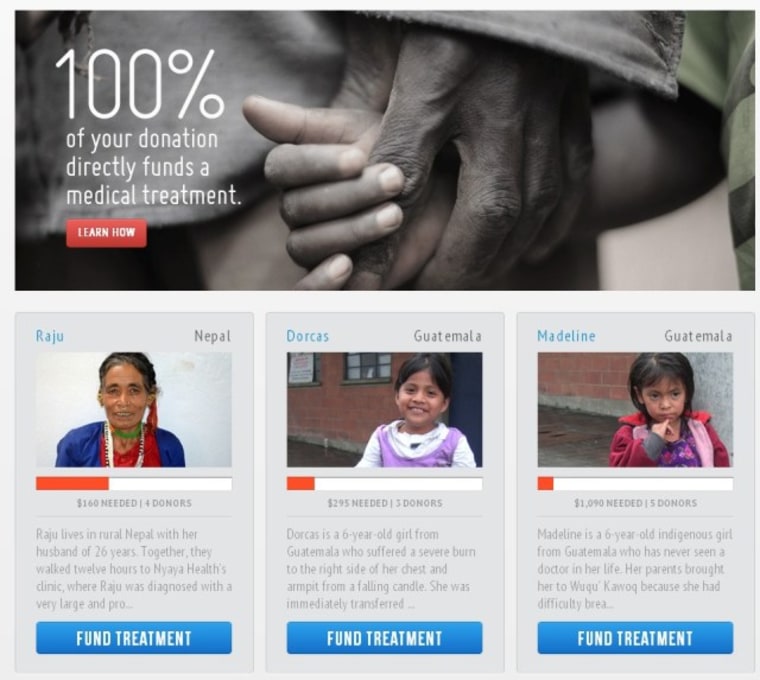 The site went public on Friday with its first batch of cases: patients in Ethiopia, Nepal and Guatemala who needed help paying medical bills. For instance, 6-year-old Madeline needed surgery to correct a congenital heart disease, and 24-year-old Neera needs skin grafts after being burned during a seizure. Donation is accomplished via PayPal; the payment company's fees are included in the total treatment cost.
(Disclosure: I personally donated $20 through Watsi during my research for this article, in part to see how the process worked.)
The few profiles Watsi put up Friday were almost instantly covered in full by donations, and over the weekend, more than a dozen procedures were funded, totaling more than $11,000. The team is working with their health care partners to get more profiles ready.
Costs for procedures are kept low by several means: Watsi works with providers and doctors who can donate time or materials, overhead costs are kept to a minimum, and medical bills are lower than they would be in the U.S.
An understandable concern in potential donors is how they can know their money really is going to a needy child in Nepal and not some expensive office space or company car. Inefficient or outright fake charities are a real problem, which is why organizations like Charity Navigator and GiveWell examine such groups' financials and publish unbiased analyses.

Charity Navigator's Sandra Miniutti told NBC News that it's too early make any kind of serious determination about Watsi (the tax documents they would examine won't be filed for some time), but said that it sounds like the organization is "saying all the right things," and there doesn't appear to be any reason to distrust them.
Watsi's founder shared documents showing that the company is registered as a nonprofit in California, and said the IRS would be confirming federal nonprofit status this week, making all donations tax-deductible. They are also keeping a tally of donations, medical providers and transactions in this public spreadsheet on Google Docs.
Not only has the site been built in the creators' spare time, but it was done on a volunteer basis, Adam said. Watsi has received around $17,000 from private donors for operational fees over the last year, but Adam says very little of that has been used. The site as launched had the "minimum viable features," and the creators plan on adding not only more patients, but other means of support: funding medications, rehabilitation, and other parts of the treatment process that can be just as costly as the procedure itself.
Adam also envisions an "ambassador" program, whereby more expensive or needy cases could be "adopted" by an individual or organization and promoted around the Web. And he suggests that a separate but similar site could be established for U.S.-based patients.
Watsi isn't the only company doing crowd-funding this way. Sites like HelpersUnite, Charity Water and Kiva leverage the ease of transferring funds over the Internet to encourage small-scale giving. 
But, as Adam puts it, "There are a billion plus people in the world without access to medical care." Far more than enough for a few small charities to share and even collaborate on. If they do end up competing, he says, the result will simply be better quality services for everyone involved.
Devin Coldewey is a contributing writer for NBC News Digital. His personal website is coldewey.cc.