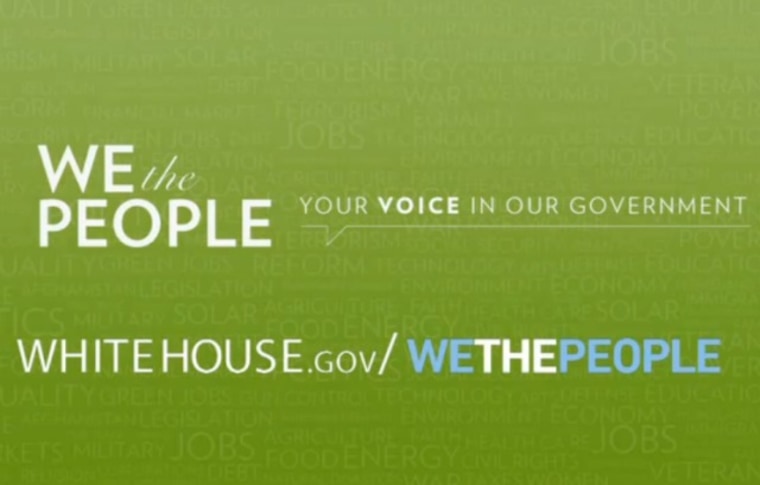 "We the People," the White House's official online petitioning platform, has raised the number of signatures required for a response from the administration from 25,000 to 100,000, citing huge increases in both users and petitions.
Macon Phillips, director of digital strategy for the White House, described the change in a blog post, saying the "good problem" of having more users than expected was "getting better."
Petitions originally required 5,000 signatures when "We the People" started in 2011, but after the site grew, 25,000 became the new threshold. Now that bar has been raised again — although petitions already underway as of Wednesday, such as the one to remove the federal prosecutor in the Aaron Swarz case, will only require the original 25,000 for White House review.
The burst in activity has been of mixed character: Petitions range from the reasonable ("Finalize Standards for Gluten-Free Labeling") to the questionable ("Restrict pay for all Senators and Congress to $75,000 for a period of 3 years to repay the National deficit") to the absurd ("Secure resources and funding, and begin construction of a Death Star by 2016"). All three of those petitions have more than enough signatures to warrant a response, though so far only the Death Star one has actually received one.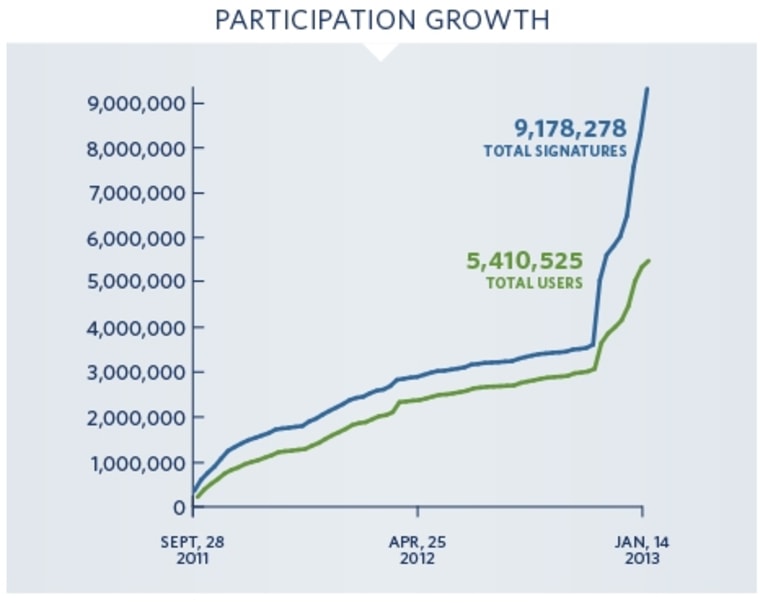 At this moment, just under 40 petitions are past the 25,000-signature mark and await comment, and dozens more could garner that many before expiring. This high success rate is arguably as much attributable to the higher user count as it is to greater political involvement; it used to take three weeks to get that many signatures, and now most take less than five days.
Getting 100,000 signatures will be more difficult, of course, but far from impossible. The top petition, "Legally recognize Westboro Baptist Church as a hate group," has 321,646 signatures as of this writing, and four analogous petitions add up to about 250,000 more, putting the total for this issue well above half a million.
Some more engagement statistics and news (the "We the People" code is now open source, for instance) can be found at the White House blog post.
Devin Coldewey is a contributing writer for NBCNews Digital. His personal website is coldewey.cc.