Wireless carriers get their monthly take from you, but they're cashing in on you in other ways, too — unless you tell them otherwise: Carriers sell information about your mobile Web searches and other data to marketing companies. 
The good news is, you can easily opt out of providing such info. The bad news is, it's mostly up to you to do so — no action on your part generally means they're sharing your info. To fix this, you go online to your account, and change your privacy settings. If you haven't looked at them in awhile — or ever — today's a good day to start.

Bryan Clark on App.net was upset when he posted a day ago that "new Verizon customers like us have 30 days to opt-out from them selling your Web history and device location to marketers."
Verizon Wireless told NBC News Wednesday that's not completely accurate. 
"Our customers can change their privacy preferences at any time," said a company spokeswoman. "The 30-day window is essentially the initial time frame so customers can read and look at their options, but again, they can change them any time through MyVerizon."

The carrier also wants customers to know that "there are several different programs" it uses for information sharing, if allowed by the subscriber, including a recent program called Precision Market Insights, announced by Verizon Oct. 1.
"Information for Precision is anonymous and aggregated, and not personally identifiable," the Verizon spokeswoman said. "Customers can opt out at any time."
A quick check of my own privacy settings with Verizon for a smartphone and a mobile hot spot (below) showed I was letting them collect information, including location-based services info, because I had not chosen to opt out by selecting "Don't Share My CPNI" (Customer Proprietary Network Information):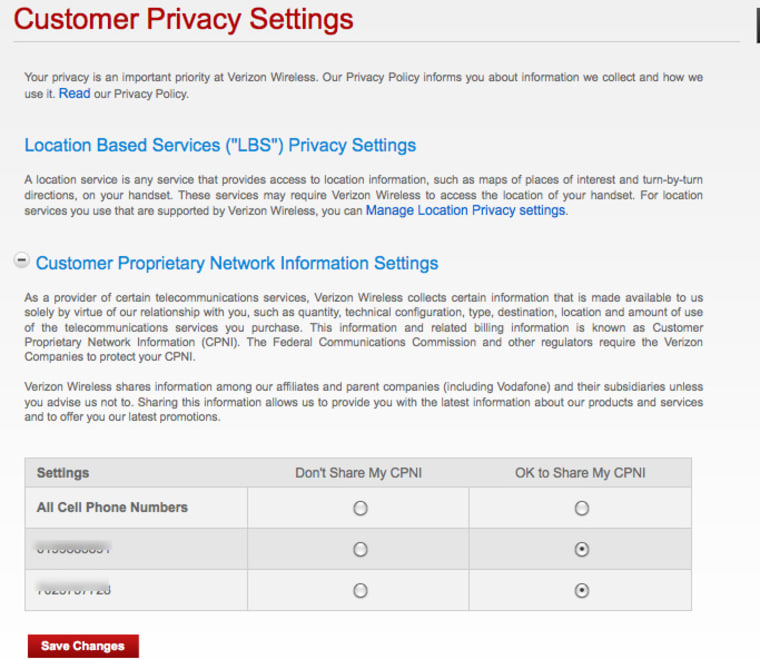 "CPNI is not new," said the Verizon Wireless spokeswoman. "There are FCC rules about it (and we comply)."
Indeed, the statement by Verizon under CPNI says:
As a provider of certain telecommunications services, Verizon Wireless collects certain information that is made available to us solely by virtue of our relationship with you, such as quantity, technical configuration, type, destination, location and amount of use of the telecommunications services you purchase. This information and related billing information is known as Customer Proprietary Network Information (CPNI). The Federal Communications Commission and other regulators require the Verizon Companies to protect your CPNI.
Still, customers need to take the trouble to find their way to opt out of sharing information. In the case of Verizon Wireless, go to Verizon Wireless online and sign into your account. Scroll down to "I want to ..." and beneath those words you'll see options for "bill" "plan" "device" "profile." Under "profile," choose "Manage privacy settings." That's where you'll find the above check boxes to change. (Be sure to hit "Save changes" when you're done.)
"Sadly, it's just another case of companies failing to respect the preferences of users in an effort to undermine their privacy and monetize their data," Parker Higgins of the Electronic Frontier Foundation told NBC News. "While it's a minor reassurance that this data appears to be anonymized and aggregated, these companies still ought to get a meaningful opt-in from their users."
Verizon Wireless is not alone in data collection, of course. NBC News contacted the other major carriers to find out how they handle it.

A Sprint spokeswoman told NBC News that "much like programs of other carriers," its "research and analytics program combines anonymous Mobile Usage Information and Consumer Information to prepare business and marketing reports that we may share with others.
"We may produce or allow others to produce limited business and marketing reports with this data. Business and marketing reports contain information about groups or categories of Sprint customers.  These reports do not identify customers personally."
Customers, she said, can opt out "at any time" by signing into their Sprint account online and going to "My Choices," or by calling 855-596-2397 from their mobile devices. 
Updated at 5:50 p.m. Wednesday: AT&T and T-Mobile, in statements to NBC News, said they have policies similar to Verizon Wireless and Sprint: So again, you must choose to opt out of data collection.
"Customer privacy is of the utmost importance to AT&T," said spokesman Mark A. Siegel. "That is why we provide our customers a variety of privacy options through our website, giving them the ability to exercise those options any time."
A T-Mobile spokesman referred us to the company's website about customer privacy information, which says, in part, "We may obtain your consent in several ways, such as in writing; online, through 'click-through' agreements; orally, including through interactive voice response; or when your consent is part of this policy or the terms and conditions pursuant to which we provide you service. Your consent is sometimes implicit."
Check out Technolog, Gadgetbox, Digital Life and In-Game on Facebook, and on Twitter, follow Suzanne Choney.