Pfc. Bradley Manning is now Chelsea Manning. For all the confusion this is causing, Manning's declaration of gender identity — read Thursday morning on TODAY — is plain as toast: "I am Chelsea Manning. I am female."
Set to begin a 35-year prison sentence, Manning spoke of a desire to begin hormone therapy, and made one additional point clear: "I also request that, starting today, you refer to me by my new name and use the feminine pronoun .... "
On Twitter, "Chelsea Manning," became the top Trending Topic in the U.S., with some admonishing those who continue to use "he," while others repeated the same obvious "Bradley WoManning?" joke ad nauseum. Those critical of Manning's decision were far more tasteless in their tweeted opinions. 
But some were caught off guard -- in particular, about the pronoun shift, made all over the media, including by NBC News.
The bible of news editing, the AP Stylebook, makes it clear: Call people what they want to be called. For transgender people, the AP says, "use the pronoun preferred by the individuals who have acquired the physical characteristics of the opposite sex or present themselves in a way that does not correspond with their sex at birth."
Activist groups such as GLAAD and the Transgender Law Center went into action, calling editors and reporters to make sure Chelsea had the right attribution. 
For these organizations, it's not a defense specifically of Manning, but of everyone in the transgender community, who have not enjoyed much visibility in the media. 
"I know personally how dehumanizing it is to have someone address me with a name or a pronoun that does not fit who I am as a person," said Masen Davis, executive director of the Transgender Law Center, who is a transgender man. "When people and the media are not accepting Manning's news of her transition, it sends a message to other transgender people, that they are not accepted."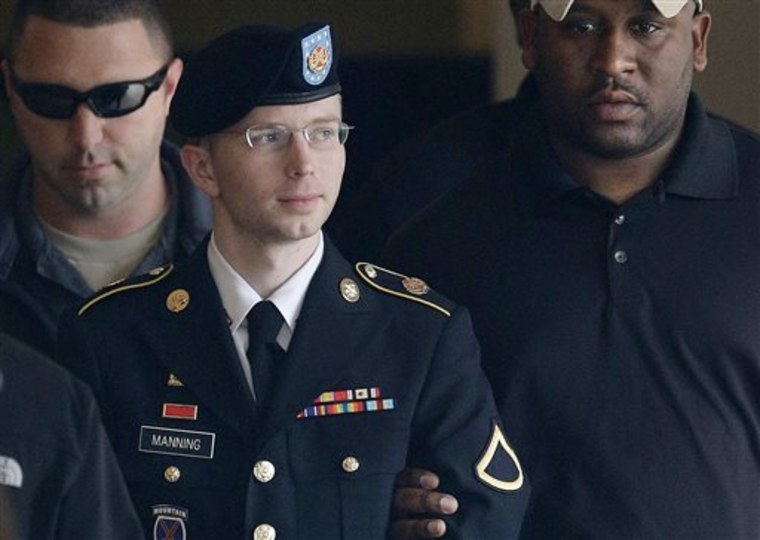 This dehumanizing effect influences how transgender people are treated in society and the workplace and how they see themselves. 
Given these cultural and legal struggles, accepting the use of a requested pronoun is a minimal trade-off, advocates argue.

Yet even in this post Chaz Bono-age, not all societal institutions — or individuals — can come to a consensus on the grammatical rights of transgender people. When Bono changed from Chastity to Chaz in 2011, making the news by competing on "Dancing With The Stars," people who loved her as the child of Sonny and Cher had a hard time adjusting to calling the former little girl "he."

"I understand why people get hung up on gender," said Finn Brigham director of special populations services at Callen-Lorde Community Health Center, which serves the LGBT community in New York City.
"People want to know whether someone is legally male or legally female, but the process of changing gender markers and names is long. One can change the gender marker on their Social Security but not their driver's license, on their insurance card but not their passport. You don't see a judge who tells you, 'You are now legally male or female.'"
The medical care providers who serve the transgender community agree with the AP. They recommend addressing patients by their preferred name and gender, regardless of whether a transgender man needs a gynecologist or a transgender female needs a prostate exam. "People who feel they're being supported in that way are more likely to disclose what's going on medically," said Brigham. 
Helen A.S. Popkin is Deputy Technology & Science editor for NBCNews.com and TODAY. Follow her on Twitter and Facebook.