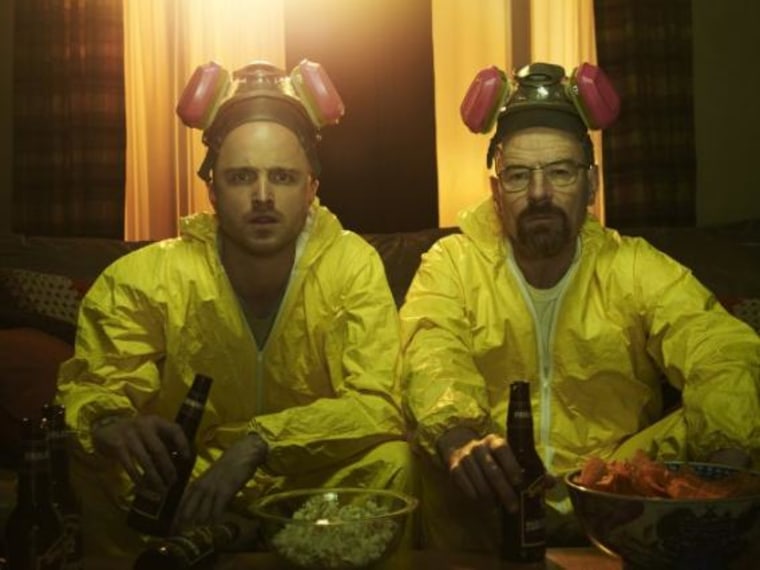 Twitter couldn't shut up about AMC's "Breaking Bad" finale Sunday night which, as far as I'm concerned, makes it perfectly OK for you to talk about every detail of the "Breaking Bad" finale on Monday, in your normal speaking voice, within earshot of every single person who didn't see it, whether they want to see it or not. 
Seriously, y'all — 10.3 million viewers managed to make room for pretty much the only "appointment TV" event outside "Game of Thrones" season, many of which refuse to live under the tyranny of "SHHHHHHH! I DIDN'T WATCH IT YET" oppression, tweeting about "Breaking Bad" in real time, the way life is supposed to be lived. 
Here's #GoodbyeBreakingBad by the Twitter numbers:
According to SocialGuide, the East Coast and West Coast airings of "Breaking Bad" generated a total of 1.24 million tweets. (The firm measures U.S. only, and defines the "live window" of a show as 3 hours before and 3 hours after the broadcast.)
As a comparison the program that currently holds the record for the most tweeted about show as measured by SocialGuide is last season's finale of "Pretty Little Liars" (1,973,418 in the "live window").
The tweets-per-minute peak of the night came as the East Coast episode began, hitting 22,373 TPM.
The marathon of the entire series that AMC ran in the days leading up to the finale (September 25-28) also generated over 287,000 Tweets, helped along by some live-tweeting by the cast.
Here are some of the more popular Tweets from throughout the evening from the stars of the show 

This tweet from Bryan Cranston (Walter White) received more than 52,000 retweets:
This tweet from Aaron Paul (Jesse Pinkman) received more than 38,000 retweets:

Here are some tweets from regular Twitter users that aren't on "Breaking Bad" which are funny and probably contain spoilers.

And here's a tweet Aaron Paul posted more than a year ago, which I'm including so you won't be sad.

As for me, well I ended five years of the most intense (and perhaps abusive) relationship of my life by logging off the Interwebz and devoting my full attention to the "Breaking Bad" finale, which is far more gratifying than splitting attention between experiencing the end of something great and trying to tweet the most howlarious quip about the ricin-related dangers of artificial sweetener in the hopes it'll get picked up by BuzzFeed. But that's my choice. Note how I'm not imposing it on you. 

Helen A.S. Popkin is goes "blah blah blah" about the Internet. Tell her to get a real job on Twitter and/or Facebook.