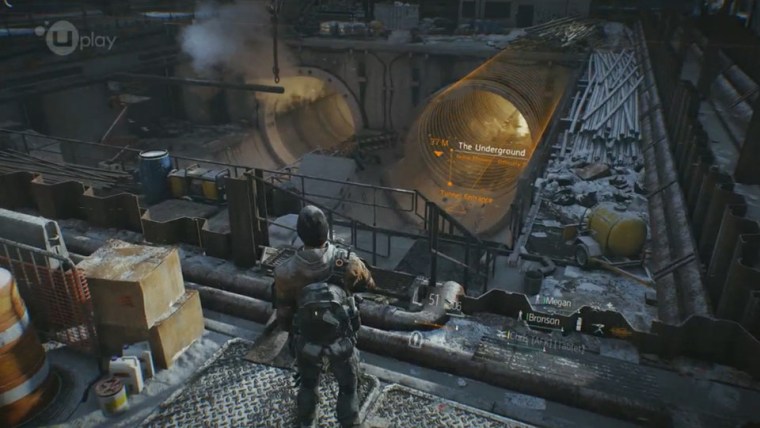 Talk about saving the best for last. After a long day of product reveals and gameplay trailers from Microsoft and Electronic Arts at this year's Electronic Entertainment Expo (E3) in Los Angeles, Ubisoft took its sweet time to talk about a number of previously announced upcoming games and sequels before dropping a bombshell on its fans.
Just minutes before its Monday press conference came to a close, the Montreuil, France-based video game publisher unveiled a brand-new, massive multiplayer online (MMO) shooter called "The Division."
Like Ubisoft's "Splinter Cell" series, "The Division" is based on the work of military fiction writer Tom Clancy, meaning there's a lot of somber technobabble about geopolitics and dangerous gadgets getting into the hands of bad people.
Taking place in a dystopian near-future version of New York City that's been struck by a pandemic unleashed by terrorists (naturally), "The Division" features team-based cooperative and competitive gameplay. Ubisoft showed a few minutes of the game in action, which put players in the role of what looked more like survivalists than actual soldiers as they raided a police station in Brooklyn for supplies before being confronted by another group of players.
The game is being developed by Ubisoft Massive, a subsidiary of the publisher that previously worked on the multiplayer parts of the 2012 shooter "Far Cry 3" and the Desmond-centric bits of 2011's "Assassin's Creed: Revelations."
Without giving anything away about the game's availability, Ubisoft said that "The Division" will be a next-generation console game. Watch the gameplay trailer below.
Yannick LeJacq is a contributing writer for NBC News who has also covered technology and games for Kill Screen, The Wall Street Journal and The Atlantic. You can follow him on Twitter at @YannickLeJacq and reach him by email at: ylejacq@gmail.com.