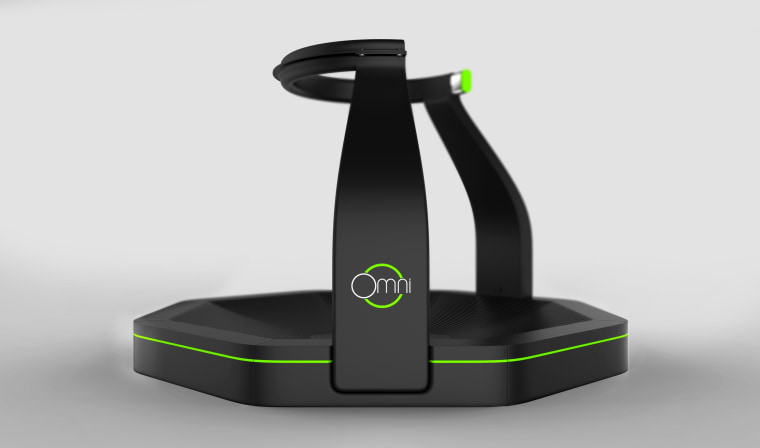 For all the techno-gaming gearheads out there, the Oculus Rift is, to quote one user who's played the epic role-playing game "Skyrim" on the device, "a dream come true."
But now that the initial hype for the virtual reality has given way to months (if not years) of further research and development, questions inevitably arise. If immersion is the goal of virtual reality, is just wearing a headset truly enough to make a player feel like they're literally inside the game? What about the rest of the body?
As if to answer a question people haven't yet asked, technology company Virtuix posted a project on Kickstarter early Tuesday seeking funding to develop a treadmill that promises to convert real-world footsteps into in-game movement.
Virtuix calls the Omni "the first virtual reality interface for moving freely and naturally in your favorite game."
"Moving naturally in virtual reality creates an unprecedented sense of immersion that cannot be experienced sitting down," the company said on its Kickstarter page. "That's why we developed the Omni."
In three-and-a-half hours, the Omni sprinted past its original $150,000 goal. At the time of this writing, the project has drawn in nearly $234,000, and still has another 48 days on the crowdfunding platform.
Virtuix founder Jan Goergelux noted that his company has already been working on the omnidirectional treadmill for two years.
"We've done a lot of work, and now we're turning to the community to get the Omni through the manufacturing phase," Goergelux said. "With the help of the community we can start tooling, and get as many Omnis as possible in the hands of VR gaming enthusiasts. Our Kickstarter rewards also come with a significant discount on the Omni's future retail price."
Surprisingly enough (given that the Oculus Rift team has been very cautious to say anything about the headset's retail availability), Virtuix posted the Omni treadmill with several price points from the outset. The cheapest is a $249 "DIY version" that doesn't have an upper support stand. As the name implies, some assembly is required. The full Omni, meanwhile, runs at $349 — though all 250 of the units promised to those making a big enough pledge are already sold out.
While Virtuix said that the Omni is being designed for a variety of Virtual Reality and other possibly lower-tech game controllers, the gadget already has a special relationship with the Oculus Rift. The company said that "any game currently in development for the Oculus Rift will be ready to play with the Omni," and it has already started experimenting alongside the Oculus team to bring games like Valve's multiplayer shooter "Team Fortress 2" to the post-console generation.
You can check out the Omni's Kickstarter page here and watch a video of "Team Fortress 2" in all its VR glory below.