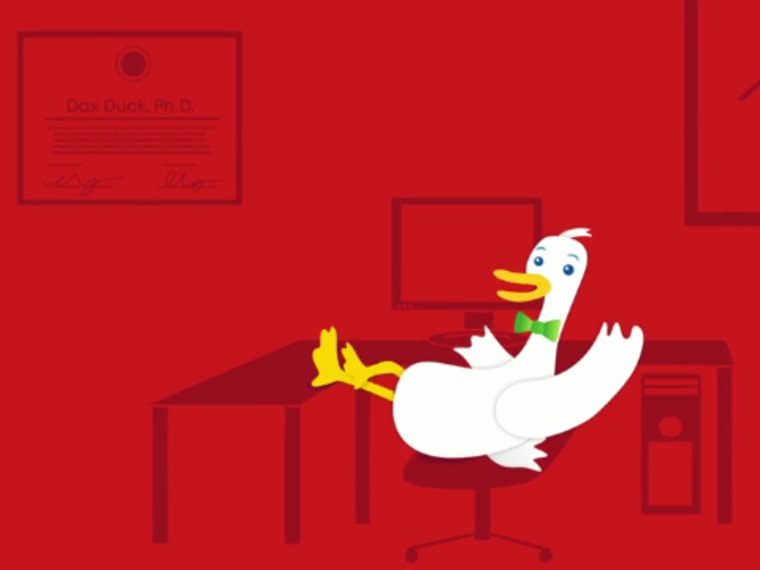 First news of the government's Web tracking program PRISM broke late last Thursday, and by Friday, traffic at the indie search engine DuckDuckGo was on the upswing. The tagline on its homepage: "Search anonymously."
"You could notice the difference almost immediately," Gabriel Weinberg, DuckDuckGo's founder told NBC News Friday.
The site has broken traffic records this week, with almost 2.5 million searches conducted on Thursday.
"Our users know that we don't track and were telling their friends and family," Weinberg explained. On its privacy page, the search engine promises: "When you search at DuckDuckGo, we don't know who you are and there is no way to tie your searches together."
Big search engines like Google and Bing track user behavior and share that anonymized data with advertisers. But researchers say that piecing together bits of data to build a profile of an individual is getting easier.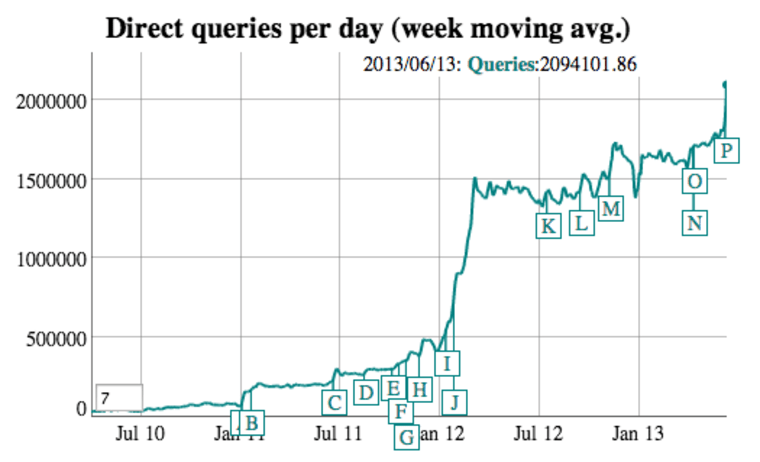 Weinberg launched DuckDuckGo in 2008, and in 2009 made the decision not to store IP addresses — which can be used to identify the physical location of a computer user connected to the Internet — or to track user information.
"I didn't want to be involved in handing data to the government," Weinberg said. So he decided against storing it in the first place. He said he has never been approached by the government with a request for data.
Weinberg finds when Internet privacy issues make headlines, that's when Google or Bing users tend to jump ship. The last time DuckDuckGo saw a significant spike in traffic? Between January and March 2012, shortly after Google spooked its users by announcing a decision to share information across its services. (That also coincided with a DuckDuckGo redesign.)
Like other search engines, DuckDuckGo makes money by advertising, but ads that show up are pegged to keywords rather than user profiles. "You type in 'car' and get a car ad," Weinberg said. "It's a myth that Google needs to track you to make money on Web search."
Though DuckDuckGo draws in users mindful of privacy, when Weinberg started work on DuckDuckGo in 2007, he just wanted to deliver a better search experience. "Oftentimes you want answers, not links," he said. When you search on DuckDuckGo, what you get first is a definition of the thing you were looking for, followed by links that reference it. He'd wanted a clutter-free product: "More instant answers, less spam and content farms." Before Weinberg started DuckDuckGo, he built NameDatabase, which Classmates.com bought in 2006.
New DuckDuckGo-ers usually find their way to the site after hearing about it from people they know, the site has learned from (anonymous) surveys completed voluntarily by users. DuckDuckGo doesn't advertise much, and past major promotions have landed on the niche Web communities Reddit and 4Chan.
Nidhi Subbaraman writes about technology and science. Follow her on Facebook, Twitter and Google+.