If you've done your homework on the upcoming Xbox One — due to sell out of stores when it appears Nov. 22 — you know that while Microsoft's next-gen console may be a little less powerful than the equally fresh PlayStation 4, it's got a couple of features that Sony's box doesn't: It can see who you are and when you're on the couch; it listens for the voice commands of you and others in the room; and it has an HDMI input so that you can route your cable box through it for live TV. Taken together, this bundle of near-future tech makes for a very different kind of home-entertainment situation, one that I got to explore briefly this week.
To log in, you don't type anything, you don't say anything, you just show up. I know, it's kinda creepy: Xbox sees you, and logs you in automatically. And if your husband or wife or kid sister or annoying cousin sits down on the couch with you, well, Xbox greets that person in, too, assuming it knows who he or she is. The preferences that first appear on the screen are yours, but the other people's avatars appear in the top left corner of the TV, and are available when you enter games.
At log-in, the home screen shows what you've been up to — your last game played (frozen in time and ready to restart just where you left it) and your most recent apps. Slide to the left, and you see a pinboard with everything you want, where you want it. It's very much like Windows 8 in that sense: You can pin apps, games, SkyDrive folders — lots of different kinds of things. 
Also read: What can you do with the Xbox One if you don't download the Day One update? Not much
Xbox is listening, so even though you could wave your arms around like some kind of exercise nut, all you really have to do is mutter stuff, practically under your breath. Say "Xbox, watch TV" and live TV pops up. "Xbox, show me my stuff" brings you back to your home page, but if someone else in the room says it, Xbox will figure out where the voice is coming from, facially recognize the speaker, and bring up that person's stuff instead (assuming they have a profile inside your Xbox). I predict some fights ahead between my kids, but in the meantime, it's just cool, and a bit freaky.
Know what's even more freaky? You can walk into a dark room and say "Xbox on," and the console will power up — it's listening even when it's not "on." Xbox (using the new Kinect) is also capable of blasting infrared commands to any of your home theater gear, too. Saying "Xbox on" can fire up your TV, audio receiver and whatever else you've got hooked up, provided you previously set that up, and specified what brands of electronics you have.
When you pull up live TV, what you see is whatever channel your cable box is on. If you want to watch your DVR or video on demand, you'll have to use your cable remote. And if you have a smart TV or A/V receiver with its own graphics interface, things could get messy on the screen, with competing graphics colliding all over. But what I saw in the demo — straight live TV with Xbox's overlaid interface — looked OK.
Mind you, if you are watching TV, the Xbox overlay stays out of the way unless things are happening. Invited to play an Xbox Live game? Pinged by a Skype buddy? Download ready to check out? That's when the Xbox politely butts in.
What's cool here is that you can "snap" some apps to the right side of the screen. For instance, if you're watching Monday Night Football, you can snap the NFL app to the side and watch your fantasy team rise or fall in the rankings in real-time, depending on your players' performance. You and your friends can get a video chat going, and then bring up the same movie or TV show and watch it together. Seems a bit too social for my taste, but I like knowing that it's possible.
In fact, Skype on the Xbox One was cooler than I had anticipated: Since it uses the Kinect camera, I figured the only view would be a super wide-angle shot of me sitting on a couch. But the Kinect follows the direction of your voice, and homes in on your face using digital zoom. It can even make this tighter-framed virtual camera follow you as you pace around the room.
When you're done talking to people via Skype, you just say "Xbox, hang up," and your buddies vanish.
The TV experience has a couple of elements that build on last year's Xbox 360 update. You can do a Bing search for something like "Avengers," and it pulls up not just the IMDB link and a bunch of related Web stuff, but it shows you where on your Xbox you can find the movie, and what other content in the Avengers vein is available on demand. 
If you don't know what you want to watch, you pull up the OneGuide, sort of the inverse of the universal search. In part, it's a TV Guide-like grid of now-playing TV shows, but it's also got a Favorites panel that combines your channel picks with app content — a Hulu playlist, a SkyDrive slideshow, etc.
Speaking of apps, be aware that the ones on your Xbox 360 may not be available (yet) on the Xbox One, though as you can imagine, many of the top partners are jumping on the bandwagon fast. Here's the list of announced Xbox One apps for the U.S.:
Amazon Instant Video

Crackle

CWTV

ESPN

FOX NOW

FXNOW

HBO GO (coming soon)

Hulu Plus

Machinima

MUZU TV

Netflix

Redbox Instant by Verizon

Target Ticket

TED

The NFL on Xbox One

Twitch

Univision Deportes

Verizon FiOS TV

VUDU

There are also first-party apps that will ship with every Xbox One worldwide:
Xbox Fitness

Xbox Video

Xbox Music

Internet Explorer

Skype

SkyDrive

Upload

What I didn't really get to do during my hour with the Xbox One is play games (which is alright since I'm kinda terrible at most of them). I did get behind the wheel in "Forza Motorsport 5" — and was blown away by the faint reflection of the dashboard that you see as you gaze out the windshield. Crazy realism.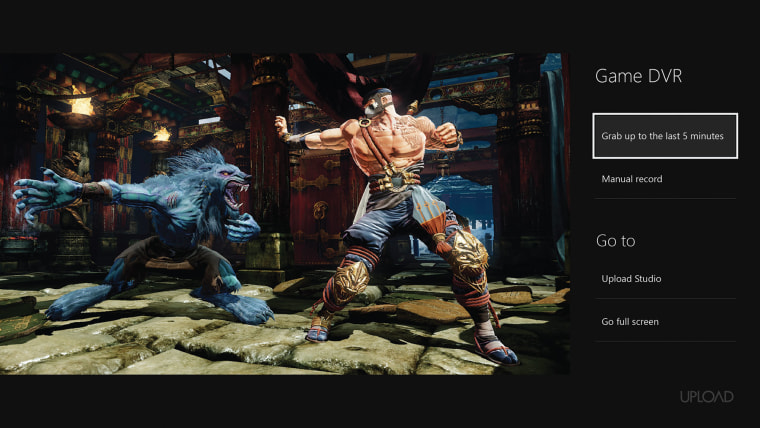 And when I (deliberately) smashed my car into a Rolex billboard, I was able to ask Xbox to record those last 30 seconds of gameplay, and then I used the Upload Studio to edit the footage, apply picture-in-picture video commentary, and then share via Xbox Live. (It's worth noting that you can't share your saved videos outside of Xbox Live at this point, but Microsoft is aware of the value of social media-friendly, embeddable video, so it might happen soon.)
Racing games are fun, but I really look forward to testing out the new Kinect. With its major hardware overhaul, the new Kinect is capable of seeing and hearing a lot more. It apparently won't get confused when little kids are playing (and that's a big deal in my house), and can perform many feats of recognition that its predecessor just can't. That tends to make people a bit scared, and with good reason. I can envision a growing Etsy channel of Kinect cozies, crocheted hoods that keep the thing from peering out at you when you don't want it to. But the possibilities are astounding too, and I'm eager to see them.
Stay tuned for our continuing coverage of the Xbox One and the PlayStation 4, which is so close we can almost taste it. In the meantime, Microsoft says it has set up Xbox One gameplay stations at each of the more than 75 Microsoft stores in the U.S. 

Wilson Rothman is the Technology & Science editor at NBC News Digital. Catch up with him on Twitter at @wjrothman, and join our conversation on Facebook.