It was after watching the twin towers fall down while in high school that I solidified my plans to join the military. I left home at 17 years old under the delayed entry program. I was an Army Junior ROTC veteran and already knew how to march and about the rank structure. Excited to leave home, I packed up the items that my recruiter told me to bring and was on my way.
I was in an economy hotel the night before my enlistment ceremony. I stared in the mirror thinking about how my face could possibly be read as female. I considered if I should stop shaving my legs. My true self was something I had to keep to myself. The beauty and liberation that I would find later would not be discovered for another 10 years.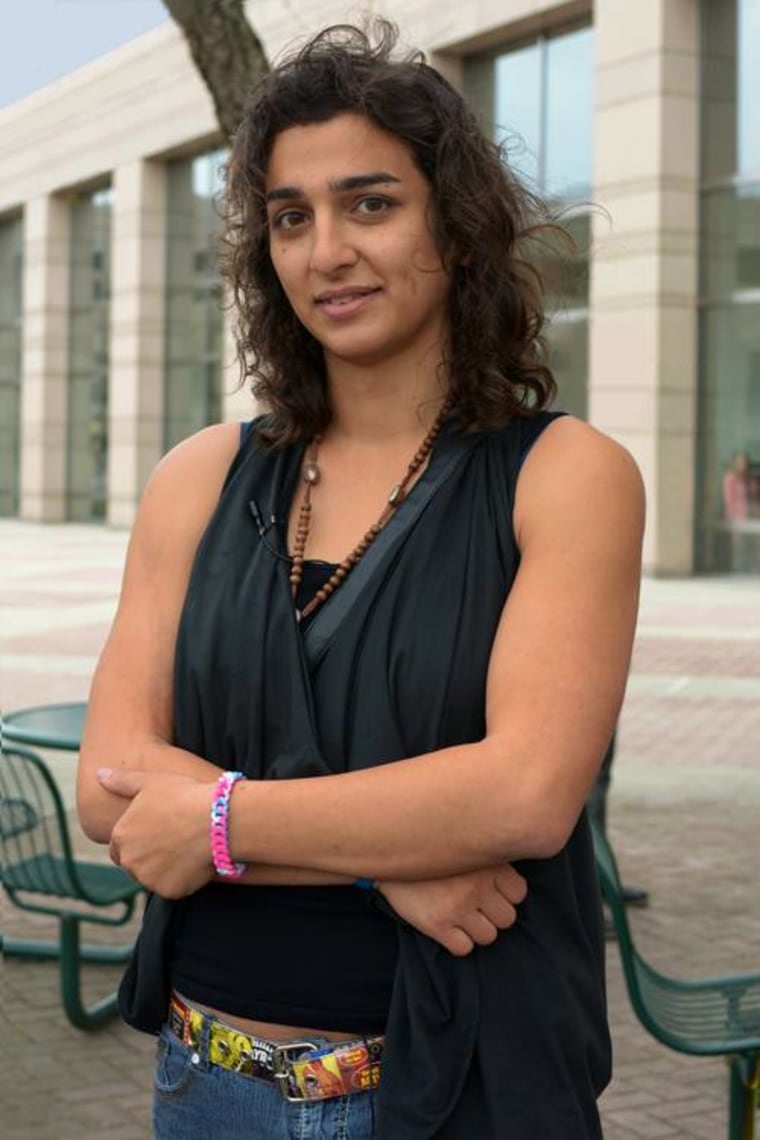 My Air Force career was a blur of me dealing with depression, body dysphoria and attempts at becoming a successful MMA fighter. At the height of my career, I was 215 pounds, muscular and dedicated to military life. I did everything I could to be the best airman I could be. In the morning, I went into work and conversed with the other men, pretending to be more masculine than anyone in the room.
As time went on, depression took hold of me and made it nearly impossible for me to perform on the job. I would leave work, and as soon as I walked in the house, I was me again. I could wear what I wanted and express my femininity. I would stay up late, because I didn't want to wake up to a world where I had to pretend to be a masculine person. I would role-play online as feminine characters that I would create. My true feminine self and my created masculine persona were at war, and the battle was inside me.
I was living two different lives. One was my hypermasculine persona that was created for survival. The other was my true feminine self. There was not enough room for both. I had to choose between survival and being myself, and it was devastating.
I spent the remainder of my career trying to maintain my male persona. Living inside a prison that was my own body. Taking note of the gains in muscle mass and cutting my hair as short as I could with store-bought clippers. Looking in the mirror and wondering if I should cry or celebrate my hypermasculinity.
I waited for every moment that I could be alone — even bathroom breaks where I could sit on a stall and escape into my thoughts. Even for just a few seconds. Just a moment of authenticity. Then back to work. Back to the real world.
Related: Trump's Tweets May Leave Trans Service Members 'in Harm's Way'
Toward the end of my enlistment, my Master Sergeant invited me on a short trip to another military base with her. She was curious about why my career had taken such a plunge. I was on track for Officer Training School until body dysphoria and depression crippled me.
"You were awarded with an early promotion two times and were on the Honor Guard. You were a star airman. What happened?" she asked.
I looked at her and wished I could tell her the truth. I wished that I could let her know that I was a feminine person, and it was something I was proud of. I wished that I could wear the female version of the Air Force uniform, just like she did. Instead, I answered, "I don't know. I guess I'm just not cut out for the military."
I wanted to let her know that the military's policies were stopping me from being the airman that I could and wanted to be. I had the potential, but it was all wasted. I never told her about my identity and often wonder if she would have been accepting, even though the policy at the time would have forced her to have me discharged.
Related: Military Families With Transgender Kids Fear for Future
Transgender people are not a disruption. We have never been a disruption. We have always been a part of the military and always will be. The difference is whether we'll be hiding or living authentically while we serve.
Having a government and president that refuse to acknowledge the active duty military members that are currently serving is dangerous. Our military will never be as strong as it could when thousands of people have to hide who they are. We will always be less safe as long as discrimination against transgender people exists in the military. This is the real disruption.
Lara Americo is a trans-feminine activist, veteran, artist and musician living in Charlotte, N.C. She is the founder of Comic Girl Coffee, an inclusive coffee and comic shop for the LGBTQ+ and other marginalized communities.