Whenever we see images of young black men in America, we always see the worst.
We see saggy pants, mug shots, handcuffs, rap music videos, black on black crime, and tabloid scandals portraying them as reckless athletes or celebrities who only date white women.
We hear in real time the national TV pundits and politicians who candidly refer to them as "thugs" whenever one of them is arrested or accosted by Police. It's no surprise: our national consciousness about black men is not very positive.
Lt. Richard W. Collins, III shattered those stereotypes. He was an amazing young man who happened to also be black. He was a newly commissioned Lieutenant, a ROTC candidate for graduation from Bowie State in Maryland. At that graduation Tuesday, Collins was remembered by his alma mater during the ceremony as a handsome, gallant, brave and respectful young man of just 23 years of age who his father said had "a loving and giving heart."
Race is our great national birth defect. We made steady progress over the past 100 years toward healing, but now there seems to be a resurgence of hate.
The truth is that we rarely see positive images of our young black sons, and adult brothers wearing their nation's uniform, graduating from college, smiling with optimism, being happily engaged to a beautiful woman, or living life to the full while celebrating their accomplishments with family and friends.
It's not that those images do not exist, because they do—and in abundance. It's just that our national view of black men never allows us to see the positive. It simply doesn't play to the negative stereotype that we have all become so comfortable with.
His beautiful future was cut short by a crazed, drunk white male college student named Sean Christopher Urbanski who was a member of a Facebook hate group called "Alt Reich." This horrific incident shows the danger of hate speech masquerading as free on social media.
Collins is the latest victim of a rising tide of racial hate crimes being perpetrated on college campuses and through social media. One of my own sorority sisters, Taylor Dumpson, of Alpha Kappa Alpha Sorority, Inc. was the victim of a hate crime on May 1 after being elected student body President on American University's undergraduate campus for the first time in history.
Related: Samuel Sinyangwe: Number Cruncher in the Fight Against Systemic Racism
Students discovered bananas scrawled with short, racially-offensive messages hung from trees and lampposts with the words "Harambe Bait," a reference to the Cincinnati Zoo gorilla killed last year after dragging a child who fell; another said, "AKA Free," a shot at the African-American sorority of which the new student government president is a member. American University campus police released video of the act and still have not caught the perpetrator.
If that was not bad enough, two weeks ago in Charlottesville, Virginia a mob lead by avowed white supremacist Richard Spencer marched with torches in the dead of night to protest the removal of confederate statues. They were chanting, "You will not replace us. We have awoken. We are here. We are never going away" and "All White Lives Matter."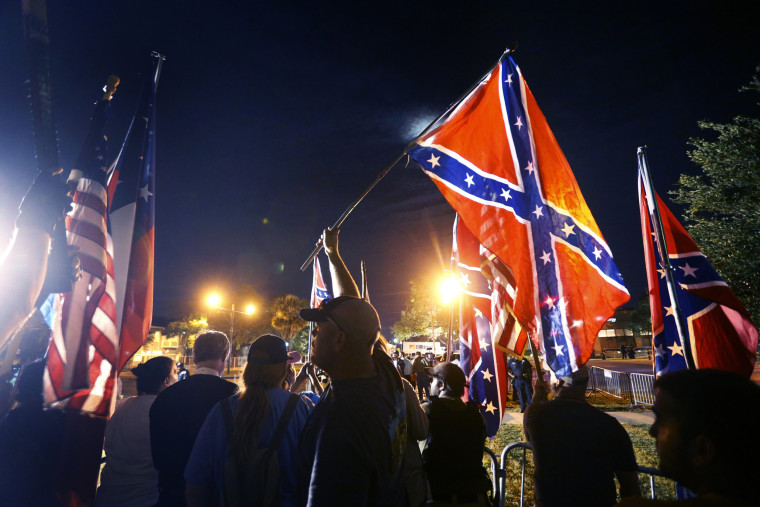 Freedom of speech has been distorted, perverted and it has now penetrated impressionable minds of our youth.
Despite all of this, not a word was uttered from the White House or other leaders about these despicable acts of terror upon black people and college campuses from Virginia to Maryland.
The real tragedy here is that all of us should be outraged by these incidences, but too many white Americans remain silent and many still believe that there is no bias in police departments, for example.
Yet, on Monday in Maryland near where Lt. Collins was stabbed to death, an employee at the Anne Arundel police department used social media to show his support for the stabbing of this young unarmed black man, in what authorities called an "unprovoked attack."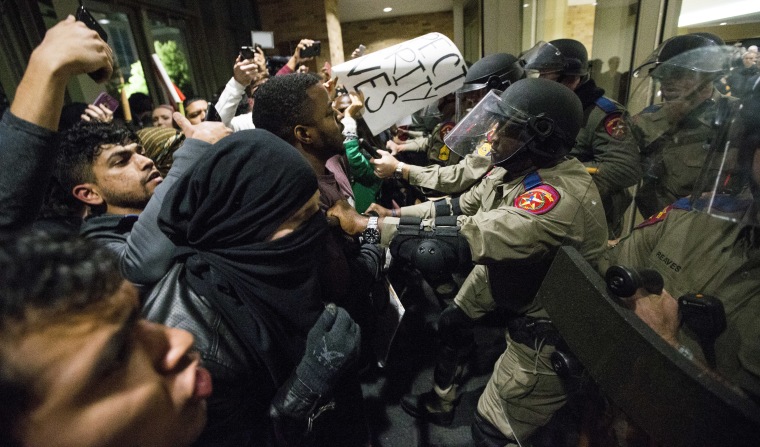 Here's the thing: Racial hate has been around for centuries.
America was born half slave and half free. Race is our great national birth defect. We made steady progress over the past 100 years toward healing but now there seems to be a resurgence of hate in this climate - one where our new president campaigned openly condemning members of the Muslim, Hispanic and other communities under the guise of "Making America Great Again."
Related: Parents Outraged Over School's 'Discriminatory,' 'Racist' Dress Code
It all started with the birther movement against President Obama, which was President Trump's greatest rallying cry against him for years. He never apologized for it, and his supporters just swept it under the carpet.
Freedom of speech has been distorted, perverted and it has now penetrated impressionable minds of our youth. We talk openly about foreign terrorists but ignore radical alt right homegrown terrorists on social media and college campuses.
Campus hate has become common. Since the inauguration of President Trump, schools ranging from Old Dominion University in Virginia, to Kansas University, the University of Florida, University of Texas, Spring Arbor University, University of Minnesota, to the University of Maryland have experienced these incidents.
Why now many ask? Some blame the 2016 campaign. Others blame something much deeper.
Jonathan Greenblatt, the executive director of the Anti-Defamation League, in an interview with NBC says these instances of hate come on "the heels of an increased tempo of recruiting on college campuses by white supremacists."
Greenblatt said the groups had not been highly engaged in college campuses in years past, "but this year has been different." He added that members of groups espousing racist ideology have also increasingly turned to social media to recruit people or terrorize their victims.
Related: DeVos' Speech at Bethune-Cookman's Commencement Sparks Protests, Outrage
Greenblatt also suggested that "increasingly people are getting radicalized online," citing convicted Charleston church killer Dylan Roof as one example. Roof was a Nazi sympathizer, andwas sentenced to death earlier this year for killing nine black worshipers in a racially-motivated attack in an AME church.
We must do better as adults and as leaders. We must start modeling to our young people what we want to see in them.
We have to become outraged collectively as human beings when these acts of hate happen, not just individually as fragmented communities.