The 2017-18 NCAA men's basketball season has been a disaster, pretty much from the get-go. Mere days before the season began in November, word came down that the FBI had arrested four assistant coaches at major universities and had opened up a massive investigation into potentially felonious payments from shoe companies to amateur players, with schools and coaches enriching themselves and their programs as middlemen.
Then, just before the start of the NCAA Tournament — the NCAA signature event and moneymaker — a massive Yahoo Sports report revealed the depths of the alleged corruption, naming specific athletes and programs. The scandal rocked the NCAA in large part not because it was surprising, but because it wasn't; the allegations were widely considered part and parcel of college sports, the price of doing business. The whole business threatened to derail the whole NCAA Tournament.
Except, of course, it didn't. This nightmare college basketball season has been saved by the same thing college basketball is always saved by: The irresistible, almost compulsive allure of the NCAA Tournament itself. College basketball might not be the best sport — the quality of play in the NBA is so much higher you can barely tell it's actually the same athletic activity happening in both — but it absolutely awards its championships in the most consistently satisfying way.
This nightmare college basketball season has been saved by the same thing college basketball is always saved by: The irresistible allure of the NCAA Tournament.
Some years the Super Bowl stinks; some years the World Series is a dud. But the NCAA Tournament — with its 68 teams, from all across the country and featuring an endless supply of fascinating characters and unlikely heroes — always satisfies. It gives sports fans (or just office pool dabblers) a stake in the action, and it is a constant generator of storylines. No matter how angry you might be at college basketball, no matter how fundamentally unfair you may feel the sport is, no matter how absurd it is that coaches sign million-dollar shoe contracts but players are punished for trying to get their often-underprivilged families some money to survive... the tournament always wins you over.
And this year, this is especially true. This tournament has been filled with indelible moments, from stunning buzzer-beaters to superstar individual performances. And this doesn't even include what is arguably the biggest underdog story of the tournament's history: tiny Maryland-Baltimore County defeating Virginia, the first time a No. 16 seed has ever beaten a No. 1 seed. In keeping with this trend, the Final Four is particularly enticing. You have:
Kansas, a classic, blueblood college basketball program, whose first coach happens to be the guy who invented basketball
Villanova, a big-city college basketball school that has over the last half-decade entered the elite top-tier of the sport, culminating in the most exciting ending to a national championship game ever in 2016
Michigan, one of the top brands in college sports, with a massive, affluent alumni base spread all across the country (and the team most likely to have the most fans who travel to San Antonio)
Loyola of Chicago, the most unlikely Final Four team in at least a decade, cheerlead by a beloved nun — the now ubiquitious Sister Jean
If the NCAA was looking to pick four teams to maximize excitement and make people forget about its horrible year, you really couldn't do better than those four. They come from major American cities, they have future NBA stars and scrappy kids you've never heard of, they have romantic and Hollywood-worthy stories — there's even a nun. Nobody wants to be the person screaming about corruption when those Loyola kids are having such a blast. What, do you not like Sister Jean? Why don't you like nuns?
Think about how differently this could have gone for the NCAA. The Final Four, theoretically, could have been filled with teams like Arizona, whose coach Sean Miller was reportedly caught on tape discussing a payment of $100,000 to star player Deandre Ayton, or Auburn, a team coached by a man who has actually been banned from college basketball twice for recruiting violations, returning years later each time. The storyline certainly would have been different had the final featured North Carolina, a blueblood program who just skated on NCAA punishment despite admitting to decades of academic fraud, and Michigan State, a school currently wrapped up in the ugliest college athletics scandal since Penn State.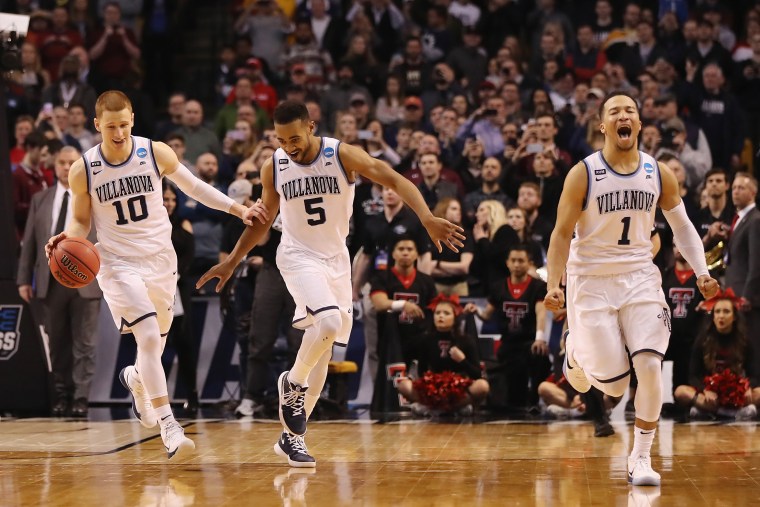 All four of those schools had excellent teams this year, but none of them sneaked into the Final Four. And so, you will not hear broadcasters Jim Nantz, Bill Raftery and Grant Hill talking about the scandal this weekend, at least not outside any cursory mentions. You will hear about Sister Jean, and Villanova's big shot, and Kansas' history, and Michigan's style of play, and also about Sister Jean and in addition Sister Jean and perhaps a little bit of Sister Jean too. And you will hear about Capital One and Coca-Cola and AT&T and the NCAA's other "corporate champions." And you will probably get a little misty eyed at "One Shining Moment," like you always do.
And they will get away with it again. The NCAA Tournament is the one time a year the letters "N.C.A.A." aren't mud in American sports, and it is this two-week stretch that allows them to get away with everything else the rest of the year.
You will not hear broadcasters talking about the scandal this weekend, at least not outside any cursory mentions. You will hear about Sister Jean, and Villanova's big shot, and Kansas' history, and Michigan's style of play.
College basketball is imbalanced, cruel, unfair and exploitive of the thousands of young men and their families who play these huge games in massive billion-dollar stadiums for the amusement of college presidents and coaches and network executives getting rich off their labor and making sure any money slid under the table to them is duly taken away. We know this 11 months out of the year. But we always forget it in March. The tournament is too much fun. The Final Four is too much of a grand spectacle. Sister Jean is just too damn lovable.
So if you want to know how this corrupt system stays in place, this month is how. (Well, that and because college football is arguably even worse. Nobody tell Sister Jean.)
Will Leitch is a national correspondent for MLB, contributing editor at New York Magazine, host of "The Will Leitch Show" on Sports Illustrated and the founder of Deadspin.