Rarely does an Olympic sponsorship double as a clarion call for class war. But with the announcement Nov. 18 that Airbnb will become a Worldwide Olympic Partner, this is precisely what transpired.
Thomas Bach, the president of the International Olympic Committee, stated, "This innovative partnership underpins our strategy to ensure that the efficient staging of the Olympic Games is sustainable and leaves a legacy for the host community." (NBC has a contract with the International Olympic Committee to broadcast the 2020 Olympics.)
Rarely does an Olympic sponsorship double as a call for class war. But with the announcement that Airbnb will become a Worldwide Olympic Partner, this is precisely what transpired.
Bach somehow failed to mention that Airbnb has a track record of stoking gentrification, displacement and shredding neighborhoods across the country. The pact will run through 2028, affecting cities such as Tokyo, host of next summer's Olympics, as well as Paris and Los Angeles, which are slated to host the games in 2024 and 2028.
In some ways, Airbnb and the Olympics are the perfect couple. After all, the Olympics are a displacement machine. In Olympic city after Olympic city, working people are routinely forced to make way for games venues and projects. Sometimes, this involves the iron fist of forced eviction while at other times it means the velvet glove of gentrification.
The 2016 Olympics in Rio de Janeiro was a case study in forced evictions, with community after community steamrolled to make way for the games. Around 77,000 cariocas, or residents of Rio, were displaced between 2009, when Rio was named host, and 2016, when the event was staged. But the gold medal winner for forced eviction has to be the 2008 Beijing Summer Olympics, which brought the displacement of 1.5 million people, often without adequate compensation. Those who protested the actions of Chinese authorities were handed "reeducation through labor" jail sentences, a form of imprisonment without charge.
At other times, especially in the global north, gentrification is the more common mode of displacement. Ahead of the 2012 London Olympics, some longtime residents saw their rents escalate, forcing them to move. Proponents of the Olympics often tell residents that hosting the events in their backyards will be beneficial. This is generally not the case. In the years following the Olympics, Newham, one of the five host boroughs, has experienced the largest spike in home prices in all of London. Not coincidentally, it is also the London borough with the highest rate of homelessness. In Atlanta, public housing was demolished to make space for the 1996 Summer Games, including Techwood Homes, the country's first federally subsidized public housing project.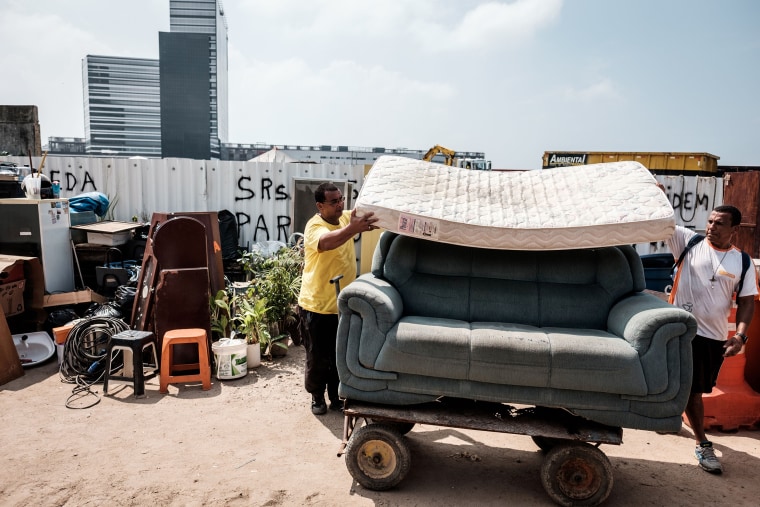 Olympics organizers claim that Airbnb is preferable to the cost — and space — of new hotels. But this doesn't tell the whole story, beginning with who actually benefits from an influx of Airbnb units. Gentrification is a legalized method of oppression, and Airbnb aids and abets the process. Property owners who realize they can make buckets more money renting to the touristic upper class than everyday tenants — the working people of the city — jack up rents at every opportunity. This eventually forces conventional tenants to evacuate, allowing landlords to convert apartments into Airbnb units in the so-called "sharing economy." While property owners can leverage Airbnb to their benefit, renters are left out in the cold while rents continue to rise.
There is some truth to the claim that the Airbnb partnership could help rein in spiraling Olympic costs related to hotel construction. However, instead of leaving behind underused hotels, the partnership will likely contribute to a legacy of an inflated housing market that leaps out of the reach of the city's working class population.
City after city has become "Airbnb-ed." Scholars David Wachsmuth and Alexander Weisler point out that "Airbnb is systematically creating rent gaps in cities around the world," widening the gap between a property's actual and potential returns.
In doing so, Airbnb stokes racial capitalism, often contributing to a notable whitening of the neighborhood. Inside Airbnb, an independent watchdog group, calls Airbnb "a racial gentrification tool." In New York, for example, across the 72 predominantly black neighborhoods, where the white population accounts for around 14 percent of residents, a whopping 74 percent of Airbnb hosts are white. Black residents in these neighborhoods are six times more likely to experience the loss of housing than white residents, in part because they make up the majority in these neighborhoods, but also because of rising rents stoked by Airbnb.
Airbnb can shred the social fabric of a neighborhood. In New Orleans, Airbnb has transformed some neighborhoods into high-priced flophouses for the affluent. For half the week, residents report that many parts of town are "like ghost towns." But then, as the weekend arrives, the neighborhood fills "with groups of drunk, mostly white college-aged kids" replete with "loud parties, overflowing garbage cans and countless other issues 'grating' on remaining residents."
Airbnb can shred the social fabric of a neighborhood. In New Orleans, Airbnb has transformed some neighborhoods into high-priced flophouses for the affluent.
The influx of upscale tourists can sandpaper away the sharp edges of culture that make a city special. According to Professor Stefano Picasia, thanks to Airbnb, "The center of Florence [in Italy] is now Disneyfied. It's basically a theme park for tourists."
In Los Angeles, the city slated to host the 2028 Summer Olympics, activists from the group NOlympics LA have made games-induced gentrification a central plank of their platform. The group's "Homes Not Hotels" campaign is designed to raise awareness about hotel-driven gentrification in the city, and deep-pocketed Airbnb operators that transform hundreds of apartments and condominiums into makeshift, de facto hotels. When I accompanied the activists on canvas for the Homes Not Hotels campaign in Hollywood, NOlympians Hugo Soto and Jonny Coleman pointed out a half dozen lockboxes hooked to a fence outside one apartment building, a sign that some units were being Airbnb-ed rather than rented to long-term tenants.
In recent years, the Olympics have been engulfed by a wave of anti-games activism from around the world. While the new partnership with Airbnb opens up a new channel of cash for IOC coffers, it also opens up a new front for dissent. For activists and critics, the announcement of Airbnb as the latest Olympic partner will come as no surprise. They already view the Olympics as a wheezing behemoth — riddled with doping scandals and jaw-dropping corruption — that is not known for its ethical metric. Both Airbnb and the Olympics present themselves as all about sharing and caring — a five-ring fever dream of sorts — while behind the shiny scrim a nightmare awaits the host city's poor and marginalized.