NBC News THINK editor Meredith Bennett-Smith spoke recently with Aly Raisman, a world champion gymnast who has won six Olympic medals as a member and captain of both the 2012 "Fierce Five" and 2016 "Final Five" U.S. women's Olympic gymnastics teams.
Meredith: Your new campaign is designed to make sure young women and girls know they always have someone they can talk to. Why is that something you feel strongly about?
Aly: I think it's really important to teach young girls and women — as well as men and boys — to remember that they have a voice and that their story is important and that they matter. I think we have to teach kids from the age they learn to talk — when they're very, very little — that they deserve to be safe and to have them understand what abuse is. We want them to understand what the grooming techniques are, so that hopefully we can one day live in a world where nobody has to say the words "Me too."
Why do you think it's taken so long for this conversation to reach the athletic sphere?
Well I think for so long people didn't want to listen when somebody said that they were abused. And when I say for so long, I actually mean for forever, people have always stood up for the abuser rather than the survivors.
But I do think the conversation is finally shifting and I think that society is finally allowing ourselves to believe how common abuse really is.
I mean I can tell you from my own experience, in the 30 years that Larry was working on gymnasts or athletes or even people that weren't athletes, people that he was close with, he really took advantage of his power. Everyone thought he was the nicest guy, everyone thought he was the best doctor, everyone always told us you were so lucky that we were able to work with him. And he groomed us.
Society is finally allowing ourselves to believe how common abuse really is.
I don't think a lot of people understand that sometimes when you are being abused, you don't really realize it's wrong, because the monster who is abusing you is manipulating you so badly. And that's why I've been so open with my story, because I want people to understand that I genuinely didn't realize what was going on because I was very innocent and I really trusted Larry.
I think it's important to teach these young kids that it's not just strangers who can abuse you, in fact the majority of the time, studies show it is someone that you know and trust. When I was younger I just thought that a stranger could be the one that was hurting me, but we have to change that so that these kids know that it could be anyone, it could be someone you love.
These people thrive on taking advantage of innocent people because they think they're going to get away with it. I hope that they know that their days of getting away with it are over.
In sports, trust is so important. So what would you say to the parents of a talented young child who is spending long hours practicing, long hours away from home with coaches?
Well I think we have to normalize the conversation; we have to think about it a lot more than we ever did. It's very confusing, it's scary, it's hard to talk about, but we have to do it. And the more we talk about it, the more we create a safe space. And, hopefully, the less and less people will get abused, because it's alarming how many people are abused. It's disgusting.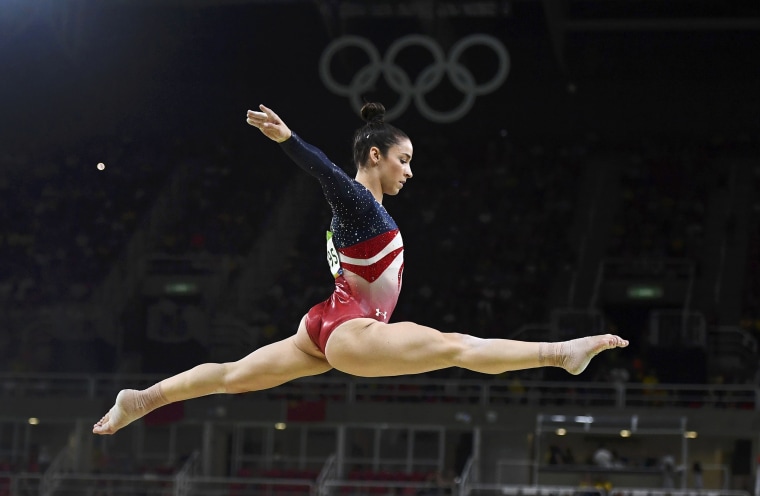 The number of people who have shared stories from the gymnastics community alone is staggering. What was your reaction when teammates like McKayla Maroney and Simone Biles started telling their own stories?
It's really hard to put into words how devastating it is. A lot of my teammates who I'm very close with have been brave enough to share their own stories, but it doesn't get easier as the days go on. It's very hard to talk about, it's very uncomfortable, it's devastating to see that we all went through something like this. Any time that my teammates come out, or anyone that I don't know, whether it is a gymnast, whether it is someone that went to Michigan State University, whether it is someone in Hollywood, or whether it's someone around the world, when you hear their story, it's devastating. No one ever deserves to go through something like that.
I think one thing you've done that has struck a chord with women is not hide your anger. Girls can be taught to keep their emotions to themselves, but you've been very open about your emotions. Is that accurate to say?
100%. I think there's a lot of different emotions that I feel and I think every day I cope differently, which is really normal with abuse. Every day you feel differently about the situation. But I have to say, listening and watching some of those victim impact statements has been really empowering for me and really inspiring to see how strong these women are.
For so long our society gave [abusers] all the power, and we can't do that anymore.
I mean it's unbelievable to see how brave these women are and to see them just directing their statements to Larry. He's a monster, and for them to face him — I think it's really incredible. I hope that all the abusers around the world are listening and understanding that the innocent children they abused, as Kyle Stephens said: "They grow up into strong women to destroy their worlds."
It's so important for these abusers to not have any power. For so long our society gave them all the power, and we can't do that anymore.
What do we need to see from the people who are already in power to help change the system?
It's sort of hard to generalize it because I think every organization is different and every organization is run very differently, but I think that there needs to be a lot more people in charge of different organizations that care and listen and genuinely want the best for whoever they are in charge of.
Specifically for USA Gymnastics, there needs to be an investigation to figure out how this horrific monster got away with it for so long. There are a lot of people at USA Gymnastics who should never be allowed to work with children again.
The conversation has been condensed and edited slightly for clarity.