America is in trouble. It seems like every day we are confronted by new problems that need to be addressed — and fast. And in response, politicians — especially the dozens of Democratic presidential hopefuls — have started pitching a series of big, bold and dynamic solutions to solve these crises. These proposals may be well-meaning, but they generally overlook a broader, equally important issue.
Yes, our crumbling infrastructure demands a 21st century Interstate Highway Act; the opioid epidemic needs a comprehensive investment and coordinated plan similar to what we saw with the Ryan White CARE Act and the HIV/AIDS epidemic; to reach a carbon-free economy, we truly need an Apollo-style program to develop new technologies; to fill the millions of middle-class jobs in technology, manufacturing, health care and the building trades, we need a massive job training effort.
The problem? The American people don't trust government. And if the American people don't trust their elected officials or believe that government can actually make a positive impact on their lives, we will not solve a damn thing.
Turn on any major news station and you'll see political pundits asking the same question: "Who's winning?" But knock on the door of any household in America and ask them that question, and you'll get the same answer: "Not us."
It is sadly not surprising that Americans have stopped believing in government. And it is even sadder — albeit equally unsurprising — that as a result, the government has stopped working for the American people.
Restoring trust won't happen overnight, but we've got to start somewhere.
It starts with showing that we can do our jobs and truly improve people's lives — whether the problem is big or small. And we have to stop looking down on small efforts or scoff at politicians who pay attention to day-to-day, bread-and-butter issues. That perspective is arrogant, elitist and tone-deaf.
Indeed, to start rebuilding this trust, we have to prove government can work in the smallest of ways.
When people believe elected officials care about their daily lives and see an effective government, calls for an Apollo-style project will be cause for unity, not seeds for division.
It's no accident that the original Apollo project, which was supported and continued through multiple administrations of both parties, happened after we won World War II, passed the GI Bill, and the Interstate Highway Act. Not only did these efforts unite our country and pave the way for incredible economic growth, but by building roads and sending a generation of heroes to college, the government showed it could both improve the daily lives of millions of everyday people and literally shoot for the moon.
My district of Staten Island and South Brooklyn is truly a microcosm of this country in so many ways. And the challenges we face echo the challenges of our country: crumbling infrastructure and horrible commutes, drug overdoses killing far too many children and loved ones, and affordability crises impacting both housing and health care.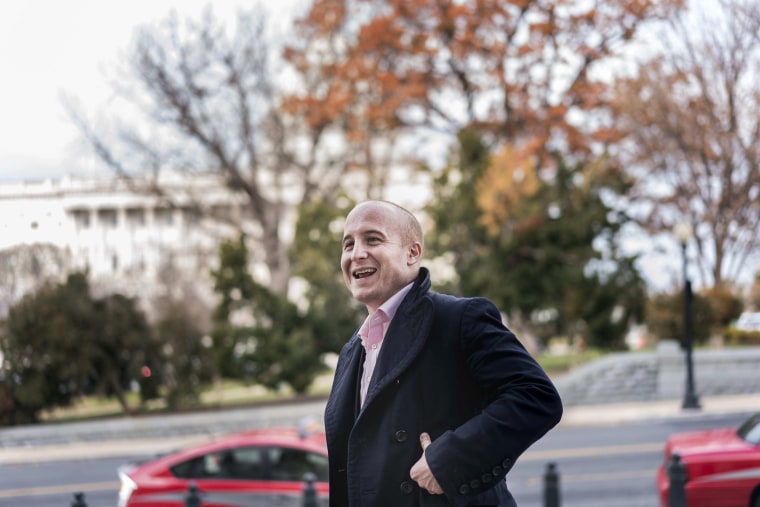 We were also devastated by Hurricane Sandy, a tragedy that we have still not fully recovered from nearly seven years later. To help protect us from future storms, the Army Corps of Engineers developed a plan to build a sea wall, and Congress helped secure funding to build it. But due to bureaucratic delay and red tape, years went by and the sea wall didn't get built.
For years, Staten Islanders stared out at the seas that decimated their lives and their livelihoods, a constant reminder of how government was failing them. That is, until this year, when we finally passed a bill to break through the red tape, allowing the project to move forward.
Fixing these kinds of small problems makes a difference. In a similar example, Staten Island holds a national park called Miller Field where local youth soccer leagues play. Three things you can guarantee in life: death, taxes and soccer season at Miller Field in the spring. And yet, each spring seems to catch the federal government by surprise, often delaying the season or causing needless uncertainty. And to really rub salt in the wounds, the community has had to pay for the port-a-potties.
Sea walls and soccer season — not issues that are likely to lead prime-time cable news coverage. But getting these things done — and done right — is a path forward to rebuilding that trust.
But this year, we said we'd get the season started on time, even if it meant mowing the lawns ourselves. And the next thing you know, we were able to get the fields ready and have the federal government pay for the port-a-potties. Instead of thousands of families cursing the government, they're enjoying something good finally happening in their community. We got it right for once.
Sea walls and soccer season — not issues that are likely to lead prime-time cable news coverage. But getting these things done — and done right — is a path forward to rebuilding that trust between politicians and the constituents we have sworn to serve.
When our soccer fields open on time, when our communities are safe and policed responsibly, when our teachers and our nurses are truly vibrant members of the middle class, then hopefully people will believe that the broad, comprehensive, major packages that will be talked about this week during the Democratic presidential debates could actually be possible, too.
We must address the big, serious problems that face our nation, but we cannot do that if the people don't believe in us.