From the early photo opportunities when the teenage princess-to-be was presented to the news media until the very moment of her death, Diana, Princess of Wales, was in the spotlight. The public couldn't get enough of her — at least editors couldn't. Her life, with all of its changing fortunes, played out in the press to the day she was laid to rest on Sept. 6, 1997.
I experienced it first-hand 22 years ago this Friday, as part of the BBC News team that covered her funeral. It is hard to imagine now just what a shock her death was. Young — only 36 — beautiful, recognized the world over, and suddenly gone. Of course, it was a massive story. The press covered every detail of the drama; the audience consumed it all.
The fascination with anything royal has endured — and the royals themselves have often played along.
Since Diana's death, much of that media attention has been transferred to her two sons, William and Harry. Plus, of course, their wives: Katherine (the press prefers the less formal Kate) and, especially, Meghan. The media may have changed — the explosion of websites and smartphones has seen to that — along with the characters at the center of the drama. But while the circumstances of Diana's death, with paparazzi pursuing her car when it crashed, did result in some media soul-searching, the fascination with anything royal has endured — and the royals themselves have often played along.
At a time when the media dominate our lives more than ever, the truth is that the royal family needs them — just as Diana did. While the relationship between the media and the monarchy might on occasion still turn sour, even bitter, the former is the conduit for projecting the latter's image. William and Harry, and Kate and Meghan, no doubt understand that, little as they may like it.
Some may sympathize. Others will argue that with royalty comes duty, an obligation to be in the public eye and a responsibility to play a part in the spectacle that royalty represents. Like Diana, her children and their spouses are trying to do that on their own terms.
Working on a tabloid-style TV news show in the early 1990s, I remember editors desperate for us to follow up on every detail of Diana's life and alleged loves as it was revealed. Any new revelation was considered newsworthy; any number of expert views were sought to fill the airwaves.
But while Diana's image may have been created to a large extent by the journalists who pursued her, as her fairy-tale marriage to Prince Charles in 1981 turned out not to have a happy ending, she herself proved capable of using the media. Diana's 1995 interview with Martin Bashir, in which she famously discussed her husband's infidelity — "Well, there were three of us in this marriage, so it was a bit crowded" — showed that she understood how to create a sensation.
At the time, the interview brought her immense sympathy. But nothing compares to the outpouring of grief that followed her death. In a country famous for its emotional reserve, people wept openly in the streets. They brought mountains of flowers to public places to mourn the "People's Princess." Thousands lined the funeral route to see the coffin pass.
Arriving outside Buckingham Palace to work on the coverage, as the sun rose that morning in early fall, I felt as if I had happened upon a dramatic scene from distant history rather than London in the late 20th century. One image above all other stays in the mind still: Diana's two sons, William and Harry, dutifully following their mother's coffin.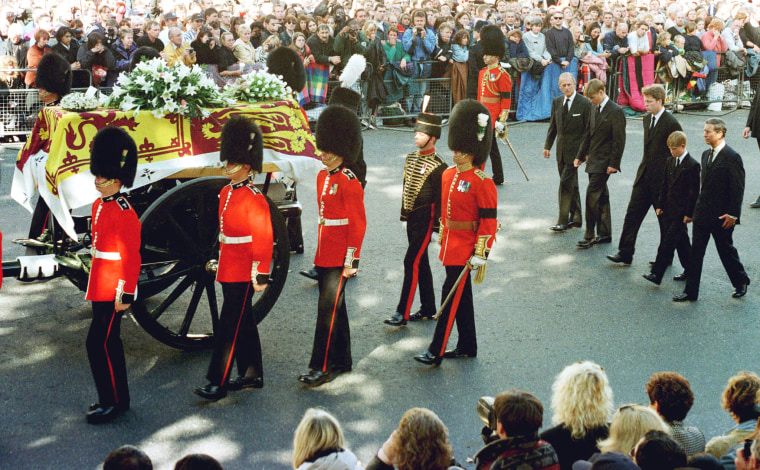 The news media have inevitably been a huge factor in the subsequent lives of the two princes. Harry in particular has attracted critical coverage. Controversial episodes such as his game of "naked billiards" in a Las Vegas hotel suite and his decision to turn up to a costume party dressed as a Nazi were gleefully seized on by tabloids the world over.
But his marriage last year to Meghan Markle gave him an opportunity to try out a new media image: the hell-raising army officer turned responsible, loving husband. The choice of Meghan — a divorced actress of African American heritage — became a story in itself. Meghan's ethnicity was seen in some quarters as a welcome sign of a royal family more willing to reflect the multicultural society over which they reign. But that didn't stop tabloids from distastefully speculating over whether Meghan might be descended from slaves.
Two years before the couple wed, Harry took the highly unusual step of issuing a public warning to the media about their conduct, accusing them of subjecting Markle "to a wave of abuse and harassment." Such warnings might once have been given privately — but firmly — by royal officials to newspaper editors. In an era when privacy is a vanishing concept, however, this one was made in public.
It has not been enough to shield the couple from unfavourable coverage. Some of Meghan's recent conduct — related to the amount of media coverage and her effort to maintain more of a private life, not surprisingly — led to a Daily Express headline in August that asked if she was becoming a "diva." And their recent decision to fly to Spain by private jet, despite their stated concerns for the environment, "attracted widespread criticism," in the words of the Mail Online.
It later emerged that Sir Elton John himself had paid for the flight. The star wrote that he felt "a profound sense of obligation to protect Harry and his family from the unnecessary press intrusion that contributed to Diana's untimely death."
Maybe, maybe not — but there is one important difference here for sure. It is highly unlikely that Harry and Meghan will be king and queen, so to compare their lives to Diana's is a stretch. Nothing today compares to the interest that she generated. And the spotlight on Harry and Meghan is very much shared with William and Kate, who are the ones expected to eventually assume the throne.
You can't have the magic without the media. Monarchs throughout history have understood that, and done their best to control information and image.
The 19th-century essayist and editor Walter Bagehot famously warned, as far as royalty was concerned, against letting daylight in on the magic. In our age, though, the magic is created by the media, whether in the mainstream press or on social networking sites.
That reality can get Harry and Meghan into trouble. Their decision not to permit media coverage of the recent christening of their son, Archie, was unpopular. If they accept money from the taxpayer, the argument ran, they should accept that their lives have a public element. The photos that the couple did choose to release were not enough.
You can't have the magic without the media. Monarchs throughout history have understood that, and done their best to control information and image. It was hard enough in the time of Princess Diana. Now it's harder than ever.