"I feel like Trump, in his own way, is killing art," actor David Duchovny told me recently. "I've been thinking a lot lately about the difference between art and gesture, because it seems like there's so much gesture everywhere. I'm interested in politics, but I'm thinking about it all the time. It's exhausting. But then art is a luxury, so maybe this is the time when we have to deal with what's real."
Duchovny's comments came back to me while watching Armando Iannucci's "The Death of Stalin," a film about the power struggle in the Soviet Union in the immediate aftermath of the brutal leader's death. A remarkable, dark comedy, it turns the real-life machinations of Stalin's subordinates into an uproarious, political spoof through some of the more biting satire in recent memory. And the timing is impeccable: Today's news seems stranger — and less funny — than ever.
"In extreme situations, when everything is falling apart, people should turn to humor," says Monty Python alum Michael Palin, who plays Stalin intimate Vyacheslav Molotov. According to Palin, the comedy of the Pythons and the comedy in "The Death of Stalin" aren't all that dissimilar. Both speak truth to power and shine a spotlight on the ridiculousness of it all, making the movie feel perfectly tailored for the Trump era.
"Humor is a very strong force for dealing with people who have gone power mad," Palin told me. "It's the one thing that they can't really deal with; they can deal with any kind of opposition, but being laughed at they really don't like."
"Humor is a very strong force for dealing with people who have gone power mad. It's the one thing that they can't really deal with." — Michael Palin
"The Death of Stalin" is a comedy, but it has a sharp edge to it as well. "People have said to me, 'It was so vile, I couldn't laugh at these killers. I had to walk out,'" Palin says. "I think that's very interesting, considering the absurd times we're living in."
It's true that Stalin and company — Molotov, Nikita Khrushchev, Lavrentiy Beria, Georgy Malenkov, Nikolai Bulganin — were brutal beyond all measure. But as the film shows, via the almost unbelievable real-life events that transpired in the wake of Stalin's stroke and death, they were also power-hungry, egotistical, greedy, narcissistic and incompetent.
Sound familiar?
"Well, ironically we made this in June of 2016, when Trump was just a candidate, and him winning seemed pretty implausible," says Jason Isaacs, who plays General Georgy Zhukov, the head of the Red Army. Isaacs noted that the story will likely feel familiar to a lot of people, not just Americans. "We were in Prague, shooting, and while we were there I met David Cameron, who had just resigned because of the Brexit vote. I told him we were there doing a film about the struggle for power and people stabbing each other in the back after Stalin died, and he said, 'It sounds just like Downing Street.'"
And yet, the world really is shifting. In the context of Trump's chaotic first 14 months in office — not to mention the ever-present questions about Russian meddling — the film has taken on new meaning, especially in America.
"When you watch these, shall we generously say, fallible characters, it's meant to remind us never to believe anything that we're told," Isaacs notes. "We all need to remember that our leaders are essentially maniacs and trivia obsessed narcissists. So as we watch everything that's happening now in this country, or England, or wherever, it's good to think of it through the prism of that understanding, remembering that satire has been a political tool forever. Even in the time of Stalin — even though they were terrified of being killed — they were circulating joke books to stay sane. And when you watch the film, no matter how outlandish the things that happen seem, everything that happens in this film is true."
To be sure, "The Death of Stalin" is a wild 107 minutes. But the chaos and violence and ridiculousness of it all never feels inauthentic. Just be prepared to wince as often as you laugh — especially when trying to match the 1950s Soviet minister with his current Trump cabinet doppelganger.
Especially for Americans, "The Death of Stalin" may be the perfect antidote for the avalanche of sewage spewing every day from our computers and phones.
"Armando has calibrated the tone of the film so you're laughing with the characters out of terror and out of discomfort," Isaacs says. "This administration is incredibly strange, but it's not the first time this has happened, and it won't be the last.
"You know who are seeing it in enormous numbers? Russians," Isaacs adds, gleefully. "It was banned by the Kremlin, which gave us the best publicity possible. In fact, there's a brilliant photo of a guy watching it in Red Square, on his laptop, right under Putin's window."
Still, especially for Americans, "The Death of Stalin" may be the perfect antidote for the avalanche of sewage spewing every day from our computers and phones.
"I'm continually surprised," Michael Palin says as we wrap up. "My jaw drops everyday. I just can't take it in. I think, 'Am I going mad?' Because Putin and Trump both seem to be out of some very bad drama. They're like rather badly written characters trying to out macho one another."
Like this movie, though, ignoring the problem won't make it go away. You can't dismiss Trump, nor can you pretend that his interactions with world leaders don't have potentially catastrophic consequences. The only silver lining from the movie may be the idea that life, eventually, does go on.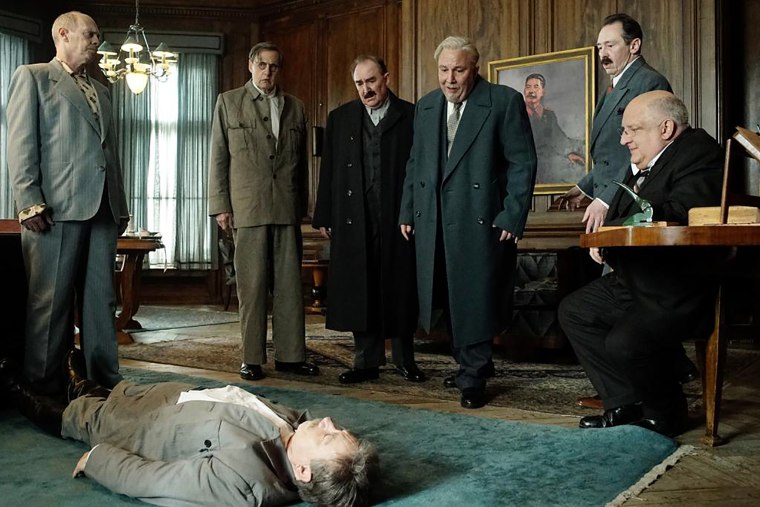 "No matter how outlandish things were in the aftermath of Stalin's death — and they were indeed pretty strange — things did go back to normal, in a way," Isaacs notes. "So I just can't see this becoming the way we run our world."
True to the fearless bluster of his character, Isaacs is trying to keep things in perspective.
"I worry about me and my children being reduced to a pile of ashes, but what I get from the administration is incompetence," he says. "We're here telling stories about politics, but there are far bigger concerns: Revolution, the massive economic consequences of what's going on in the world and, most of all, the messages that are being sent out because the most powerful person in the world has the kind of philosophy and the most repulsive thoughts — that people previously whispered in the shadows and who are now standing in the town squares shouting. So there are things that are far more important to worry about, and at the end of the day this is a movie to make you laugh more than anything else. And I think that's important, too."
Jeff Slate is a New York City-based songwriter and journalist. His writing can be found at sites like Esquire, Rolling Stone and Quartz, among others. He tweets at @jeffslate.