When we talk about the victims of campus sexual assault, we ought to be clear about whom we're speaking. Many campus rape survivors — and one in five undergraduates has experienced sexual violence — live with depression and fear. The trauma of the assault can lead to falling grades, job loss, quitting sports and withdrawal from campus life. On top of enduring the assault itself, many victims are traumatized a second time — often forced to confront dismissive attitudes by law enforcement and college officials, and blamed for crimes in which they were victims.
But it's wasn't just representatives from communities serving those survivors — survivors like me — with whom Education Secretary Betsy DeVos met before rolling back some Title IX provisions instituted by the Obama Administration, including protections so survivors didn't have to see their perpetrators in class and assurances that they would get the healthcare and counseling they needed.
Instead, DeVos also sat down with "men's rights" organizations, including Families Advocating for Campus Equality and the National Coalition for Men, both of which are hostile to survivor groups and the latter of which has a reputation for bullying victims by publishing their names and photos on social media.
And then, in an unprecedented move, DeVos announced that she would roll back effective policies that protect women from campus sexual assault.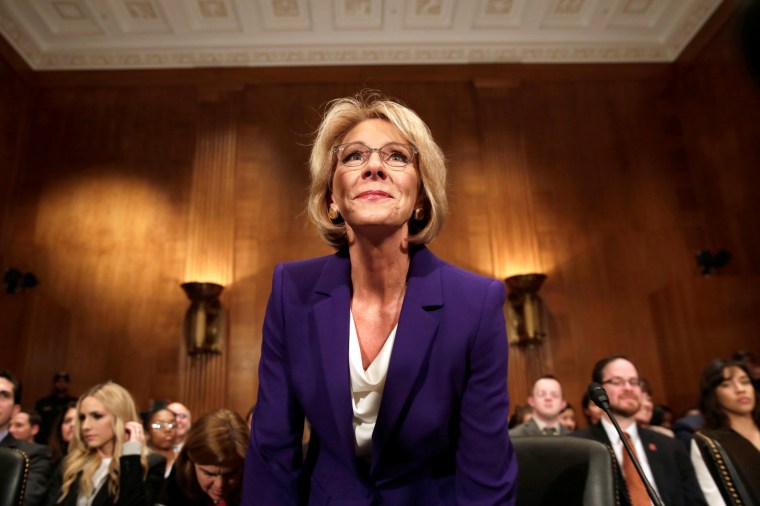 As a result of this reversal of Title IX protections, undergraduates who are sexually assaulted will once again face a second assault in the form of victim-blaming and intimidation, for no reason other than to shield perpetrators and bolster the arguments of rape deniers who have long minimized and excused these violent crimes.
As a survivor of sexual assault, I was stunned to watch the U.S. education secretary recite the arguments of those who want to revive the culture of silence that survivors have endured. The Obama administration's Title IX guidance that DeVos rolled back helped create some balance in the power dynamic that assault victims faced on campus. Even under that guidance, though, fewer than 10 percent of all sexual assaults are being reported because survivors are afraid to come forward.
The American Federation of Teachers and our affiliates, as representatives of teachers, do understand the effects that the demonstrably rare false allegations have on students, and we fight to ensure that anyone accused of sexual assault must have due process (which the original Title IX guidance expressly called for). However, knowing how serious the problem of sexual assault is, it has been sickening to see DeVos end this guidance and cripple the ability of the Department of Education's Office for Civil Rights to protect students.
This rollback is part of a pattern by DeVos to dismantle the Office for Civil Rights and turn the government's back on its historic mission to protect the civil rights of those who are vulnerable or disenfranchised. The Education Department should be protecting the vulnerable, not the powerful.
Title IX is an overwhelmingly popular law, enacted by Congress and signed into law by President Richard Nixon, for the good it has done by barring gender discrimination in federally-funded educational programs. It has provided legal tools that afforded a measure of justice to girls and women who were routinely denied equality on school and college campuses, including protecting women from campus sexual assault and providing a path for survivors to seek redress.
DeVos has undermined all of that by telling students they can no longer rely on the federal government to protect them from sexual violence. Her meetings with fringe groups legitimatize the silencing of survivors. DeVos is right that we need "a better way," but it's this country's ingrained campus rape culture that needs changing, not the policies that protect victims.
The 1.7 million members of the American Federation of Teachers join with our allies, including Sen. Kirsten Gillibrand (D-N.Y.) and Rep. Jackie Speier (D-Calif.), in demanding that those protections remain in place. And, personally, I cannot not sit quietly by while Betsy DeVos pretends that rape deniers have something useful to say about this topic. She needs to do her job and uphold the strongest provisions of the law.
Randi Weingarten is the president of the American Federation of Teachers.
CORRECTION: (NOV 1, 10:35am): An earlier version of this article misstated the name of the organization that the author said has a reputation for bullying victims. It is the National Coalition for Men, not Families Advocating for Campus Equality.