The unveiling of Beyoncé's Vogue September Issue takeover predictably sent the internet into overdrive on Monday. The Beyhive, her fanbase, is as enthusiastic as it is loyal. Vogue's historic reveal also comes amidst her and husband Jay-Z's "On The Run II" tour, currently filling stadiums across the U.S.
But while Beyoncé is as publicly visible as she's ever been, her personal life remains, well, personal. In 2018, celebrities, quasi-celebrities and wannabe celebrities alike trade in the currency of real-time confessions and attention. And yet, Beyoncé has found a way to play by her own rules. She and her Parkwood team, the entertainment company she founded in 2010, can keep a professional secret like no one else — remember her surprise 2013 album "BEYONCÉ"? — but this is more than an innovative marketing strategy. Rather, it is all part of the legendary celebrity's redefinition of privacy and publicity in the modern era.
While Beyoncé is as publicly visible as she's ever been, her personal life remains, well, personal.
In 2015, the last time Beyoncé covered the prestigious September Issue, she refused to grant an interview. It was the ultimate power move, although not without controversy. This time around, she opened herself up more, offering her thoughts on body image, representation, her own ancestry and the emergency C-section birth of her twins. The photos spoke volumes too, as Beyoncé handpicked the photographer: 23-year-old Tyler Mitchell. Mitchell is the first black photographer to shoot a Vogue cover in the magazine's 126-year history.
Still, the Vogue piece doesn't give as much access as pop culture often demands, especially since interviews with the star are so rare; she has only given four print interviews in the last five years. This means that Beyoncé has managed to remain both guarded and completely in control of her own narrative, blurring public and private while somehow never giving us enough of either.
She may be trying to keep us wanting more as PR strategy, making herself scarce while still "caus[ing] all this conversation," as she says in "Formation." Such scarcity is undoubtably a good way to sell albums, tour tickets — and magazines. But it feels more like a subversion of public expectations — what scholar Daphne Brooks called a unique blend of "hyper-visibility and inaccessibility simultaneously." Beyoncé curates the small pieces of her life she wants us to see — and that's it. What she does share comes when she's ready, and never as its happening.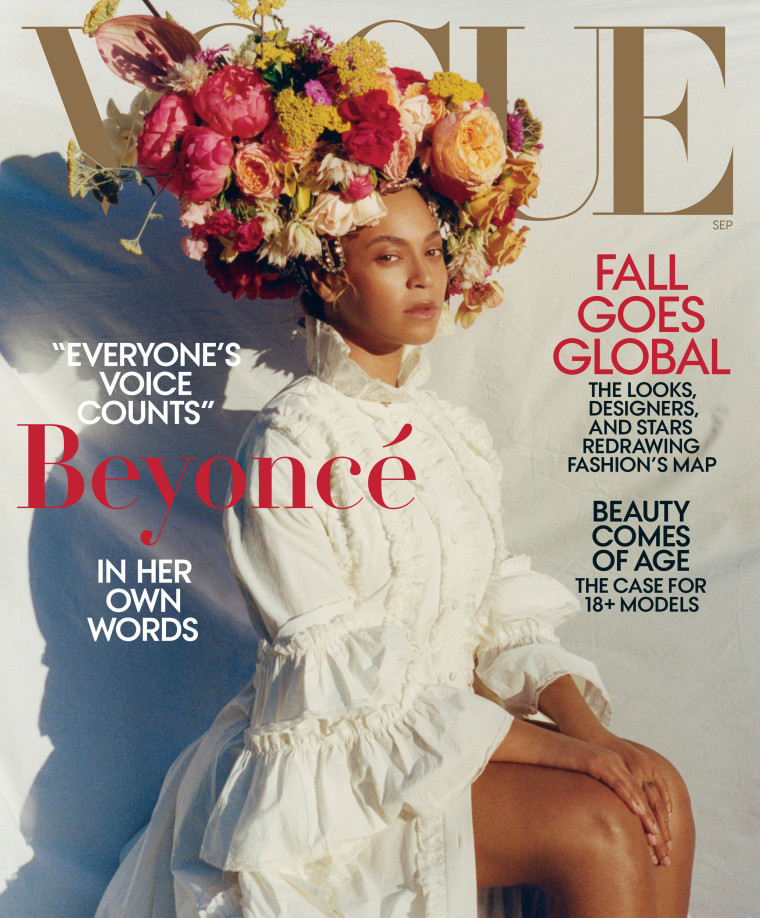 To view Beyoncé's boundaries as a strictly business decision does her a disservice, however. The delineation is political, meticulous and predates the 2013 surprise "digital drop." Earlier that year, Beyoncé retreated from the press and public life after the release of her documentary "Life Is But A Dream," a candid visual autobiography of an artist mid-career that itself offered little unknown personal information while still allowing viewers to feel like they'd been given a more extended glimpse behind the curtain.
Some called it heavy-handed, but for Beyoncé, it was a clear declaration of a survival strategy. This was a woman balancing her career as a black woman in an industry (and world) run largely by white men with motherhood and a romantic partnership that has not always been perfect.
Tabloid speculation notwithstanding, the world's most powerful entertainment couple do not comment on their private lives publicly — only through their art. Despite the soul-baring personal aspects of Beyoncé's "Lemonade" in 2016, Jay-Z's subsequent "4:44" in 2017, the Carters' "Everything Is Love" in 2018 and some additional vague insinuation, actual details about the reality of their lives remain thin. We still don't know all that we don't know — and the couple's confessions often feel like they are as much about politics and universal themes as actual life events.
Beyoncé's current tour is another example of this perennial balancing act. While the concerts feature husband and wife singing a selection of emotional anthems, it is also a masterclass in translating the personal into politics. Though the musical themes involve marriage, broken promises and healing, the core metaphors can be superimposed onto any of the numerous fractures exposed in Trump's America today.
Indeed, the show opens with an LED screen proclaiming: "This Is Real Life." But it's not, really. Beyoncé and Jay-Z are as much themselves as they are actors, inhabiting the Bonnie and Clyde-esque outlaw characters they've been developing since "'03 Bonnie and Clyde," featured on Jay-Z's "The Blueprint 2." The Carters do share personal video of Blue Ivy, Sir and Rumi as part of OTR II but the majority of the tour's visuals exist as part of a larger cinematic story played out on the streets and beaches of Jamaica. Social commentary on racial inequality and feminism also take center stage at various points in the show.
The personal aspects of OTR II mirror the journey detailed on "Lemonade," from intuition to redemption. But those steps are also political instructions that don't rely solely on Beyoncé and Jay-Z's personal story, or what we think we know of it. So while OTR II might portray Beyoncé at her most publicly vulnerable, she's still personally in control every step of the way. Even Jay defers to her direction at various points on stage, just as the editors at Vogue did.
This distinct ability — and perhaps intentional sleight of hand — allows Beyoncé the best of both worlds as a powerful public artist and storyteller and private person simultaneously. Maintaining strict boundaries may sometimes be frustrating for fans who grew up alongside the rise of reality TV and 24-7 celebrity access. But it's also a powerful reminder that Beyoncé doesn't owe us anything. We should be thankful instead for the art she creates — art that we can use to guide our own lives, instead of trying to consume all the private details of hers.
Kevin Allred is a writer, speaker and educator. He created the "Politicizing Beyoncé" course in 2010. His book "Ain't I A Diva?: Beyoncé and the Power of Pop Culture Pedagogy" is forthcoming from the Feminist Press at CUNY in June 2019.
. Read more at www.kevin-allred.com.