The release of the "Cats" movie trailer Thursday — the first glimpse of Hollywood's attempt at Sir Andrew Lloyd Webber's 1981 glam-fantasia musical — took the internet's long obsession with cats straight to the uncanny valley and inspired one hell of a backlash. Part of the problem seemed to be people's seeming unfamiliarity with the play's core conceit — actors, dressed in Halloween-esque cat costumes, pretending to be real cats. But the main problem was assuredly that the production leaned in so hard to that core conceit that it utilized human-feline hybrids helped along by just enough CGI to make familiar faces such as Dame Judi Dench and Taylor Swift look … not quite like themselves, yet not quite like cats.
That "Cats" hasn't been remade all-stars-on-deck-style until now is something of a miracle, given its onetime dominance of popular culture and big companies' rush to reboot every piece of intellectual property worth a catchphrase. ("Better than 'Cats'" was such a high bar for Broadway ads that it was parodied by 'Saturday Night Live' in 1986.) The musical, which the Emmy-Grammy-Oscar-Tony-winning Webber based on T.S. Eliot's 1939 poetry collection "Old Possum's Book of Practical Cats," ran at New York's Winter Garden for 18 years. It has a somewhat morbid plot; by the time morning breaks, one of the assembled cats will have been chosen to snuff out one of their nine lives in anticipation of being reborn on the Earth's Heaviside layer and eventually reincarnated on Earth.
But audiences — if not critics — since its 1981 debut on London's West End, loved its fourth-wall breaking and larger-than-life set pieces.
Its megahit status was helped along by Webber's blustery compositional style, and it set the stage for his other big smashes such as "The Phantom of the Opera" and "Les Miserables." The torch song 'Memory" — a regretful aria sung by the aging Grizabella — was enough of a tour de force that it was recorded by Barbra Streisand and Barry Manilow, as well as sung by school choirs, TV talent-hopefuls, and more than 600 artists from across the pop spectrum including, with the movie, Jennifer Hudson.
So why was the trailer met with horror on the internet when it landed online Thursday? Part of it is the social-media-assisted tendency toward what I like to call "sour milk syndrome"; saying the equivalent of "this milk is sour, taste it" about a piece of popular culture is, paradoxically, more effective at getting audiences to watch along than telling those people a thing is worth seeing.
But that, of course, feeds right into the actual reasoning, which involves the way the cats — British ballerina Francesca Hayward's ever-curious Victoria, Swift's lounging Bombalurina, Jason Derulo's feisty Rum Tum Tugger — look. Their faces remain recognizable, but they were attached to oddly hybridized cat-person bodies. Call it the reverse "Lion King" problem; this time the CGI-borne anthropomorphization made the actors look too much like people. The production used motion-capture filming and what director Tom Hooper (who helmed the big-screen "Les Mis") called "digital fur technology" to create the cat-human hybrid.
Compare your reaction to this year's trailer to the clip of Broadway stalwart Terrence Mann vamping his way through a synthy version of "Rum Tum Tugger," a video which aired regularly on MTV — if you can believe that in 2019 — during "Cats'" early-80s Broadway heyday. It might not involve actors dressing up in green suits and technology from the future, but there is a level of humanity that remains intact in Mann's performance.
I actually watched the "Cats" trailer with my own cat, a three-and-a-half-year-old black kitty who isn't shy about getting up close and personal with my TV when it's showing birds, squirrels or other cats. (He also really likes long-haired women, like the WWE wrestler Charlotte Flair and the fast-talking MC Nicki Minaj.) He seemed much more interested in the screen when it showed the cats in action — the shots of Victoria and her friends playing on furniture and slipping around the empty streets, movements that resembled his own. He didn't, however, move closer to the screen in order to try and play with the actors. Obviously I couldn't ask him why he was reacting the way he was, but the contrast was notable.
Me? Before yesterday, I appreciated "Cats" (while thinking of it as no "Jesus Christ Superstar"as far as the Webber canon goes). I spent a lot of time wondering if the unease I felt watching the trailer was because of the way YouTube compresses videos before they reach their destination, or because of my internet connection being wonky.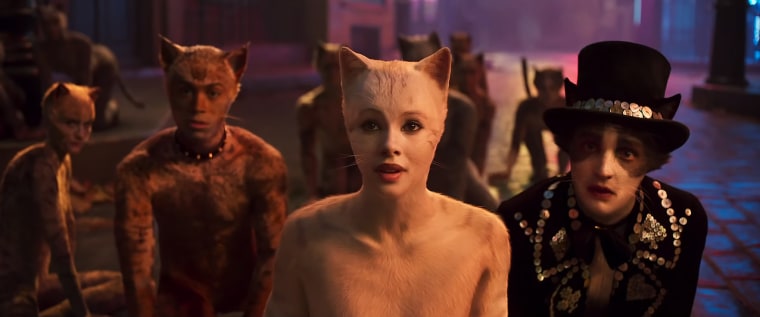 But then Jennifer Hudson, whose path from "American Idol" early exit to Oscar winner is worthy of its own Broadway musical, launched into the climactic verse of "Memory" and I got the sort of chill that only a tour de force performance of classic Broadway schmaltz could. Had Hudson, Dame Judi Dench and Idris Elba been transformed into versions of themselves that resembled furry paintings more than actual people? Sure.
But Hudson's voice cut through the CGI clamor in a way that was undoubtedly human, and the success of "Cats" will likely rest in her castmates' ability to do the same. As the song goes, maybe the memory can live again.