The deadline for the nation's desperate towns and cities to submit their bids for Amazon's second headquarters has come and gone. Now hundreds of American mayors across the country await Amazon CEO Jeff Bezos' final decision. To whom will he bestow his lucrative tech jobs? News sites will fawn over this blessed municipality, the next hub of economic prosperity, and the mayor in question will consider him or herself one very lucky public servant.
This may be wishful thinking, however. And the winner may learn that the victory is pyrrhic, at best. After all, Bezos didn't become one of the richest men on Earth by being generous. While New York Mayor Bill de Blasio has promised to only use existing tax subsidies — not newly-created ones — to lure Amazon to the city, many other politicians are tripping over themselves to make sure the tech giant gets every break it can.
Most extreme might be New Jersey, where outgoing Republican governor Chris Christie has teamed up with the Democratic mayor of Newark, Ras Baraka, to offer a remarkable $7 billion in tax breaks to lure Amazon to Newark. This may not even be enough. Stonecrest, Georgia would de-annex 345 acres of land and rename the city Amazon. Frisco, Texas would has offered to give away 40 percent of its land area.
Some cities, as noted by Seattle Times columnist Danny Westneat, are literally willing to give Amazon sway over how taxes are spent and civic projects are developed.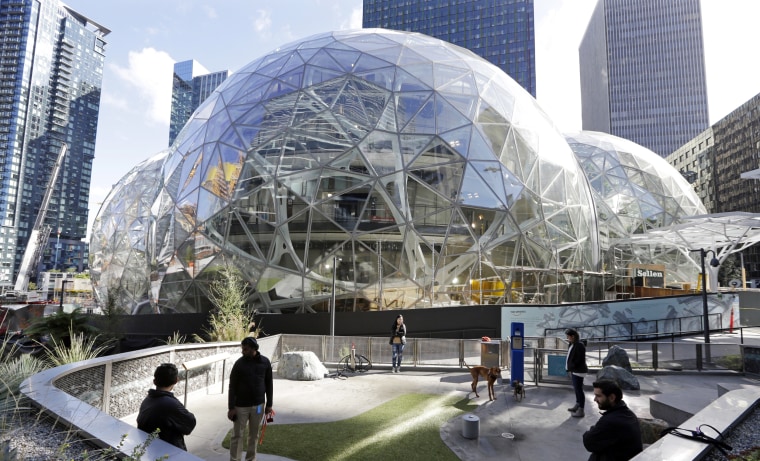 On paper, Amazon's upsides seem huge. An Amazon headquarters would house as many as 50,000 workers, many of them college-educated and entitled to high salaries, unlike the blue collar workers in Amazon's competitive shipping warehouses. This has allowed the likes of de Blasio, a progressive Democrat, to cheerlead for Amazon, despite its reputation as an anti-union corporate behemoth worth almost twice as much as Walmart.
Amazon's effect on the economy has also been profound: The retail sector, which employs many of the less educated workers who once filled the ranks of American manufacturers before they automated their workforces and fled overseas, is withering. For all the jobs Amazon has created, it has destroyed many others.
But Amazon's business practices are only part of the problem. Given the amount of subsidies on offer, it seems unlikely any municipality will ever earn back the tax revenue being sacrificed to lure the company in. This means that taxes that could've gone to schools, roadways, public hospitals, and parks may be sacrificed so the city hosting Amazon can pretend, for a little while, it's on the cutting edge.
Good Jobs First, the Washington D.C.-based subsidy watch group, analyzes so-called "megadeals" that involve massive tax breaks for corporations. If Amazon follows the precedent of similar deals like the $8.7 billion in subsidies over 16 years that Boeing received in Washington state, the organization estimates that a city would pay more than $600,000 per Amazon job.
As long as cities and towns trip over each other to offer ludicrous incentives, Amazon will get exactly what it wants.
Meanwhile, Amazon may find a way to effectively pay a negative corporate tax rate. In 18 states, according to Good Jobs First, the company could legally keep some or all of its employees' state personal income tax payments. Amazon could also insist a state allow it to sell unused credits to other companies that actually have income tax bills, paying no income tax while getting cash for building headquarters and hiring employees.
This means that while Amazon's tens of thousands of new employees will presumably be using public services and infrastructure, the company may not have to pay commensurate income or property tax to offset any increased strain.
In a worst-case scenario, this phenomenon could have severe ripple effects. Depending on the winning city's socioeconomics, a new, higher-paid workforce could, for example, potentially fuel a surge in home prices, driving out working class residents who would likely not be in contention for Amazon HQ jobs in the first place.
A few executives are thankfully are already calling Amazon's bluff. The mayor of San Antonio, Ron Nirenberg, said that "blindly giving away the farm isn't our style." San Jose Mayor Sam Liccardo said no subsidies would be on the table.
If more political leaders banded together and stood up to Amazon collectively — instead of trying to cash in on a quick and illusory payday — perhaps the tech giant would be approaching this city selection in a more even-handed way. Unfortunately, this would require the type of foresight and patience many elected officials lack. Ultimately, the promise of immediate jobs is too tempting, especially since lost tax revenue is a longer-term problem likely to plague successors.
So as long as cities and towns trip over each other to offer ludicrous incentives, Amazon will get exactly what it wants. The taxpayers, eventually, will probably pay the price.
Ross Barkan is a writer and journalist from New York City. He writes a column for the Village Voice and the Guardian.