Houston Rockets General Manager Daryl Morey did something on Friday that seems benign and almost routine in the United States. The advanced statistics pioneer, who is one of the NBA's highest-profile executives, sent a brief tweet in support of the pro-democracy protests in Hong Kong.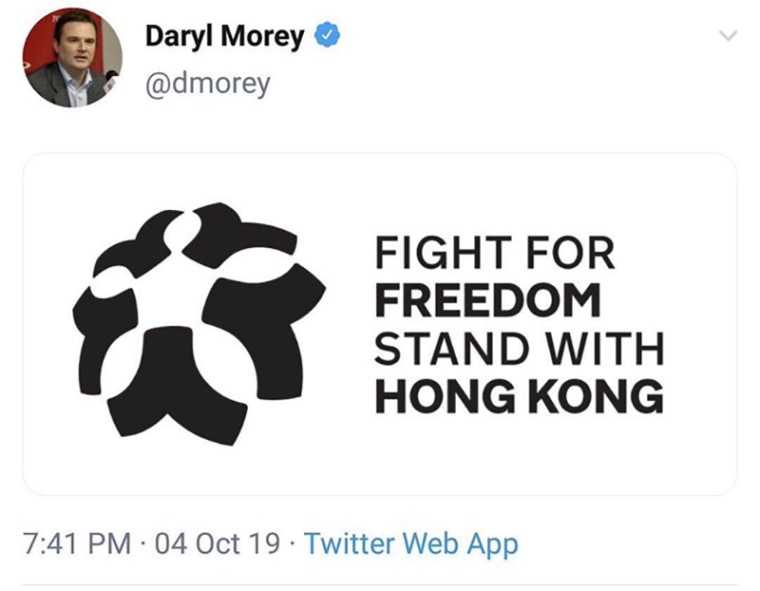 The effect of this butterfly flitter on Twitter, however, was a tempest on the other side of the earth that has consumed the Rockets ownership and the NBA itself for the last several days. Many Chinese companies, including shoe manufacturer Li-Ning, who outfit former and current NBA stars like Dwyane Wade and CJ McCollum, have withdrawn their sponsorships of the team. Chinese state television pulled Rockets games off their schedule. And Tencent, a leading internet and cable provider, has said that they will stop airing Rockets games for the time being.
To calm the furor, Rockets owner Tilman Fertitta immediately distanced himself and his organization from Morey's tweet, which was quickly deleted, and even granted a few likes to Instagram comments suggesting that Morey be fired. The NBA also issued a kind-of apology, one that reads a little more apologetic in Chinese than it is does in English, in an attempt to salvage the situation with Chinese power brokers ahead of the start of the season on Oct. 22.
That, in turn, sparked its own outrage. American politicians on both sides of the aisle swiftly criticized Fertitta and the league for their response, calling it capitulation and selling out. Indeed, instead of Morey's call to "Fight for freedom. Stand with Hong Kong," maybe he should have urged his followers to support freedom by standing with him. Because while Morey might live in America, work in America and hold American citizenship, it turns out that he is still subject to economic and social pressure from an autocratic regime half a world away.
But though this might be deplorable, it is hardly shocking, and the politicians might as well save their time because they won't be able to change this dynamic anytime soon. The NBA, like so many other U.S. companies and institutions, has agreed that submitting to authoritarianism is a reasonable price to pay for audience growth. This episode was put in motion the day the NBA entered China; the sin wasn't the NBA's apology on Sunday for a now-deleted tweet, but the fundamental decision to stake its future on investing in the Chinese system.
That investment — and its payoff — has been huge. Basketball was introduced to Mainland China in the early 1900s by YMCA missionaries, and while Mao Zedong purged most Western-tinged cultural excesses from the country during his reign in the middle of the last century, he felt that basketball's communal spirit and emphasis on teamwork gave it a place in revolutionary China. In 1987, in the middle of the NBA's glory days, the league gave the television rights to their games to Chinese state television for nothing, a gambit to get the product's rising popularity to spread across its massive audience.
That seed has blossomed into a powerful presence in the world's largest emerging economy, one that other international sports leagues simply do not have. NBA games frequently attract more than 7 million viewers, even though they air in the morning in China, while playoff games draw more than 20 million viewers — the NFL, by contrast, draws a paltry 2.2 million. The NBA has more followers on Wiebo, the Chinese social network, than it does on Facebook or Twitter. More than 640 million Chinese citizens watched some form of NBA content during the 2017-18 NBA season: That's nearly 300 million more people than the population of the United States. The NBA's Chinese operations are worth an estimated $4 billion, and their TV deal with Tencent will net the league $1.5 billion over the next five years.
And no team has ridden the cresting wave of Chinese support like the Houston Rockets. In 2002, Houston drafted Yao Ming first overall in the NBA Draft. Seven-foot-six, with an impeccable shooting touch, back-to-the-bracket skills and preternatural defensive instincts, Yao became a sensation overnight. There had been other Chinese players in the league before Yao, but none were even close to registering his level of on-court production or off-court charisma.
Yao's games were shown on Chinese national TV as a matter of course. His every matchup against Yi Jianlian, another Chinese player who was then playing for the Milwaukee Bucks, drew more than 150 million viewers — more than the Super Bowl on any given year. The Chinese vote catapulted Yao into the All-Star game his rookie year, and sent him back seven more times, even when his oft-injured feet kept him off the court. Yao, whose number was retired by the Rockets in 2017, is now the president of the Chinese Basketball Association, China's professional league, which broke ties with the Rockets in response to Morey's tweet.
The Rockets took the opportunity of having Yao on their roster to make themselves the unofficial team of China. Their Yao-era teams wore a Chinese-styled jersey, the team plays exhibition games there basically every year, many of their players have lucrative sponsorships in China, and they have the second-largest NBA social media presence, behind only the league's dynastic juggernaut, the Golden State Warriors.
The submission to authoritarian impulses might be unseemly on the part of Fertitta and the NBA, but that kind of market share in a country whose spending power is growing by the day was a reason paying more than $2 billion for an NBA team could be considered a good investment in the first place. The basic fact of the matter — not just for basketball, but for the whole of international capital in the 21st century — is that China represents the biggest opportunity for growth, and offending their authoritarian government can make doing business there much harder.
You can blame the NBA and the Rockets for this capitulation, but that's simply too narrow. Everyone who lives by the grace of global capital is, in some way, in thrall to the forces of authoritarianism. If you're reading this on an iPhone, you could be using a product built with unfair labor practices that the Chinese government tacitly enables, a phone you purchased that put some tax duty into the pocket of the Chinese government that funds a campaign of terror against Muslim Uighur populations in Xinjiang. If you're working for a company that does business with factories or phone banks in China, you are working for a business that is conforming to the needs of an authoritarian regime.
The NBA is a functionary of capital, like every other big business in the Western world, and capital has little moral or democratic sense — it just goes where the money is and squishes itself into whatever position is asked of it. Telling your employees to get with the program isn't an act of cowardice, it's an act of common sense. If Americans want that common sense to change, well, they're going to have to start with a more important institution than a basketball league.
CORRECTION (Oct. 8, 2019, 9:35 a.m. ET): A previous version of this article misspelled the names of two stars outfitted by the Chinese shoe manufacturer Li-Ning. They are Dwyane Wade, not Dwayne, and CJ McCollum, not McColumn.