Most Americans support the undocumented immigrants first brought to the United States as children and now known as Dreamers. Even President Donald Trump has sympathetic words — well, sometimes — for this group. Depending on the survey, anywhere from two-thirds to three-quarters of the population has said it is in favor of allowing Deferred Action for Childhood Arrival (DACA) recipients stay. This includes a near majority of Republicans — 44 percent according to the most recent NBC News and Survey Monkey poll.
With so much public support, it seemed like Democrats had enough political capital to push Republicans to secure a permanent DACA solution. And yet, on the eve of the shutdown, the GOP threw Democrats a curveball condition: multi-year funding for the Children's Healthcare Insurance Program (CHIP) in exchange for funding the government.
In this way, the Republican Party managed to frame the shutdown as brown kids vs. white kids. The sympathetic image of the Dreamer suddenly seemed less powerful when contrasted with the millions of poor children who might be forced to live without healthcare.
The debate has now shifted. As part of the deal to end the shutdown, Senate Majority Leader Mitch McConnell promised to address DACA, although even Senate Democratic leader Chuck Schumer acknowledged that Republicans may not allow a vote on immigration. This is especially true because of the concrete elephant in the room: Trump's big, beautiful wall.
Republicans may not allow a vote on immigration. This is especially because of the concrete elephant in the room.
Prior to the government shutdown, Schumer was said to have put the wall on the bargaining table. However here is where things get murky. Schumer says he offered to pay for the wall, although he has declined to say how much he offered. White House officials said that Schumer only offered $1.6 billion, much less than the total cost.
In any case, the wall is reportedly now off the table again. Whatever amount of funding Schumer had initially offered is gone. While plenty of Democrats will applaud this stance, I believe it is a mistake. Let Trump have his wall and the $20 billion he wants to build it. It is an expensive and useless toy he desperately wants. But, such an extravagant toy has a cost. And that price tag is a permanent fix for the DACA recipients.
Even Democratic Representative Luis Gutierrez, one of the most progressive voices in the House of Representatives on the issue of immigration has voiced his support for this trade. As he noted in an interview, "lives are more important than bricks."
There is no price tag for pain and suffering that will occur if we let DACA die. But there are numbers showing the economic effects.
Indeed, the (huge) economic cost of a wall becomes a bit less significant when compared to the various costs — economic, political and cultural — of pushing close to one million Dreamers into the shadows. Losing hundreds of thousands of workers could cost out economy over $400 billion in the coming decade, according to the Center for American Progress.
Surveys and studies consistently show that the vast majority of Dreamers are employed. Just like American citizens they pay taxes, except they can't access a number of tax-funded programs because of their status. Dreamers are a crucial part of the nation's economic engine and represent the young, vibrant workforce that is subsidizing the population decline we have witnessing since the heyday of the Baby Boomers
Pushing these productive and engaged youth into the shadows would also represent a tremendous loss of investment on the part of states and localities. The vast majority of Dreamers have been educated in the U.S. and continued on to secure professional degrees. The retraction of DACA work permits would invalidate invaluable human capital.
And all of these losses do not even include the cost of deporting Dreamers. The apprehension, detention, transportation and processing with Dreamers is estimated to cost $10 billion, according to a report from the Brookings Institute — almost double of what Immigration and Custom's Enforcement budget is currently.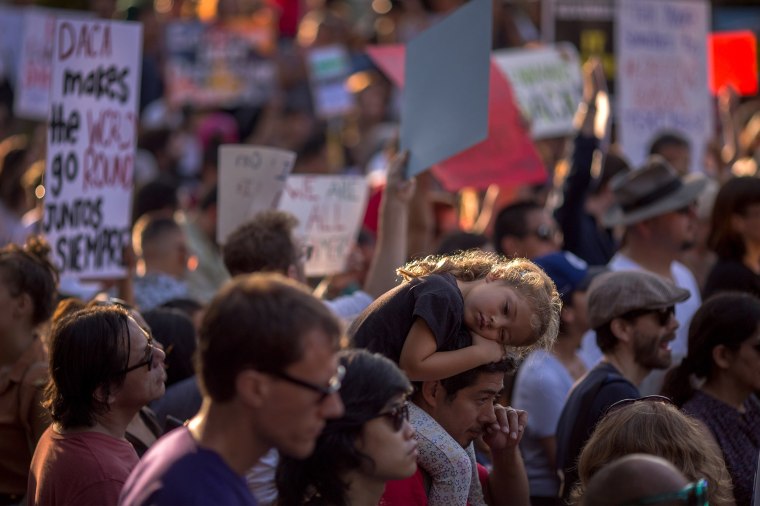 By any estimate, building additional fencing (on top of the 700 miles of border fencing we already have) is expensive. But ultimately, any border wall is a third-century solution for a 21st-century problem, as Republican Congressman Will Hurd asserts. Technological advances have already allowed the border to be patrolled by drones, ground sensors and cameras.
Even the U.S. Border Patrol does not necessarily see the need for Trump's wall. In a 2016 internal U.S. government study obtained by Reuters, the Border Patrol called for the creation of a virtual wall and requested 23 more miles of fences.
Again, a border wall seems to be a massive waste of money rooted in Trump's repugnant xenophobia. But not finding a permanent resolution for Dreamers is even more expensive, useless, and morally revolting.
Sometimes politics boils down to the lesser of two evils. We want to think that policy is about pursuing lofty ideals and never compromising. In reality, politics is about horse trading. Legislation to authorize Trump's border wall funding and provide a pathway to legalization for Dreamers would be criticized by much of Congress and the American public, and that's just fine.
Give the president his damn wall. Democrats need to keep their eye on the prize.
Dr. Victoria M. DeFrancesco Soto is a political scientist and lecturer at the University of Texas' LBJ School of Public Affairs. She previously served on the faculty of Northwestern University. Her research on political behavior has been widely published in scholarly journals and cited in the New York Times, Los Angeles Times, Chicago Tribune, Time, and POLITICO. She currently engages in political wonkiness on MSNBC, NBCLatino.com, and Telemundo among other outlets.