President Trump's pardon of conservative provocateur Dinesh D'Souza has provoked rapture and outrage in equal measure from political junkies — which is probably part of the point. Pardoning D'Souza thrills Trump's base, which sees it as a thumb in the eye of liberals.
D'Souza, a now-triumphant member of that base, reprised his familiar theme that he was targeted by "Obama & his stooges." Trump, equally true to form, proclaimed that D'Souza "was treated very unfairly by our government." And then, clearly feeling his oats, Trump further suggested he might pardon media mogul Martha Stewart and former Illinois Governor Rod Blagojevich.
It is true, as any federal criminal defense attorney will tell you, federal investigators and prosecutors do abuse their power all the time, including in high-profile cases. On the rare occasions that they face consequences, it's big news. This week, for instance, federal prosecutors were forced to drop rioting charges against seven people who protested at President Trump's inauguration when the court found that they had wrongfully withheld potentially exculpatory videos. In January, federal judge in Nevada dismissed charges against anti-government activist Cliven Bundy and his family for what she called "flagrant misconduct" by prosecutors in withholding evidence. In 2013, a federal judge in Louisiana overturned convictions of police offers found guilty in the infamous post-Katrina Danziger Bridge shootings based on "grotesque prosecutorial misconduct," including federal prosecutors commenting on the case under pseudonyms online. Perhaps most famously, in 2009 a judge in Washington D.C. threw out the conviction of former Alaska Senator Ted Stevens, saying the misconduct there was the worst he'd ever seen.
It is true, as any federal criminal defense attorney will tell you, federal investigators and prosecutors do abuse their power all the time, including in high-profile cases.
But even defense lawyers will admit that not every case involves misconduct, and it's hard to see it in D'Souza's case; his claim of victimhood (and President Trump's endorsement of it) is more politics than substance. D'Souza was charged with making straw donations to GOP Senate candidate Wendy Long in 2012 — in other words, he convinced others to donate to Long and then reimbursed them, thus evading federal limits on individual donations to a candidate. There's no real dispute that he did this; he pled guilty to it. Contrary to D'Souza's suggestion that his was a novel case, federal prosecutors have charged egregious straw donors for years, including Democrats. Local officials also prosecute straw donors under state law; I've defended a half-dozen of them of every political persuasion.
D'Souza contends, however, that the Obama administration targeted him for prosecution because of his conservative advocacy. Selective prosecution — singling people out for prosecution for impermissible reasons like their race or their free speech — is unconstitutional. But there's an established mechanism to prove it: File a motion to dismiss for selective prosecution, and satisfy the two-part test by first showing that the decision to prosecute was motivated by an impermissible factor like speech and then demonstrating that other similar people weren't prosecuted. D'Souza tried, and the federal judge hearing his case rejected his arguments. The judge pointed out that the government demonstrated that it had prosecuted both Republican and Democratic straw buyers, and that D'Souza had presented no evidence of discriminatory intent and no evidence that similar people with different politics were not prosecuted. D'Souza therefore couldn't even make enough of a showing to get discovery into his assertion of selective prosecution, let alone a dismissal.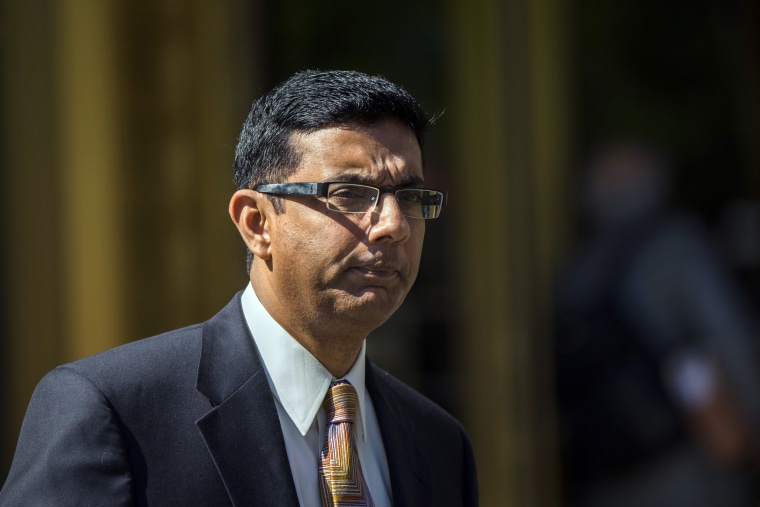 D'Souza and his supporters also claim his sentence — five years of probation and eight months in a halfway house — was excessive. It wasn't: The sentence was below the United States Sentencing Guideline range that D'Souza agreed was applicable to his case. Any lawyer would hope to get a client like D'Souza a no-custody sentence, but no honest lawyer would promise it. His sentence was well within the mainstream of sentences for similar white-collar offenders. People telling you otherwise don't practice federal criminal law.
So what is this pardon about, if not justice? Politics. The pardon advances the narrative that some prosecutions — particularly those that can be connected, however tenuously, to former President Obama — are politically motivated and illegitimate, which is precisely the message Trump wants us to hear during Special Counsel Robert Mueller's investigation.
Trump's suggestion that he might pardon Martha Stewart and former Illinois Governor Rod Blagojevich serve the same purpose. Stewart was convicted of obstructing justice and lying to investigators during a federal investigation. Mueller's been investigating and prosecuting Trump allies — and perhaps may do the same toTrump himself — for the same sort of behavior. Pardoning Stewart would promote Trump's argument that such prosecutions are abuses of power.
So what is this pardon about, if not justice? Politics.
Similarly, Blagojevich was convicted of political corruption charges for his efforts to sell President Obama's empty Senate seat, which the governor defended as "just politics." Pardoning him would promote Trump's message that it's illegitimate to criminalize politics, and that all of this "collusion" talk amounts to sour grapes and turning typical campaign maneuvering into crimes.
All of these pardons — along with Trump's prior pardons of Bush Administration official Scooter Libby and infamous Arizona Sheriff Joe Arpaio — promote Trump's drumbeat narrative that federal law enforcement is corrupt and illegitimate.
But it may be wrong to see intrigue where there is only id. President Trump feels things strongly and acts freely on his feelings and his tribal instincts. D'Souza is an elbow-throwing culture warrior like him, beloved by the Fox News commentators he watches religiously. Stewart and Blagojevich are both former participants on Trump's beloved show "The Apprentice." And their pardons infuriate people Trump loves to troll.
There's no principle here, and there may not even be politics — it may all be about the unchained ego of the President of the United States.
Ken White, a former federal prosecutor, is a criminal defense attorney and First Amendment litigator in Los Angeles. He hosts the First Amendment podcast "Make No Law."