Elvis Presley, the "King of Rock and Roll," would have turned 85 on Wednesday. That means that Presley — who died at 42 in August 1977 — has been dead exactly as long as he lived on this earth. But whether it's the mid-'50s protorocker, the leonine late-'60s Vegas fixture, or the charismatic big screen star that floats your boat, there's still an Elvis for everybody.
His music defined the 1950s and, when rock and roll seemed all but dead in the early '60s, he helped inspire a second wave of the genre. He was the deity punks in the '70s railed against, though his image was still ever-present, even as he became a punchline in death. In this century, his music has topped the charts and has been sampled repeatedly.
Along the way — from the Beatles to Elton John to Lady Gaga — Elvis Presley was the template for what a rock star could, and should, be. Seriously, would there even be a Harry Styles without him?
Along the way — from the Beatles to Elton John to Lady Gaga — Elvis Presley was the template for what a rock star could, and should, be.
"The easiest way to get somebody to like Elvis is to get them to listen to Elvis," says John Jackson, an Elvis historian who oversees Presley's catalog for Sony's Legacy Recordings. "Whether it's 'Jailhouse Rock' or 'Suspicious Minds' or whatever, once somebody hears him, there's something in there that's undeniable, no matter who you are. That's why EDM DJs like to use his voice, and music supervisors love to use his music; because it touches you in a way that's more than just hearing it. He's one of those rare artists where you actually feel his music."
But Presley's massive impact on modern music is hardly limited to rock and roll. Spotify, for instance, has an expansive "Elvisualization" chart, released five years ago for the King's 80th birthday, which tracks his remarkable influence on popular culture.
"Elvis became iconic not just because of the music, but what he did as a visual symbol, and as a performer in terms of unleashing youth culture," argues rock historian Warren Zanes, whose recent biography of Tom Petty chronicled the chance meeting Petty had with Elvis that unquestionably changed the course of his life.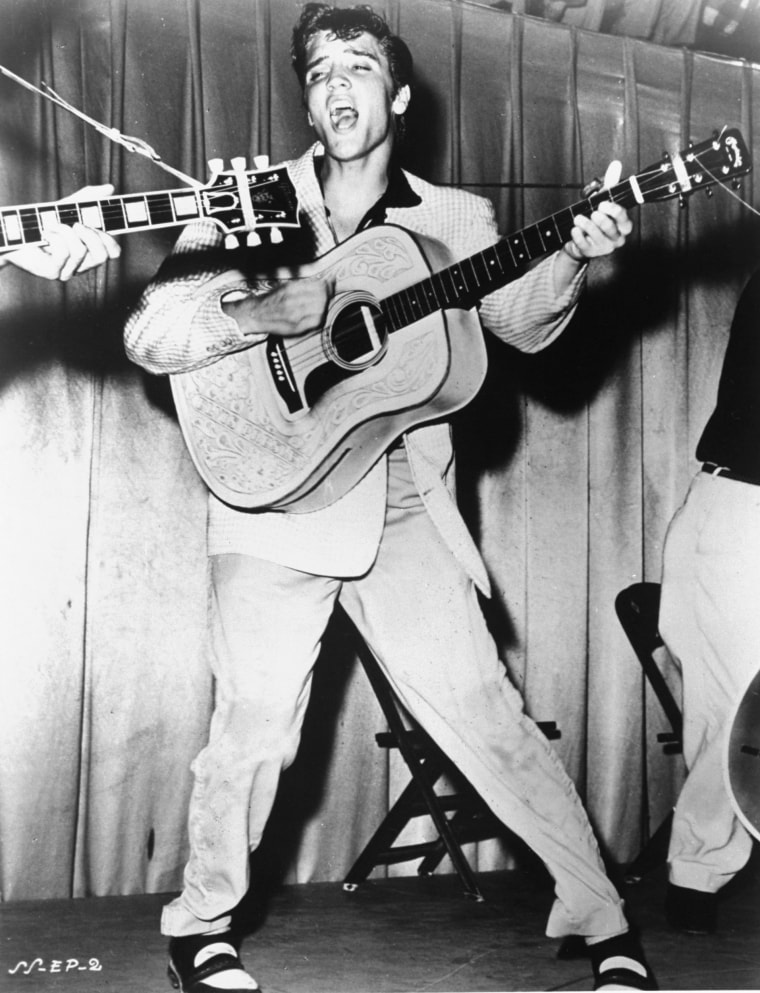 Jackson agrees, adding that while Elvis wasn't the first rocker to go on TV or appear in films, he was the first to really command those mediums.
"He invented what we know now as celebrity," Jackson says. "Sure, Sinatra did some movies and he was on television, but with Sinatra, you could listen to the music and that could be enough. But with Elvis, you had to see him. And once people could see him, he became not just this novelty act from the South who was putting out records on a small independent label. It was: 'Holy crap. This is a cultural force. It's a new thing. We love this!'"
Presley's impact on youth culture, just coming into its own in the wake of World War II, was similarly galvanizing, in much the same way the Beatles capitalized on the pop culture explosion during the '60s Boomer generation or Styles' popularity has crossed over age and gender barriers in the streaming age.
"He only cared about his art and being the greatest Elvis that ever lived," Jackson said. "The public is drawn to if an artist means what they're doing, and can they sense that through all the media, and through all the hype. That was Elvis, and he was the first to really exploit that in the modern media age."
Still, in his later years, and in the immediate aftermath of his death, Presley was largely scorned and ridiculed. Punks derided him and even John Lennon, an avowed Presley fan in his teenage years, said, "Elvis died the day he when into the Army," when told of the King's death.
"A lot of the problem with Elvis is that we have to dig him out from the mythology of his end, which was so dark and so drug-addled," Zanes said. "Punk ignored the aesthetic of his Sun records, and just saw this guy at his end, not eating well, not sleeping well, with a lot of drugs in his system. But he was the first guy to achieve that sort of massive fame. He was a one-man Lewis and Clark of rock stardom."
As for the oft-derided jumpsuits Presley favored later in his career, Jackson says the explanation for wearing them was really form over style.
"The jumpsuit was designed so that if you were in row ZZ in the Philadelphia Spectrum, you could still tell which one was Elvis on the stage," he says. "Because they didn't have screens; they didn't have anything. So he had to have the most exaggerated clothes."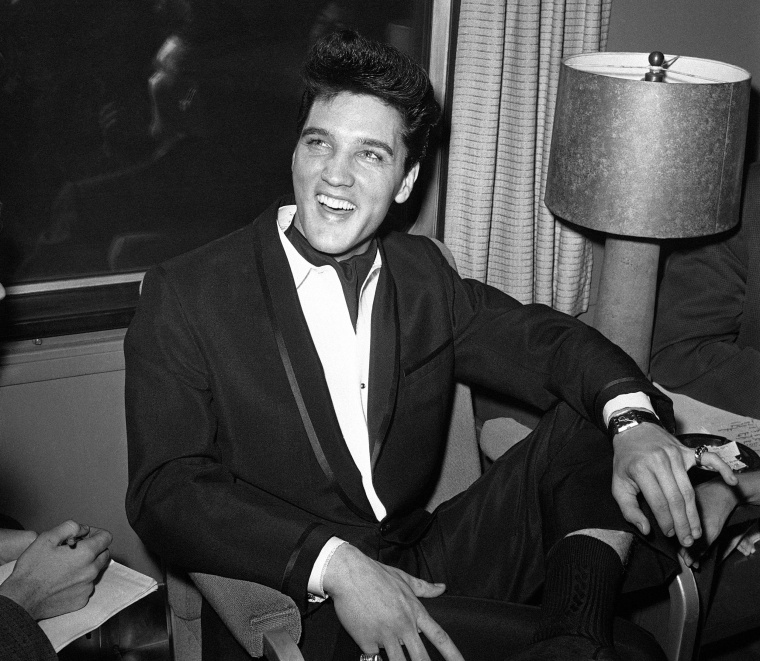 Eventually, Presley's reputation rebounded as a new generation of music fans discovered him and the caricatures began to fade.
"I came to learn about Elvis, and to understand that there was a deep connection between the raw spirit of punk rock and early Elvis," said Zanes, who was a member of the band the Del Fuegos in the 1980s. "What I knew was a much diminished, tabloid Elvis. Inevitably we all returned to Elvis as a symbol of the best in rock and roll."
While Presley's story has been told and retold a thousand times, Jackson said that it's the untapped depths that now draws new fans, and keeps old fans coming back.
Since his death, countless reissues and marketing ventures have kept the Elvis Presley flame burning. He was arguably the first rock star to get the archival box-set treatment, his home became a museum that still attracts more than 750,000 visitors each year, and his likeness has appeared on everything from postage stamps to underwear. This year there will be an Elvis fragrance and even CBD dog treats. Celebrated director Baz Luhrman has signed on to direct a biopic starring Austin Butler (Harry Styles screen-tested for the role).
Are some of these products less than befitting of royalty? Sure. But Elvis in life was over the top — so it's not surprising he remains so in death.
It doesn't hurt that Presley's catalog is rich and deep and enormously varied, adds Zanes. Although he wasn't a songwriter, Elvis was a master at elevating his material.
"When the Beatles came along, and all that happened in the wake of the Beatles, there was such an emphasis on the songwriter that we forgot that what a song really is about," he says. "A song is a thing that exists between the person performing it and the person receiving it. It's going to be interpreted by the listener from that performance, even if the performer is not the songwriter. That's the tradition that Elvis is a part of."
In the end, more than 40 years after his death, Presley remains a star without peers. The first celebrity to be known simply by his first name, he both broke the mold and invented the job on a grand scale. Ultimately, while each generation has had its over-the-top, transcendent pop stars — from Cher to Freddie Mercury and Madonna to, yes, Harry Styles — there will likely never be a star who attains the same scope and lasting legacy as Elvis.
"In today's era of social media, people are trying to replicate that 'special sauce' all the time," Jackson says. "But you can tell who is actually talented and who is not. It's such a rare case when someone comes along that has the magnetism and the talent and puts them together."