This year's Emmy nominations were met with more than a little excitement. In particular, Sandra Oh's historic nomination in the outstanding lead actress in a drama category — no other Asian woman has ever been nominated — gave diversity advocates hope. Indeed, the Emmys have been trending more inclusive recently, a welcome shift that has a lot to do with their scope: 122 awards given out over three nights (27 during the primetime ceremony.) And yet, a diverse nomination slate does not guarantee a diverse winner's circle.
Last year, winners included Sterling K. Brown, Riz Ahmed, Lena Waithe and "Atlanta." But it seems early celebrations were premature. In what now feels like an ill-advised skit, this year's ceremony turned diversity into a musical number, with Kate McKinnon and Kenan Thompson leading a group proudly proclaiming, "we solved it."
Not so much. Despite an African-American sweep of Emmy Awards for TV series guest actors on Sept. 8, the actual primetime awards show was devoted to giving out awards to almost exclusively white recipients. At one point, James Corden attempted to make a joke about Betty White's appearance by asking the audience at home to get #EmmysSoWhite trending, a tasteless pun on the well-known #OscarsSoWhite hashtag that called out their Hollywood counterpart's lack of diverse nominees. The joke was as terrible as it was accidentally revealing.
Not that there wasn't some history made Monday night. Arguably the most significant story was the success of Amazon's "The Marvelous Mrs. Maisel." Only a handful of shows have taken home the top prize in outstanding comedy in recent memory; only two shows have won in the last decade, "Modern Family" from 2010-2014 and "Veep" from 2015-2017. With neither of those shows nominated this year, the field was wide open, with nominations for everything from FX's "Atlanta" to Netflix's "GLOW." In the end "Mrs. Maisel" dominated, taking home every comedy award save one, with star Rachel Brosnahan, co-star Alex Borstein and creator Amy Sherman-Palladino garnering statues.
This represented a big win for Amazon, which, despite its hysterical spending extravaganza last year, has up until now failed to produce a hit along the lines of Hulu's "The Handmaid's Tale" or "House of Cards" from Netflix. ("Handmaid's Tale," for the record, was shut out of this year's primetime awards). In a move that surely felt vindicating for some in the industry, the female-driven "Mrs. Maisel" is having its big moment in the aftermath of Prime Video executive Roy Price's resignation over sexual harassment charges and allegations he worked to spike female-led shows.
Still, "Mrs. Maisel" may be a story set in the Jewish New York enclaves of the 1950s, but it's far from diverse. Other awards continued the pattern. Netflix's extremely white Western "Godless" picked up a pair of surprising wins in the limited series category while Ricky Martin was denied an Emmy (and a completed EGOT) for his work in "The Assassination of Gianni Versace: American Crime Story." In the outstanding variety talk series, Trevor Noah's first nomination for his work on "The Daily Show" lost out to HBO's "Last Week Tonight with John Oliver," which won for the third year running.
There were a few thankful surprises as the night went on. But Regina King's response when she won for "Seven Seconds" may have been the most telling. The first person of color to win so far that night, King sat in her chair thunderstruck as those around her had to repeat, multiple times, that she had in fact won. "Westworld" star Thandie Newton also won for outstanding supporting actress in a heavily nominated show that has yet to bring home much hardware.
But that was about it. "Atlanta" was roundly snubbed, robbing Donald Glover of a moment he was clearly planning to use to make some sort of statement. (The camera panned to him before a commercial break, revealing Glover dressed as his whiteface character, Teddy Perkins, from "Atlanta" season two.) "Black-ish" once again was nowhere to be seen. The multiracial cast of "Jesus Christ Superstar" scored John Legend a historic Emmy during last weekend's Creative Arts Emmy Awards, but was shut out in primetime.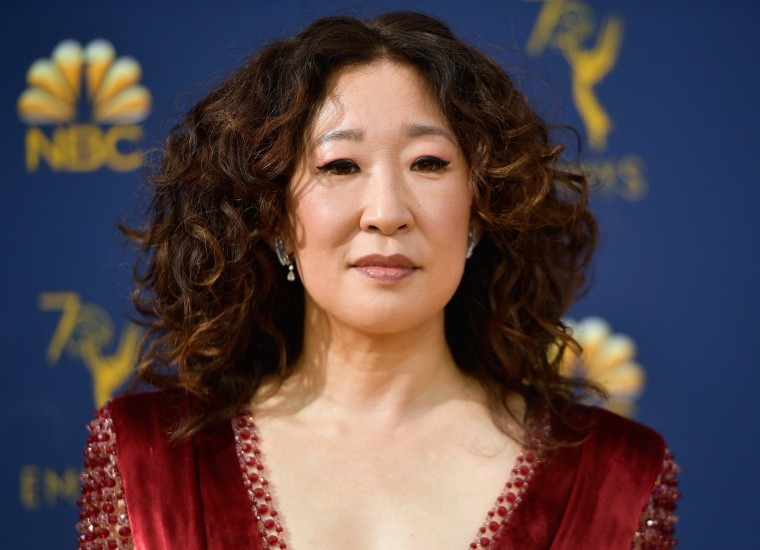 Even Sandra Oh, who was handed to Emmy voters on a platter by BBC America, went home empty-handed. In truth, and despite BBC America's big push, the category was always stacked against her. No disrespect to the excellent Evan Rachel Wood of "Westworld" and cult-favorite Tatiana Maslany of "Orphan Black," but "Handmaid's Tale's" Elisabeth Moss, "The Americans" star Keri Russell and "The Crown's" Claire Foy made for a real power trio. Russell's final run on the FX spy thriller — which ended this year — was some of her best work to date. As for Foy, the decision to re-cast "The Crown" every two years mean this was the last chance to reward her for her performance as Queen Elizabeth II. Ultimately to the royal went the spoils.
The show ended by awarding outstanding drama once again to "Game of Thrones," which was probably one of the least deserving shows of the lot. (For the record, "The Americans" was robbed). And with that (very white) show's final season on the horizon, chances are the Emmy Awards won't be improving their diversity issues until at least 2020.