It's easy to make the argument for Serena Williams being the greatest athlete alive; her athletic bonafides are clear. With 23 Grand Slam titles to date, she is a moment away from tying the record for the greatest number of trophies in the history of women's tennis — and doesn't look like she will be stopping any time soon.
Even her peers cannot ignore or deny her talent on the court. Roger Federer, also an amazing tennis player, told WSJ Magazine earlier this year: "It's been fascinating to watch. She did it with her dad and her sister. It's an amazing story unto itself — and then she became one of the greatest, if not the greatest tennis player of all time."
"I'm in full admiration of Serena. And Venus, too, by the way," Federer followed up.
In the story of Williams' successes, it's so easy to talk about her dominance on the court. But it is who Williams is off the court that connects her with countless fans, many of whom don't even follow tennis.
Starting out as a braid-and-bead wearing teenager in the 90s, her career has been treated as an anomaly from the start. A black girl from Compton — a California city that wider society largely associated solely with gang violence and rap music at the time — working hard, winning and being coached and loved by a father ever present on the sidelines wasn't what people expected in tennis stars. Or, to be honest, it wasn't what they expected of black girls, period. She rarely received the praise she deserved simply because people didn't know what to do with her as a premiere athlete in a blindingly white sport.
Instead, they wanted to talk about her appearance — like when a sportscaster quipped that Serena and her sister Venus Williams were "animals" who were "better suited for National Geographic than Playboy."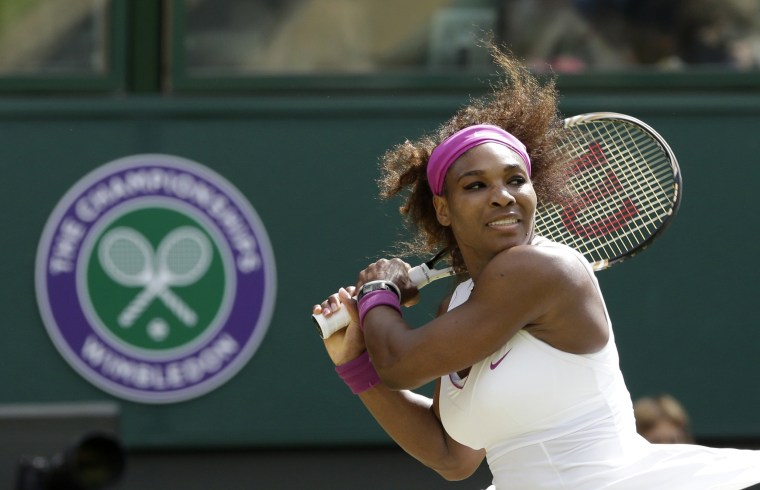 There was also the time that an entire stadium of mostly-white spectators seemed to boo and shout racial slurs at the 19-year-old athlete as she defeated her competitors, an experience so troubling that she boycotted the venue for almost 15 years.
Or there was the time that a tennis legend quipped about her unborn child's future skin color — and, when he was criticized for it, stated his comments would've only been racist if he'd said something along the lines of her having an "ugly, black baby."
The racism Williams has received over the 23 years since her first professional tournament has been nothing short of abhorrent. She has been called every form of "monkey" you could find at the zoo, a garden variety racial slur that is as old as time immemorial — and as pedestrian and unimaginative as white supremacy itself.
But the sexism has been equally gross. In a downright stunning article from 2015, several women who had failed to defeat Serena on the court tried to explain their failures away by blaming it on "body image issues." Tennis coach Tomasz Wiktorowski said, "It's our decision to keep [48th-ranked Agnieszka Radwanska] as the smallest player in the top 10 […] because, first of all, she's a woman, and she wants to be a woman."
It's a common theme: Her perceived attractiveness instead of her skill has been discussed more times than I can count. Everyone from former New Jersey governor Chris Christie to sportswriter Jason Whitlock — neither of whom has a lot of personal experience in this field of play — has weighed in on their lack of desire for her using words like "unsightly" and "oversized."
Muscles — something Williams has never been afraid to show — are apparently deemed the purview of men in a professional sport, and the implication is that, by being powerful, Serena was inherently less of a woman, or less attractive of a woman.
And, in response to all this thoughtless cruelty, Serena somehow remains gracious. In response to the sexism she's experienced, she wrote in an open letter in 2017 "I am proud we were able to show them what some women look like. We don't all look the same. We are curvy, strong, muscular, tall, small, just to name a few, and all the same: we are women and proud."
And, in responding to the most openly, broadly racist act against her — being booed for winning at Indian Wells, where her father also said they were called racial slurs and threatened with violence — she wrote for Time magazine in 2015, "I play for the love of the game and, it is with that love in mind, and a new understanding of the true meaning of forgiveness, that I will proudly return" to the stadium.
The racism and sexism she's experienced to which we've borne witness has resulted in us taking for granted the presence of this remarkable athlete, someone who has exemplified everything we claim to want in a sports star. The perseverance and resilience she has embodied despite countless dehumanizing experiences was intended to weaken her, make her less of a competitor and eventually break her down to the point of ending her reign atop her chosen sport. It has not.
What makes Williams such an noteworthy figure, and genuinely a role model for both young and old, is how so much of her story is exemplary of the American Dream. Despite how hard and cruel the world can be, despite where you come from or what you come from, you can persist. In an era where we recognize how a person's identity can be used as a way to demean them, Serena has had the gauntlet thrown at her and not only survived, but thrived.
It's just a shame that so much of what she has had to survive comes from the same public she competes to entertain.