I love snow. I love the way it quietly falls from the sky, the serenity it brings as it forces a busy city to take a breather and behold the sight of white fluffy flakes gently piling up on the garbage-strewn streets, creating a winter wonderland.
But I really, really hate snow days. Because like the pristine whiteness of snow on a city street, that serenity lasts for all of a New York minute, especially if that snow day lands smack in the middle of a week day and you're a working parent. There is no serenity to be found in a household when your sweet little first-grader is bored and needs attention that you can't wholly devote to him because you're swamped with deadlines and scheduled with conference calls.
Then there is the kind of snow day that comes the second day of spring, a week before spring break. I, like many New York parents (and others in the tri-state area), had been bracing myself for the inevitable announcement because the forecast was truly frightful. It wasn't just the foot of snow we were expecting, but brutal winds, too — the kind where tree limbs fall and who knows what else … pieces of scaffolding? Air conditioning units? Definitely not the day to take the kids out for a snowball fight. You know you're going to both be stricken with cabin fever when the weather is too treacherous to venture outdoors.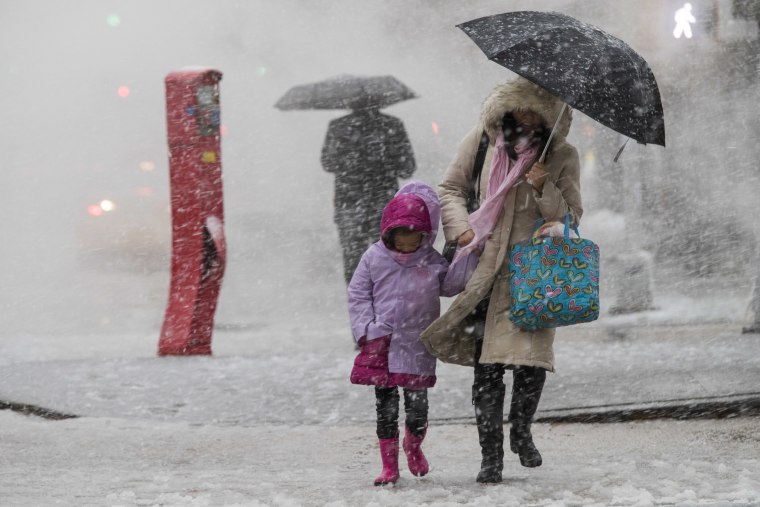 No amount of anticipation can defuse my anxiety; I'm inherently neurotic. So it's not that I was wholly unprepared, but I was filled with dread when I went to drop off my son at school the day before the snow began. The looks of exasperation, even anticipatory exhaustion, on parents' faces when talk of the impending storm came up — "Do you really think it's going to happen?" "Please no, I'm so done" — suggested I wasn't alone.
But the fact is, I'm lucky; many of us are. I helm an online magazine and work remotely from home (though, like most people, boast an inbox that never empties). My son can occupy himself for an hour at a time, color and draw, watch cartoons, while I edit stories and do my calls. At worst, he'll be "soooooo bored." And maybe a little lonely for a few hours. But he'll be fed. He'll be warm.
And when I'm done, we'll get to play together and I'll write off the rest of the day.
We do have to find a way to take care of our kids and our parents when weather brings the city to a halt, because it is only going to more treacherous as time goes on, thanks to climate change
Other kids won't be so lucky: 20 million kids in this country rely on free lunch, and nearly 12 million rely on free breakfast. And as of two years ago, nearly 100,000 New York City kids were homeless. So what happens when school isn't in session? Are these kids someplace warm? Are they getting fed? A snow day could feel interminable and dire.
Then think about the parents who are juggling jobs and paid hourly, who can't afford to take the day off to care for their children when school is not in session, who are already scrambling to figure out what to do when spring break comes. A day off may not only mean losing wages, but losing the job itself.
So what's the solution: No more snow days? That's obviously impossible. But we do have to find a way to take care of our kids and our parents when weather brings the city to a halt, because it is only going to more treacherous as time goes on, thanks to climate change.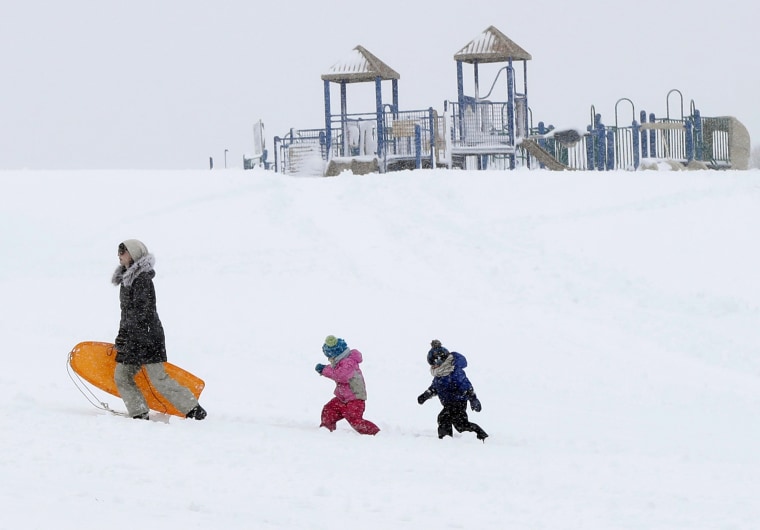 Last night on Facebook, as I was griping about the snow day with fellow parents, we were talking about how happy some of our kids were about it. And then I remembered my favorite snow day — days really — during the 38-hour Blizzard of '79 in Chicago, when the city was brought to its knees not simply because of the storm but because of the incompetence of Mayor Michael Bilandic. He failed to keep the streets plowed, bringing transportation to a complete stand still: Cars buried, trains and buses unable to move. The snow remained unshoveled and unplowed for a full 51 days.
My memory is of being excited that I got to finally wear my new Snoopy moonboots from Sears, and building forts in the six-foot-high snow drifts with the kids on my block. It was my idea of bliss. And if I recall correctly, those long January days were my parents' idea of hell.
Kera Bolonik is a writer and the editor-in-chief of DAME Magazine. She lives in Brooklyn with her wife and son.