During one week in May, no fewer than six dads told us independent of each other that their teenage daughters were mad. "She's so angry," said one. "She's got so much anger," said another. Each father looked sincerely bewildered. "She used to be so … happy."
We texted back and forth, at first struck that we were having the same conversations with men despite the fact that we live 600 miles apart. But we also recognized that this anecdotal uptick in dads talking about their daughters' anger might not be a coincidence. Around the country, fathers are waking up to their daughters' experiences in an era when anger is arguably the most logical response a girl can have to what is happening around her.
While women have historically had plenty of reasons to be frustrated, teenagers today are more amorphously anxious than prior generations.
Because while women have historically had plenty of reasons to be frustrated, teenagers today are, Pew Research Center studies show, more amorphously anxious than prior generations. Teens are concerned about everything from health and social relationships to climate change, poverty and politics. But adding to those topics for young women specifically are concerns about #MeToo, the recriminalization of girls and women who seek safe abortion, and the very visible actions of a misogynist in the White House who, on a regular basis, dog whistles to white supremacists and homophobes.
In the classroom, teachers demonstrate consistent biases against girls, particularly girls of color, biases that follow girls far beyond the classroom and into the professional world. According to the Pew Research Center, in STEM fields in particular, "discrimination and sexual harassment are seen as more frequent, and gender is perceived as more of an impediment than an advantage to career success." At school, girls are also far more likely to be sexually harassed or targeted by homophobic bullying. Fifty-six percent of girls in middle and high school report harassment at school and are more than twice as likely as boys to be sexually harassed, according to surveys conducted by the American Association of University Women. Studies show that sexual harassment is particularly emotionally resonant, contributing to girls' desire to withdraw, isolate themselves and, in many instances, lose interest in school. Only nine percent ever say anything to a teacher and fewer than a quarter tell a family member.
Even if you, as a father, have also experienced, say, race or class-based bias, your daughter's experience will probably be complicated because the harassment she encounters can additionally be gendered and sexualized.
This treatment follows girls into public spaces. In the United States, around a third of women report that their first incident of harassment took place when they were between 9 and 11, according to an online survey conducted by a nonprofit called Stop Street Harassment. Anger, it pays to remember, is also often linked to fear and frustration. By the time girls are teenagers, many are not only aware of double standards, they are learning what it means to stay safe. They are also trying to prove themselves repeatedly, at school and at home, a progression that can be devastating and infuriating. Coming to terms with physical vulnerability can make even the most psychologically resilient girl angry and sad.
Fathers are parents, but they are also men. Pew Research Center studies show the majority of men in the U.S. believe that sexism is a thing of the past and that men are far less likely to believe women and girls when they describe harassment or assault. In 2016, Pew asked people whether women still encounter significant gender-related obstacles at work and elsewhere; 63 percent of women said that they do, but 63 percent of men believe women don't. More than 80 percent of women report being sexually harassed but men believe the number is 44 percent.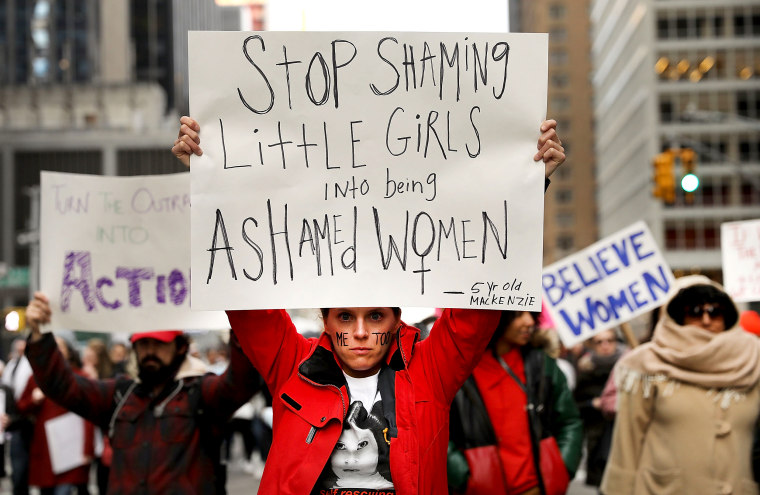 Gaps like these are usually discussed in terms of differences between adult men and women's perceptions, but what do they mean for fathers and daughters? If men are diminishing and doubting women, are they also diminishing and doubting their daughters' experiences? Are fathers listening or tacitly silencing? Many fathers respond to a daughter's talking about harassment or sexuality, often conflating the two, by policing her, her clothes, her hair and her demeanor in an effort to keep her "safe."
Then, when teen girls start to have sex, they are introduced to a whole new arena of unfairness and vulnerability. While many parents would like to believe their kids will never hook up, around 40 percent of teens between 15 and 19 are sexually active, according to data from the Youth Risk Behavior Survey, conducted by the Centers for Disease Control and Prevention. A boy can purchase contraception at a local pharmacy, for very little money. A girl cannot purchase birth control nearly as easily. And yet, when something unplanned happens, it is a girl's body that is compromised in life-altering ways. It's infuriating.
Girls are taught to minimize their anger and keep it inside, eschewing aggression for politeness. But what fathers interpret as "anger" may actually be assertiveness and authority.
Girls' anger is frequently mocked or disparaged. Studies in early childhood socialization published by the American Psychological Association show that fathers are more likely to display and use language related to anger and aggression with their sons, preferring to focus on positive emotions with their daughters. Girls are taught to minimize their anger and keep it inside, eschewing aggression for politeness. But what fathers interpret as "anger" may actually be assertiveness and authority. Recognizing the difference is important, particularly from fathers. In the face of parental disapproval, many daughters learn to set aside strong opinions and feelings and conform to expectations, a response that contributes to anxiety, depression, disordered eating — behaviors too often waved off with a dismissive, "hormones!"
Girls need to be taught to express themselves honestly. But fathers also need to realize that their desire to protect their daughters can be making this problem worse. Dads can't protect their kids from everything, but it's important that they don't try to overcompensate for this reality.
There is good news, however. "Fathers play a critical role during this transition from teen to young adult," according to a recent study published in the Journal of North American Psychology. Teenage girls who reported having caring, involved fathers — which includes not shutting down their anger — had higher self-esteem and greater overall life satisfaction than their peers who had more tumultuous relationships. This boost can last well into college, according to this same study.
And there's a positive benefit for dads as well. Fathers of school-age daughters are very likely less sexist because they see the female experience of life up close through their offspring — something dubbed by researchers as the "mighty girl" effect. Fathers who confront their internalized sexism and make an effort to understand their daughters' experiences and anger help daughters succeed in stressful situations. Daughters of fathers who cross traditional gender lines at home, doing chores and caretaking, have greater ambition and confidence, helping them navigate sexist social and learning environments. The same can be said for fathers who push back on sexism they see in schools, neighborhoods and workplaces. To be truly supportive, fathers need to be allies to women in the fight for reproductive rights. They need to vote for women. They need to listen to and learn from girls and women.
When fathers listen and also challenge their own biases, girls benefit — and so does everyone else. Girls who bristle at the unfair and restrictive constraints of "protection," bloom when they know they are being heard, respected and supported. When fathers listen and establish a relationship of trust early on, girls are less likely to get frustrated, and to harbor pent-up anger in unhealthy ways.
So dads, take this Father's Day as an opportunity to get angry alongside your daughters. And then get to work helping combat the forces that are making her angry in the first place.