The dystopian novel "The Handmaid's Tale" was a critical success when it was published in 1985, winning the first Arthur C. Clarke Award and the Governor General's Award as well as being nominated for a Nebula, a Prometheus Award and the Booker Prize. With adaptations for the big screen and the stage, the story quickly became a modern classic, even as some critics (and readers) wondered if it was all a bit too unrealistic. And then Donald Trump was elected president. In the aftermath of Trump's win, Hulu's 2017 TV series perfectly coincided with America's scary new flirtation with a totalitarian state.
In the aftermath of Trump's win, Hulu's 2017 TV series perfectly coincided with America's scary new flirtation with a totalitarian state.
With her story experiencing a new surge of popularity, author Margaret Atwood has returned to Gilead in a sequel called "The Testaments" that honors both the novel and TV versions, and remarkably will (mostly) satisfy both groups of fans. Like the original, "The Testaments" is a story for women by women about women. With the exception of the epilogue, men only appear as faceless abusers, benignly evil obstacles, or vaguely pleasant memories. It's also a gripping read that goes down so easily, people may not realize what a progressive piece they're devouring.
"The Handmaid's Tale," ordered up by Hulu back in 2016, was an unlikely hit. But the surprising shift in current events pushed the show and the nearly 30-year-old novel back into the limelight. With the series continuing on past the end of the original story, and fans asking (and imagining) how Gilead's fall would come about, Atwood set out to craft a sequel that might answer those questions definitively.
Her resulting book, "The Testaments," has arrived with the sort of fanfare that greeted J.K. Rowling's "Harry Potter" installments, with midnight release parties, fans dressed up in costume and even a special event Atwood Q&A broadcast in theaters around the United States. And much like "Harry Potter," "The Testaments" was published with the understanding that it will eventually make it to the screen, with Hulu announcing plans to adapt the new work, either alongside or as part of the current "Handmaid's Tale" series.
That Hulu has reserved the right to do either speaks to how much the new novel ties into the TV series, even as it poses as a sequel to the original book. Atwood forcibly grounds the narrative in her original's aesthetic, telling the story of all three of the main protagonists through first-person interviews that are discovered decades after Gilead's fall. It even includes a symposium-set epilogue, with male professors once again discussing the veracity of these women's stories and experiences. Though Atwood has a little fun with the situation, it's still a reminder than in the end, women's stories are seemingly always judged by men.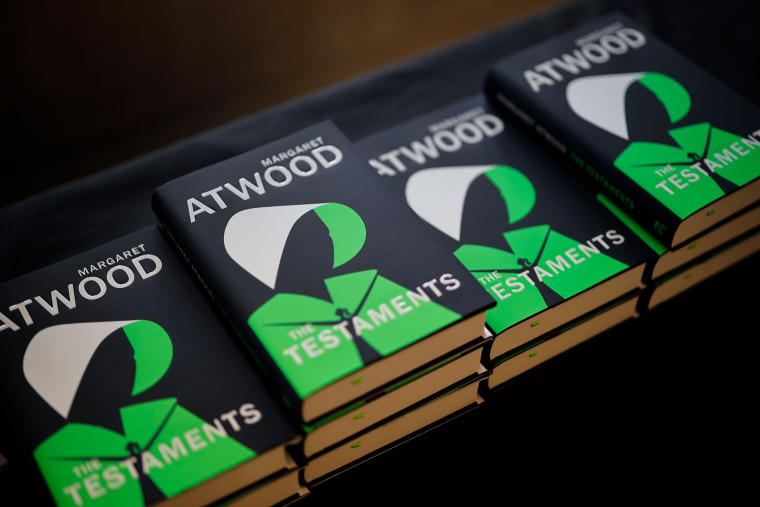 Atwood is a consultant on the TV series, and has made it clear she not only watches the show, but has given the showrunner plenty of advice. Thus it is not surprising that "The Testaments'" plot has been influenced by its television twin. The most obvious example of this influence is Aunt Lydia, a somewhat minor figure in the original book who looms as large in the new one as she does on screen. The addition of new Handmaids, a necessity for a television series, works in the new book as well, as Atwood can create (and kill off) characters with impunity. Atwood's two other major characters — Agnes, a child who grows up in a privileged Gilead household, and Daisy, a child who grew up across the border in Canada — help reveal how this totalitarian state affects its own citizens as well as others living outside its borders.
The new perspectives also show how quickly the next generation takes the status quo for granted. Agnes, for example, cannot fathom what life would be like outside of a repressed regime, and Daisy is mostly bored by her school's warnings about the evils of the country just to the south. (She has, however, absorbed her peers' assumption that everyone who lives in Gilead must be either complicit or insane.)
https://www.nbcnews.com/think/opinion/trump-s-chrissy-teigen-twitter-feud-lopsided-it-revealing-ncna1051706
Incorporating but pushing beyond the boundaries of the TV show, Atwood takes up the plotline begun in season two, after Offred's baby, Nicole, is sent to Canada, setting off a custody battle. In "The Testaments," Baby Nicole has become a martyr for the Gileadean government and a story of hope for the Canadian one, even though said baby is probably now old enough to drive, drink and maybe even vote by this point.
Atwood's cynical view of Baby Nicole is only one of the places where the book diverges from Hulu; The biggest difference by far has to do with race. "The Handmaid's Tale" has long been criticized for how it handles race in Gilead. The book did away with all of America's people of color in a single sentence, claiming "the children of Ham" were returned to their homes. Knowing this is a ridiculous impossibility, the show deliberately cast people of color like Samira Wiley and O. T. Fagbenle.
Atwood is having none of this, however. In fact, she doubles down, reiterating that the "children of Ham" were removed, and even throws in a passing reference to a "23 and Me" style "whiteness test" that Gilead foolishly attempted to implement, only to get enough "embarrassing results" that it was summarily scrapped. Though the book does not dwell upon what this means precisely, there are clear parallels to real-life examples of white people taking these ancestry tests only to discover African heritage.
Despite the lack of intersectionality, Atwood's work remains a bastion of second-wave feminism, for good or ill. "The Testaments" is a deeply feminist work, focused on the horrors of men trying to control the reproductive abilities of women in a culture where declining fertility rates creates a profound ripple effect. As the current administration strives to crack down on reproductive choice, Margaret Atwood is back with yet another warning: Progress is not inherent, fascism is hard to kill, and we must always remain vigilant to threats from within.