When "Big Little Lies" debuted on HBO in February of 2017, it was an instant sensation. Adapted from the 2014 novel by Liane Moriarty, and starring a murderer's row of A-list actresses including Reese Witherspoon, Nicole Kidman and Laura Dern, the series took a complex look at how upper-class parents project their own anxieties onto their young children and the horrors of domestic abuse, while also delivering pulpy soap opera scandals and real estate porn that puts HGTV to shame. It was, in short, a surprisingly perfect little slice of one-season television.
Until it wasn't, when HBO greenlit season two.
There was a time when HBO let shows run their course. If a series wished to continue the story, it made a movie, like "Sex & the City" did in 2008, or "The Sopranos" is currently doing now. For limited series like "Big Little Lies," the emphasis truly was on "limited." "John Adams" was not followed by "John Adams II: Quincy's Turn;" Kate Winslet did not come back for a second season of "Mildred Pierce." But recently, that has begun to change. "Game of Thrones" has a prequel series currently in the pilot filming stages and there is talk of a "Sharp Objects 2." If either of those follow-ups are half as good as the second season of "Big Little Lies" has turned out to be, however, HBO might just be primed for a full takeover of prestige TV.
If either of those follow-ups are half as good as the second season of "Big Little Lies" has turned out to be, HBO might just be primed for a full takeover of prestige TV.
The original "Big Little Lies" novel was about three Australian mothers — Jane, Madeline and Celeste — and how domestic abuse can trickle down through generations, no matter where you live or how high-powered your profession. It was well-received at the time, and by the end of 2014 had already been optioned for the big screen by Reese Witherspoon's Pacific Standard production company, in collaboration with Nicole Kidman's Blossom Films. But following the rise of prestige TV projects it was retooled as a miniseries, and by the spring of 2015 had been picked up by HBO.
Witherspoon and Kidman hired writer David E. Kelly to do the adaptation, and his decision to change locations to the photogenic cliffs of Monterey, CA paid dividends. While the novel's murder mystery remained the central driver of the plot, it often felt like an excuse to dive into the lives of its protagonists, high-powered, shiny women like Madeline (Witherspoon) and Celeste (Kidman) and Renata Klein (Dern), as well as their friends and relatives like Madeline's husband's second wife Bonnie (Zoë Kravitz) and big-eyed newcomer Jane (Shailene Woodley).
(Season one spoilers below.)
Season two has added Andrea Arnold as director, giving the project another level of the female gaze, while keeping the soft-focused lighting and the epic seaside landscapes. But without the mystery of season one or the original story's chief villain — Celeste's abusive husband Perry (Alexander Skarsgård) — the main question the show needed to answer is why create a sequel at all.
The good news is, with original author Liane Moriarty creating the story, and Kelley once again penning the scripts, the show had found there is still quite a lot to explore in the aftermath of Perry's murder.
The first episode spends a lot of time sliding us back into the world we already know, as the show has now been off the air for over two years. It's the second episode where things begin to pick up, both in the lives of our original characters and the newcomers. Here the show begins to build the case that a second season wasn't only a good idea, it was a necessary one.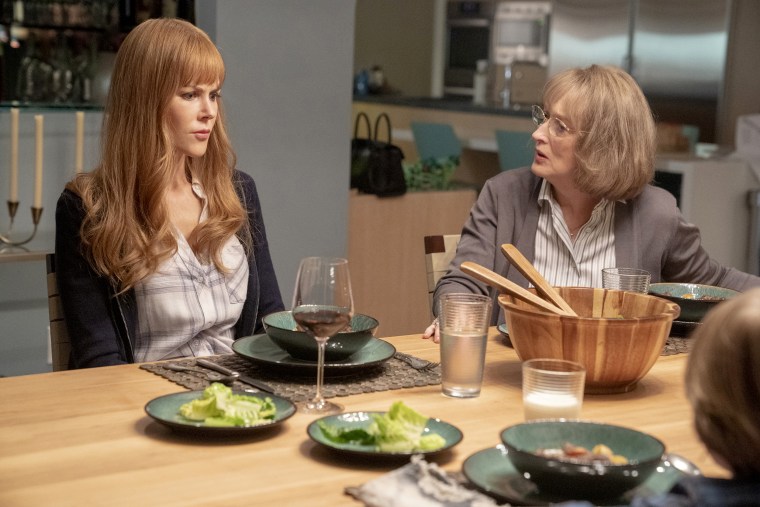 Speaking of those newcomers, Perry's antagonist replacement is none other than Meryl Streep, who the show has been loudly trumpeting since she was first cast. Whatever your expectations are, double them, because Streep is stunning as Perry's mother Mary-Louise. Nominally in Monterey to play babysitter for Celeste in her time of grief, she's really there to find out who murdered her son, with an avenging anger that is terrifying. The opening episode makes it clear where Perry got his abusive streak from, as well as defining how much of a foil she will be for Madeline's casually cruel comebacks. Watching Witherspoon, well, wither under Streep's gaze is an experience. Streep's intense emotional cruelty feels likely to result in at least an Emmy nomination.
The second episode also promises that some of the issues critics had in season one will be addressed. As in the book, Perry is killed by Bonnie. However, in the novel, she is as white as everyone else. In the show, Kravitz's Bonnie is practically the only person of color to be found in Monterey and having her be the murderer struck a few sour notes. Season two not only addresses how much the rest of the group is blind to that racial angle, but how much it separates Bonnie from the rest of her co-conspirators, who never consider why she might have more cause to fear the police than they do. It also introduces Crystal Fox as Bonnie's mother, who immediately who reinforces her daughter's isolation among the glittering elite of northern California.
A pervasive sense of foreboding throughout the initial episodes (reviewers were provided three of the show's seven episodes to screen ahead of time) suggests that while season one ended in triumph (or something like it) the fallout will ruin a few lives before season two is finished. As Witherspoon barks, "Most of us know that most endings to most stories f-----g suck." It feels like a warning to viewers that no matter how much money you have, how beautiful your house, or how righteous your actions, you won't always get away with murder. At least in "Big Little Lies," your downfall will look exquisite.