In 2013, Robyn met an automated version of herself. A group of student engineers in Sweden were building a robot that approximated the Swedish pop star's freewheeling dancing style, and ever the technophile, she showed up herself to observe its progress. She looked on as the diminutive and half-finished machine waved its arms and undulated with an ecstatic tremor.
"The robot is cute," she said hesitantly. "I think that it's really good that it has a vulnerability to it."
Her words about the synthetic imitator could apply to several fleshier ones as well. It's been eight years since Robyn released her last album, "Body Talk," and in the interim it seems like a whole generation of inheritors has emerged, each one specifically engineered to mimic and embellish her once-unique sensibilities.
At first glance, it might seem like Robyn's heartfelt and brilliant new single, "Missing U," fits squarely into the current era of bright synthesizers and depressive lyrics. But Robyn's not following the trend here — she helped start it. Indeed, she was one of the central architects of this pop moment. If imitation is the sincerest form of flattery, than the pop world has been flattering Robyn for some quite some time.
On the outside, Robyn's crisp white haircut, piercing blue gaze and couture outfits give off something of an aloof ice queen aesthetic. "She's just, like, the epitome of effortless cool," Katy Perry said in a New York Times interview in 2015. But really, the opposite is true. Robyn has struck a nerve with audiences around the world because she cares too much. For years, she's been putting out club bangers that refuse to conceal her sadness: "Crash and Burn Girl" narrates a mental breakdown over a pounding bass drum, while the seemingly haughty "Don't Fucking Tell Me What To Do" is actually an anxious electropop millennial answer to "I Can't Get No Satisfaction."
Of course, the crown jewel of these tortured singalongs is "Dancing On My Own," a five-minute maelstrom released in 2010. Robyn took the song on Saturday Night Live in 2011, spinning in circles, vogueing, catching her breath in long gasps; the song, ostensibly about stalking an ex on a night out, quickly become synonymous with a cathartic rejection of expectation and conformity. It breathed a frenzied energy into scenes in "Gossip Girl" and "Girls" and was embraced by the queer community (and others) as an anthem of self-expression.
Looking back, the song seems like a harbinger of a wave of female musicians writing unabashed pop music that explores the uncomfortable, unglamorous and sometimes unstable parts of their lives, breathing pathos into party settings. Lorde called the song "perfect" and cited it as an inspiration for her 2017 hit "Green Light," which similarly melds bitterness with euphoria. Other dance floor confessionals, like Tove Lo's "Habits," Dua Lipa and Martin Garrix's "Scared to Be Lonely," Cabilla Cabello's "Crying in the Club" and Halsey's "Alone" can also be read as direct tributes in their attempts to demystify the allure of the female pop star.
While Robyn has made the dance floor more human, she's also made it more robotic. Her prophetic obsession with robots — as heard on the songs "Robotboy," "Fembot," "The Girl and the Robot" and many more — feel even more prescient today, years after she first recorded them, in a moment when the cyborgification of women online has led to feminized tech like Siri and Alexa being integrated into everyday life and fembots fronting viral Instagram accounts and pop careers. Before St. Vincent, Janelle Monae or Poppy toyed with mechanized identity, Robyn found power and weakness in automatons: she used them to not only reflect her desires but to comment on the fetishization of women. In her pointed studies and critiques she forged a direct link between Laurie Anderson's "Big Science" and the robots of the future.
But arguably Robyn's biggest impact has nothing to do with music and everything to do with her push for artistic autonomy. Fifteen years before "Dancing on My Own," Robyn shot to stardom in Sweden as a teen star thanks to a boost from the omnipresent Max Martin, a producer who has worked with everyone from Britney Spears to Kelly Clarkson to Ariana Grande. Her music from that era is almost unrecognizable today: cookie cutter 1990s R&B out of the TLC playbook. If she sounded unenthusiastic, it's because she was. "I was always forced to conform to the structure of the major industry," she told Reuters about the era. "I just wanted to detach myself."
So she bought herself out of her contract, created her own label, Konichiwa Records, and completely revamped her sound, inspired by synthpop and electronic music. Her 2005 comeback album "Robyn" detailed her struggle for independence and included a proto-#MeToo song, "Handle Me," in which she rebuffed at a man trying to leverage his power over her: "Yeah, you make your big move and I see you're not used to being rejected / Sure, you makin' that call to your guy and I'm sure you're well connected." The commercial and critical success of "Robyn" was a victory for independent musicians everywhere.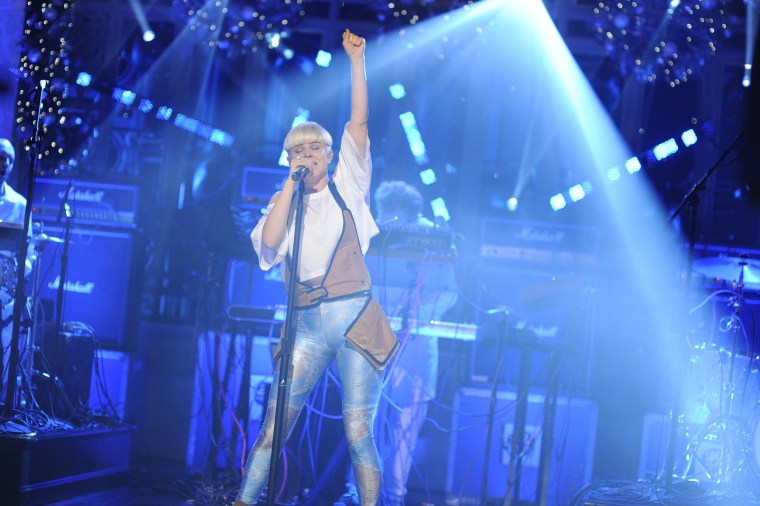 And yet, Robyn is not just a progenitor: If "Missing U" is any indication, she will remain central to pop music for years to come. The song epitomizes so many aspects of what makes her a generational talent, from her earworm-writing prowess to her knack for reinvention to her mood juxtapositions.
The first ten seconds, with its ebullient synthesizer, hints at monster kiss-off anthems like "Dancing On My Own" or "Call Your Girlfriend." But soon the synth softens and her voice enters, strangely threadbare and hollow. And while her melody is as rousing as ever, the synth arpeggio soon falls out of lockstep and curdles. The result is a transfixing and wholly modern cross between a sugar rush and a panic attack. Many have tried to whip up this strange concoction, but none have done so as convincingly as Robyn.
Andrew R. Chow is a culture journalist living in New York City. His work has appeared in the New York Times, Pitchfork and Refinery29.