My goal isn't to do faith-based movies; I don't really make movies to have any kind of message. (My real message is that they don't stop making money, but they do stop making time, so I don't want people to spend two hours of their time watching something I've done and not feel like it was worth it.)
But, I've made many faith-based movies, depending on how you define them. For instance, I was watching a movie last night called "Bruce Almighty" — the Jim Carey movie with Morgan Freeman playing God. Now, if there's ever been a faith-based movie, that's a faith-based movie, and most people don't think of that way. But you have a guy playing God; you have Jim Carey down on his knees, tears streaming down his face begging God to show him the way, asking for forgiveness; you have Jennifer Aniston, in the movie, saying prayers every night.
To me, that's more of a faith-based movie than this one that I'm in, "God's Not Dead: A Light in Darkness," because we don't have a God in our movie and we don't have a lot of people praying. Our hero, Pastor Dave, says maybe two short prayers and, other than that, this is a straight-ahead legal drama, and a little bit of a whodunit because someone gets killed in our movie. "Bruce Almighty" is more faith-based than our movie, and I've done a lot of the kind of movies where faith does play a role — I've made a ton of romantic comedies — and maybe some of those should be called faith-based, if you think about it.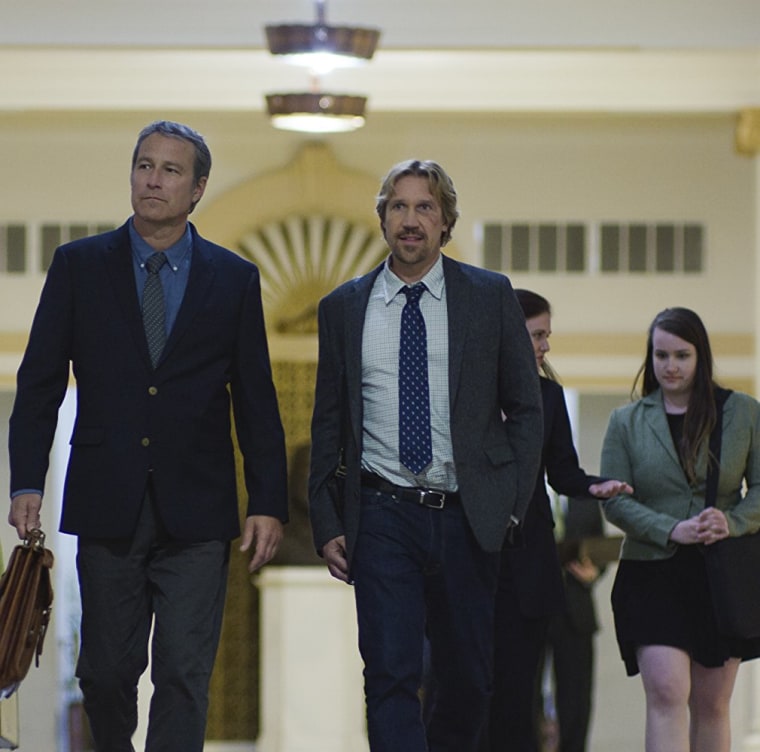 Technically, though, the way that Hollywood defines "faith-based movies," this is my second one. I worked hard on one called "All Saints" and, the same weekend that it came out last year, Hurricane Harvey hit. It was slanted towards a church-going audience, and when that whole Golf Coast was hit, so much of our audience was thinking about helping friends and family, not going to the movies, and the movie kind of tanked.
This time, a lot of factors and a little luck went into me taking the part: I knew the director, Michael Mason, from 10 years ago. It was shooting in one of my favorite little cities, Little Rock, Arkansas — I have a rock and country band that played all over the United States, but I happen to really like Little Rock. It's an amazing town. Tatum O'Neil was going to be in it, and I like David White, who was on "Evening Shade" when I was on "Northern Exposure" almost 30 years ago. All those little things came into play when decided to say yes to the project.
I didn't take it because I thought a faith-based movie set would be different, though, and it felt just like any other movie I've ever been on except in the morning. Our crew was usually about 100 people, and in the morning — though some crew members were driving trucks and others were moving equipment and they'd be 100 yards away — the ones in an immediate circle, we'd get together and talk about the day and some of the safety issues before we would shoot, and then I would say "Okay, who's gonna lead the prayer?" I led the prayer one day, and David led the prayer, many of us took turns. That prayer was usually 30 seconds long, and then we go "Okay, let's have a good day. We'll see you guys in 14 hours." And other than that, you wouldn't know we were on a faith-based movie set.
I am already typecast as a soft character who usually ends up with the girl in some silly, romantic comedy.
I was raised Catholic and I was an altar boy, though my father was a Jehovah's Witness and my mother was Jewish. I become a born-again Christian for a short time in the '80s; I've been to some Buddhist temples. I don't have any labels on me now, and I never talk about whether or not I'm a believer to anybody, really. No one really cares.
Still, I know I won't be able to do another faith-based movie or I'll have people who put movies together thinking that's all I do. I am already typecast as a soft character who usually ends up with the girl in some silly, romantic comedy (though the funny thing is that I don't even like romantic comedies). I'm not complaining, it's given me a good living but, at the same time, I just want to do other things. So I know I can't do another faith-based one or Hollywood will think I've left mainstream movies entirely.
In the meantime, I live a quiet life — a quiet, peaceful life with animals around me. I just take care of my land and myself and my girl; we try to stay as conflict-free as we can. Once in a while, somebody calls up and asks me to go stay in a Holiday Inn by the railroad tracks in some city for six weeks for a little bit of money, and if I like the script, I say "Sure, I'll be part of it." My career is already 32 years long, and so when something comes along that's not like everything else that I've done, I jump on it. That's what my life's all about now.
As told to THINK editor Megan Carpentier, edited and condensed for clarity.