With hurricane season arriving this weekend, Hawaii's residents and visitors can only hope that the worst storms do not make landfall on the islands this year.
Direct hits from hurricanes used to be a rarity in Hawaii. But Hurricane Guillermo in 2015, Hurricanes Celia, Darby and Lester in 2016 and Hurricanes Lane and Olivia in 2018 confirmed that the hurricane threat from climate change has materialized. Lane in particular threw the islands into panic in 2018, closing the government and threatening key infrastructure.
And everyone in America has seen that federal disaster aid, which used to be funded routinely on a nonpartisan basis, has become politicized to the point of deadlock. President Donald Trump's efforts to decrease aid to Puerto Rico and divert funds to a border wall have inflamed fierce political infighting. Communities have been left to the whims of federal agencies that are neither swift nor deliberative in their distribution of aid. To make matters worse, on May 24, a long-awaited aid package stalled in the House; two other attempts to pass it failed this week.
And all of this is occurring in the shadow of Hurricane Maria, when 2,975 people died after it struck Puerto Rico. The vast majority perished in the months after the storm, when the federal response lagged and an unprepared population faced prolonged power outages and unsafe conditions. Without electricity, medical services were interrupted and suffering people were unable to refrigerate insulin, use respirators, get dialysis or access hospitals. More than 175,000 residents of Puerto Rico fled to the continental U.S. to escape the carnage.
Could it happen again? Yes. And, in particular, people in Hawaii are aware that what happened in Puerto Rico could be devastatingly magnified in Hawaii.
Hawaii relies on a constant supply of imported fuel, food, water and medicine and has no significant strategic storage in place. As outlined in a report by the Hawaii Emergency Management Agency, the entire food supply must be replaced every five to eight days, shipped in from thousands of miles away into the Port of Honolulu. All of Hawaii's petroleum, its primary source of electricity and fuel, also arrives by sea for processing on Oahu.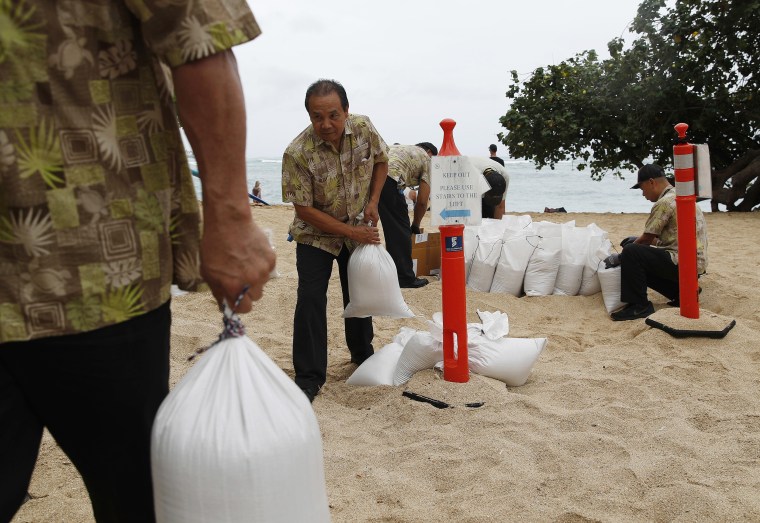 A direct hit to Oahu would close the Port of Honolulu, causing what is known as "condition Zulu," during which ships are turned away and docked vessels are ordered to leave. On impact, the state expects that a significant storm would knock out the power grid indefinitely, close the airports and inundate the island's two oil refineries. Within three days, medical supplies would run out and medical services would be depleted by 40 percent. Within five days, food and water would be at critical levels, followed by fuel. More than 380,400 people — 35 percent of the island's population — would seek shelter. Shelters, however, would fail, because few are built to withstand a hurricane.
Last year's Hurricane Lane was a frightening warning of what could come to pass. After it was projected to hit the islands as a category 4 or 5 hurricane in August 2018, Hawaii went on full alert. Nonessential government workers were put on leave, residents were told to obtain a 21-day supply of food and water and prepare for extended power shortages, and there was a run on supplies. On Aug. 23, in anticipation of Hurricane Lane, the Coast Guard captain of the port actually set condition Zulu for the Port of Honolulu.
Luckily, while Lane brought record rainfall, the islands were spared the worst of the storm. But if Lane had hit Hawaii as a category 4 or 5 hurricane, as feared, many thousands of people would have perished or been displaced. Single-wall construction homes and shelters would probably have been destroyed, roofs torn off and structures left leaning or sliding. Residents, many of them elderly, sick and disabled (including Hawaii's fragile homeless population, the largest per capita outside of New York or San Francisco) would be exposed without support. The islands' 210,000 visitors at the time would have been stranded without supplies. Many people would have died from exposure, dehydration, starvation and lack of medical care. Studies have shown that extensive property damage would also have occurred, including inundation of the low-lying beach areas of Waikiki and Ala Moana on Oahu.
Because of Hawaii's important strategic military footprint, many people believe that the military would "save" the islands in the case of disaster. That's folly, in no small part because the military itself would suffer damage and there is no guarantee that aid would be immediate. Hurricane Michael, for instance, slammed Tyndall Air Force Base in Florida last year, but the base is still not fully operational as military brass await the aid currently stalled in Congress.
Further, while there is a Trump Tower in Waikiki, Hawaii's solidly blue and multiethnic population should not assume that aid to Hawaii would be a federal priority. Hawaii must start working now to obtain understandings of support as well as money from the federal government to shore up key population and infrastructure centers.
Hawaii should not, however, wait for Washington. To survive the next storm, the islands must be able to keep the power on.
While Hawaii has set a goal of 100 percent renewable energy by 2045, the grid is currently not resilient. The regulatory agenda must develop a laser-like focus on equitable resilience, starting with commonsense measures. Critical facilities, like hospitals, police, fire, aid and shelters must be hardened and equipped with renewable power. There must be meaningful progress on community-owned renewables, energy access and affordability. Owners of solar rooftops need the ability to operate independently when disconnected from the grid in the case of outages.
Hawaii must also move faster to address its dependence on oil imports and do much more to provide equal climate and energy protection to all residents. It also must address its pattern of unsustainable consumption.
Where else could Hawaii turn for help? This is frighteningly unclear. In addition to Puerto Rico, hurricane disaster victims in the South, flooding victims in the Midwest and wildfire victims in the West are all desperately waiting for assistance to help rebuild their homes, replant their farms and replace their infrastructure. Washington must get aid to these devastated areas immediately, particularly Puerto Rico.
We also need our federal, state and municipal leaders to think proactively about protecting communities from climate change, knowing that these events will only get worse. In the meantime, Hawaii must take swift action on all fronts to become more prepared for the hurricanes to come.