I've known Roy Moore since 1981, so perhaps you can imagine my shock when he decided to change his story after speaking with Sean Hannity and lie — twice — about not knowing me, or knowing any of the women The Washington Post spoke with in November.
Having claimed no sexual misconduct myself, I simply answered honestly that I had dated Moore for a few months when I was 17 and he was 34. I did not "wait 36 years to come out," as some people have claimed; there was nothing to come out about, as he dated me very publicly. From the Catfish Cabin restaurant in Albertville on our first date in March of 1981 to my high school graduation night on May 22, 1981, to the kisses we exchanged at the Attalla Country Club pool concession area, there was nothing secret about our relationship. With 180 fellow graduates and a stadium full of family and friends and well wishers, it would be more challenging to find someone in Etowah County, Alabama in the spring of 1981 who was not aware that we dated.
Initially, I merely helped establish for reporters that Moore had a pattern of dating very young girls when he was in his thirties. Note that the age of sexual consent in Alabama has been 16 since 1920. The age of majority in Alabama in 1981 was 19, and Moore's own legal decisions have contained language in which he refers to 17-year-olds as children.
In any event, I was unaware of any of his dating patterns, having moved away to college when I was 17, eventually ending up in Florida. However, once detailed and compelling evidence came to light alleging that Leigh Corfman was 14 when Roy allegedly molested her in his home, plying her with alcohol then partially undressing her, I was anguished. Was I to believe Moore, my friend of 36 years — or Corfman? Ultimately I believe Corfman. Her details were compelling, consistent in the retelling and corroborated by both a best friend and her parents.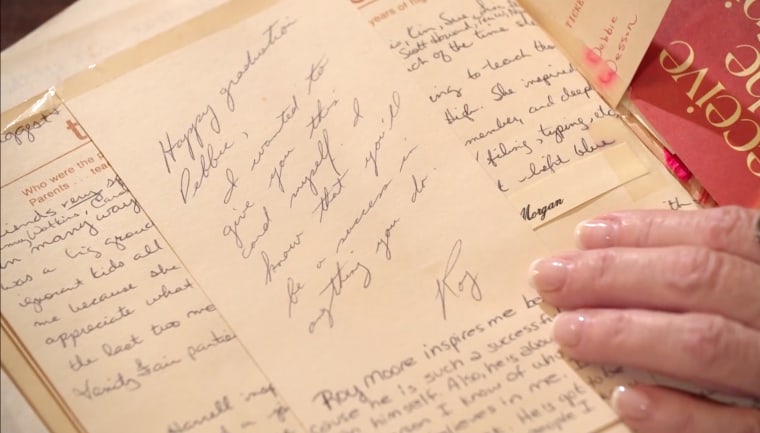 In addition, Roy and I have kept in touch over the years; I have received a letter and many Christmas cards from him — most thrown away, as far as I know — but I still have a graduation card written in his hand. I was enamored with Moore's attentions and admired him as an accomplished person who inspired me, no question about it. So I know his narrow, slanted cursive handwriting; no one has to tell me what it looks like.
And I cried when I saw Beverly Young Nelson's interview following the Washington Post story alleging sexual molestation at Moore's hand when she was 16; I recognized Moore's handwriting when I saw the pictures of Nelson's yearbook. My heart sank, realizing Moore was lying when he said he didn't know her either.
Then, on November 27, I was unpacking bins of Christmas decorations from my attic when I discovered an old "Memories" book. Filled with loose papers, I carefully handed it down to my daughter with the intent of taking a closer look later in the evening. What timing kismet has! When I realized the handwriting on my card matched Nelson's yearbook signature, I knew that the needle on my own ethical compass could be set only by me. Dreading more hate mail, vitriol, threats, social media abuse and the general breach of my privacy — which I covet — I nevertheless knew that the right thing to do was to go public with the memorabilia. This would disprove with immediacy that Moore "never knew any of us."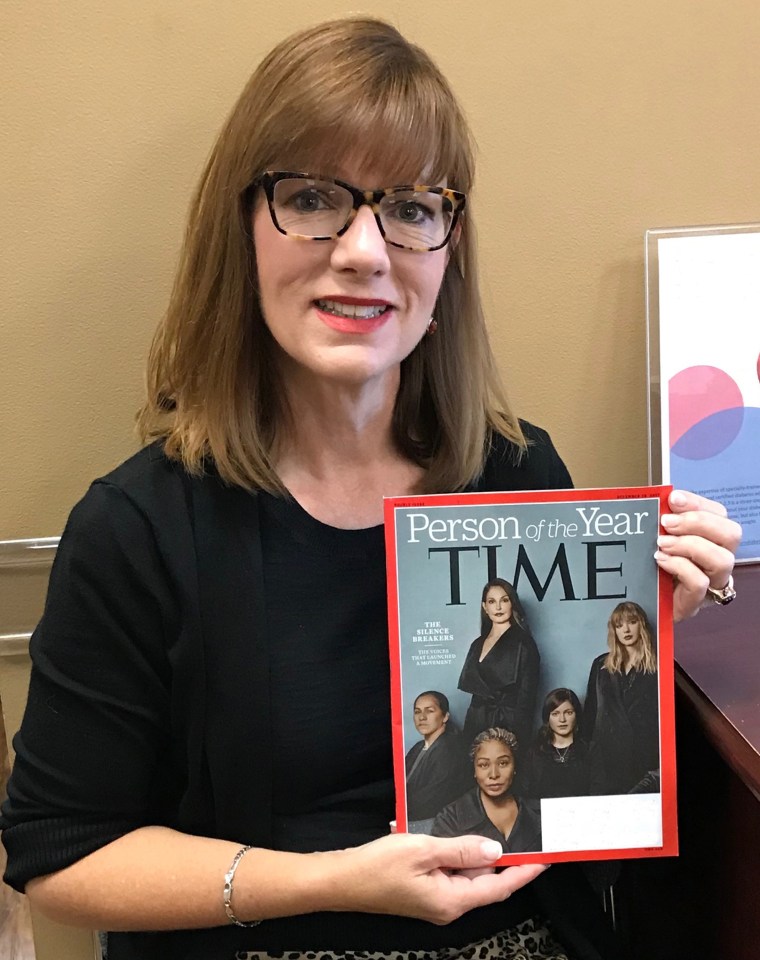 I don't vote in Alabama, I am not active (via money or time) in Doug Jones' campaign. For me this is about supporting victims, corroborating them when possible, and doing the right thing.
Momma used to say, "To whom much is given, much is expected." I am certainly someone to whom much has been given. I am strong and can stand in the gap for however long it takes! I was a #MeToo supporter long before the Roy Moore allegations arose. Being included in TIME Magazine's Person of the Year feature as one of 2017's Silence Breakers is quite an outsized and humbling honor. But the most important part of the cover photo is the individual who remains unidentified, because she isn't yet ready or able to tell her story: Maybe the pain is too great, or the victim blame and shame game is too real, or the collateral damage is too high. Perhaps the unidentified person is a future victim of sexual assault — your son, my daughter, a grandchild not yet born?
Moore himself said he "never dated girls without getting their mother's permission." Is that telling enough for you? If not, remember that he openly broke the law with his Ten Commandments statue, after which he reportedly autographed Bibles. (Unless you are Jesus that seems beyond the pale to me — a fourth member of the Holy Trinity gives me math problems.) He was removed from the bench a second time in 2016 after he openly directed all probate judges in Alabama to not perform same-sex marriages in 2015, a directive in direct conflict with the U.S. Supreme Court. Remember the White House in beautiful rainbow lights? Remember the hashtag #LoveWins? That sounds a lot more like the Jesus of my understanding from Holy Scripture.
Cherry-picking Bible verses can get really tricky. There is Scripture that warns us not to wear a garment sewn of two fabrics; another Bible verse instructs us to avoid pork. I grew up in Alabama, and would like to meet the Alabamian who has never worn a poly-cotton blend ("Roll Tide," "War Eagle," "Go Blazers," etc.) nor eaten a mouth-watering BBQ sandwich from Dreamlands, Saws, Big Bob's, Full Moon, Ray's in Attalla — too many heavenly choices to name! See how fast stone-throwing breaks your own house?
He could've been such a force for good; Roy Moore is a bright man! Instead, we see him aligned with the worst of what the Republican party has ever offered up: the Bannon and Trump brand of racism, bigotry, homophobia and misogyny. This is a man who co-authored a legal training course that included a lecture arguing women shouldn't run for office, and if they do, that voters have a moral obligation not to vote for them. Moore has expressed sympathy for Putin's disgust with America, and opined for the days when "families were united — even though we had slavery." What level of disconnect allows someone to make such a statement?
Moore is a mortifying caricature of the worst of conservative values. As a Christian myself, he subverts my precious faith when he states that he is polarizing "because he believes in God." Really? I think millions of other Americans manage to believe in God — from numerous faiths — without being polarizing.
Alabamians don't cotton to the notion of outsiders — or anyone else really — telling them what to do, so I certainly don't aim to shape the outcome of their special election today.
I find Moore unfit and thankfully we live in a democratic country wherein I am allowed to express my opinion. That said, I would say about Alabama's Special Election:
Let people vote their consciences, period. That is democracy. Don't trouble a whit over which party wins December 12; Alabamians will decide in private booths, one by one, and all together as it were. A "placeholder win" by Roy Moore could be met with immediate Senatorial expulsion followed by the appointment of a different Republican senator — that might be a viable Plan B if that's what Alabama wants. Or voters may realize that his opponent Doug Jones is no satanic baby killer, but rather a supporter of the laws which have been decided by the democratic process of voting.
Moore is a mortifying caricature of the worst of conservative values.
Either way, the entirety of politics pales in importance compared with the enormous cultural shift away from the patriarchal model; we are unpacking the power and privilege of the male and the silence which has allowed perpetrators to skate past accountability unscathed.
Let this matter of sexual misdeeds transcend the political landscape. Let the cloak of silence that protected men from consequences for unwanted sexual advances be lifted and decimated. We will have to stay vigilant through open conversations with our children, but it is worth the hard work to capitalize long-term on this moment in history.
There is hard work in opening up. There is hard work just to begin healing. There is hard work for our society to sort out the different levels of egregious behavior and sort the matching consequences which are appropriate for each situation. But the hard work is doable. We have sorted that murder gets a different punishment than speeding in your car, for example. We can do this work, and all stakeholders should be at the table.
Few things are more important than electing the elite group of 100 who help craft our laws; the protection of our children is one of them.
Deborah Wesson Gibson, BA, CI/CT, owns Signs of Excellence, LLC which provides sign language interpretation services throughout the southeastern US, with offices in Alabama, Florida and North Carolina.