Coast Guard Lieutenant Christopher Hasson spent five years in the Marine Corps and two years in the Army National Guard before entering the Coast Guard. During that time, at his enlistment ceremonies, promotions, and when commissioned as an officer he undoubtedly swore an oath to "…support and defend the Constitution of the United States against all enemies, foreign and domestic." But Hasson violated that oath. On Feb. 15, 2019, he was arrested on drug and firearm charges while serving at Coast Guard headquarters in Washington, D.C.
Soon it was discovered that unauthorized weapons were just the tip of the iceberg. Hasson was also a self-described white nationalist. He was an admirer of far-right terrorist Anders Breivik — just like Brenton Tarrant, an Australian white supremacist who has been charged with 50 counts of murder for his attack on a mosque in Christchurch, New Zealand. Both had carefully studied Breivik's 1,500-page manifesto, which he had used to justify two attacks that resulted in the death of over 70 Norwegian civilians in 2011.
To understand the current problem, it's helpful to examine the history of the relationship between the U.S. military and extremism — especially white supremacy.
Investigators discovered that over a two-year period Hasson conducted thousands of searches of neo-Nazi and neo-fascist websites on his work computer. He also authored his own manifesto that called for "focused violence" to "establish a white homeland" and created a list of "traitors" he intended to kill, including Democratic politicians, Supreme Court justices, media personalities and social media executives. Alarmed, Hasson's arrest prompted a group of congressional lawmakers to ask the Departments of Defense and Homeland Security a very serious question: Does the U.S. military have a larger problem with white supremacists?
This is a critical question, and one that concerns both active duty military members and veterans. But to understand the current problem, it's helpful to examine the history of the relationship between the U.S. military and extremism — especially white supremacy. Historically, the American military has not wanted extremists in its ranks, but it has failed to establish a comprehensive way to screen them out. And surveys show that soldiers themselves are noticing significant extremist thinking among their peers. Thus, this is not a new problem but rather a long-simmering one that now, for various reasons, may be starting to boil.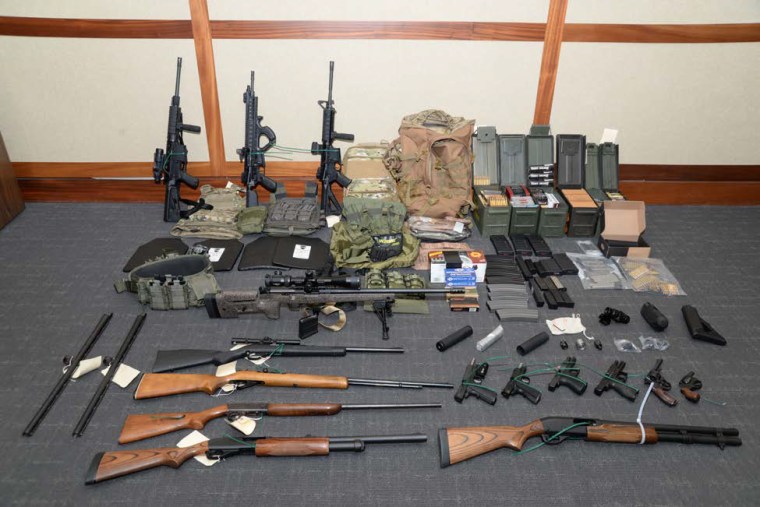 Radicalization of the kind displayed by Hasson often depends on several factors: background, beliefs, experiences and peer networks. In this regard, it is important to note that Army and Marine Corps recruits are disproportionately drawn from the southeast and northwest, regions that have experienced significant growth in extreme far-right groups. Furthermore, a 1998 Department of Defense study found that adult leaders of far-right extremist groups encouraged young men and women to enlist in the military to gain access to weapons, military training and other personnel prior to returning to civilian life.
The growth in the number and aggressive character of militant far-right groups that boast white nationalist ideologies in the United States over the past decade has made this an even greater concern. The Center of Strategic and International Studies reported that far-right attacks quadrupled between 2016 and 2017.
This is further substantiated by the Anti-Defamation League (ADL) and University of Maryland's Global Terrorism Database. Both declared that far-right extremists were responsible for the majority of extremist-related murders between 2008 and 2017.
So how does this connect with the military? For one thing, there is a strong historical connection between the rise of far-right nationalism and the American military community. The Ku Klux Klan, founded in 1866 by a group of Confederate war veterans, offers perhaps the best example of the symbiosis that can and has existed between extremists and members of the military.
The strength of far-right groups waned in the aftermath of World War II, but it did not disappear. Klan members paraded on an American base in Vietnam following the 1968 murder of Dr. Martin Luther King Jr. and Marines held Klan meetings in 1976 at Camp Pendleton. Official attitudes started to change in the mid-1980's, notes New York Times reporter Dave Phillips, after pictures emerged of uniformed soldiers and a sign: "KKK rally, no Jews allowed." Still, in 1995, members of the elite 82nd Airborne Division formed a neo-Nazi group at the urging of Robert Hunt, a National Alliance recruiter. In December of that year, two members of the group murdered a black couple. The killers received life imprisonment and 19 soldiers were dishonorably discharged. This, finally, sparked congressional hearings on extremism in the military.
But the problem appears to have persisted. Following the 9/11 terrorist attacks and subsequent invasion of Afghanistan and Iraq there has been growing evidence that military members and veterans are once again becoming susceptible to recruitment by such groups. Upon their return from Afghanistan or Iraq many service members have described a feeling of alienation from civilian society. They frequently voice a desire for the sense of belonging, brotherhood, and patriotism which they had in the military or during deployment. Those who leave the military frequently can grow frustrated trying to find employment that might facilitate their reintegration.
Upon their return from Afghanistan or Iraq many service members have described a feeling of alienation from civilian society.
This was further corroborated by a report published by the Southern Poverty Law Center in 2006. It showed that a number of military personnel had joined various far-right extremist groups such as the Fourth Reich, Aryan Nation, National Alliance, National Socialist Movement, etc. in the ten years after the Pentagon toughened policies on extremist activities by military members. This was supported by a 2008 FBI assessment.
A 2009 Department of Homeland Security (HLS) report further warned that the combination of the election of the first African American president, a downturn in the economy, and an influx of unemployed vets returning from combat in Iraq and Afghanistan were potential flashpoints and that military personnel and veterans were being targeted by far-right extremist groups. But this report created a political firestorm among Republican politicians, conservative commentators and veteran groups. As a result, it was rescinded by Secretary Janet Napolitano, and the Obama administration subsequently did little to address the issue.
Ten years later, it is clear that the military still needs to actively combat far-right extremism and white nationalism that threatens to infiltrate its ranks. In 2010, for example, a Marine Corps sniper team in Afghanistan posed for pictures with a Nazi flag, and there have been additional reports that the KKK and other organizations were, and likely still are, seeking to recruit military veterans.
Obviously, the military does not want such recruits, but it also does not have a comprehensive system for screening them out. All recruits go through a criminal-background check when they enlist, but this only detects extremist membership if they have been charged with a crime related to such beliefs. Those who have no associated convictions can slip through. Recruits' medical records are reviewed for signs of significant mental illness, but there is no formal psychological assessment that might detect extremist views.
Furthermore, the military (particularly the active Army, National Guard and Reserve) is finding it increasingly difficult to achieve required goals for recruiting and retention. This discourages both recruiters and even commanders from digging too deep into the background of potential recruits.
The vast majority of our military does not support such fringe ideas. But it also is not unaware of the problem. A recent survey conducted by Military Times reported that 22 percent of service personnel had seen signs of white nationalism or racist ideology within the armed forces. This was the same as the results from a similar survey conducted in the aftermath of the 2017 clash between white supremacists and counter protesters in Charlottesville, Virginia.
Among non-white personnel, incidents of racism and racist ideology increased from 42 percent in 2017 to half of those surveyed in 2018, and 35 percent of troops surveyed saw white nationalism as a significant threat to the country. This was higher than the total number of troops who saw Syria, Afghanistan, or immigration as serious national security concerns, according to the Military Times. Actions to address this issue must begin at the top and will require a more careful consideration of strategy and resources.
The Washington-based Stimson Center reported that between 2002 and 2017, the U.S. spent $2.8 trillion (15 percent of discretionary spending) on counterterrorism. The primary if not exclusive focus was terrorist attacks posed by Muslim extremists. Disinterest does not stop at the Pentagon alone. The Trump administration's National Strategy for Counterterrorism 2018 report described the principal terrorist focus as radical Islam but said little about the emergence of far-right nationalism — and nothing about the threat it posed to the U.S. military.
Right-wing nationalism in the U.S. military and veteran community has a destructive effect on civil-military relations and how the American people view the armed forces.
The Department of Defense reported to Congress in 2018 that out of 1.8 million Americans serving in the military, only 18 had been disciplined or discharged for extremist activities over the past five years. Consequently, civilian and military leaders suggest investigating the presence of such groups in the military is not a priority. But experts point out that the military has no internal law enforcement task force monitoring extremist networks or generating comprehensive data. There is also limited sharing of intelligence on such groups across federal agencies. As a result, one former DOD investigator observed, "…every year they get a report based on what they were never looking for." Another described the U.S. government's lack of a concerted effort to gather intelligence on extremist groups as a black hole.
Far-right nationalism in the U.S. military and veteran community has a destructive effect on civil-military relations and how the American people view the armed forces. It is corrosive to morale and security among military personnel. Even non-violent activism from soldiers, sailors, airmen, or Marines with extremist views has a negative effect on good order and discipline as well as readiness and cohesion.
Of even more concern, of course, is the deadly consequences we know can result from the combination of far-right ideology, access to weapons, training, and the internet. This now seems more worrisome due to the rise of the so-called "lone wolf" domestic terrorist.
Timothy McVeigh was essentially a "lone wolf" — and a disgruntled former soldier. Along with one accomplice, he planned and executed the 1995 bombing in Oklahoma City that killed 168 people, including 19 children. McVeigh was motivated by "The Turner Diaries," a 1978 novel that depicts violent revolution in the U.S. that serves as a catalyst to triggers government collapse, race war, and the extermination of all non-whites. At his execution, he read the poem "Invictus," which means "Unconquerable" in Latin, as his final statement. It was a warning the military must heed. McVeigh and those like him today are determined to fulfill their misguided destiny.
The military offers much to its members — skills, training, education, societal respect, and admiration. It also requires them to carry the burden of their oath to be the ultimate guardians of democracy. If the guardians fail, where does that leave democracy?