On March 4, radical anti-establishment and anti-European Union political parties collectively dominated the Italian election, raising fears that a populist takeover was imminent in one of the three major countries left in the European Union. Suddenly, the prophecy President Donald Trump's former chief strategist Steve Bannon had given to the New York Times days earlier seemed to be coming true. The Italian election, he had predicted, was going to be a triumph of "pure populism."
On the one hand, radical political rhetoric is not a new phenomenon on the European continent, nor in Italy for that matter. In May 2017, France's far-right presidential candidate Marine Le Pen got more than 33% of the vote during a run-off election against now-President Emmanuel Macron. In September, Alternative for Germany (AfD), a party that has flirted with racism and islamophobia, won more than 13% of the vote in the German national parliamentary elections. Meanwhile, parties with nationalist agendas and anti-immigrant rhetoric are polling at similarly high levels in almost every country in western Europe.
But in Italy, the situation is different and potentially more concerning. The League and Five Star Movement, the two main anti-establishment parties who have talked openly about the possibility of leaving the EU's Economic and Monetary Union, now have a real opportunity to ascend to positions of real political power. This rightfully sent chills down the spines of many European leaders who fear yet another blow to the stability of the European Union in the aftermath of Britain's Brexit.
European leaders fear yet another blow to the stability of the European Union in the aftermath of Britain's Brexit.
At the same time, however, the outcome of the Italian election is far from clear. Talks of a possible anti-EU coalition have not yet lead to an agreement. The reason is that League and Five Star Movement are two deeply different political creatures, with profoundly different constituencies. League is a party with strong support in the rural areas of the rich north; it has exploited fears raised by the recent migrant crisis. The Five Star Movement is a populist party founded by former comedian Beppe Grillo with a platform emphasizing the need to increased unemployment benefits. On Sunday it got most of its votes in the poorer southern regions.
A more natural alliance perhaps would be between League and Forza Italia, the conservative party run by disgraced but still popular former prime minister Silvio Berlusconi. League supporters shared a common political platform with Forza Italia in this election cycle. But the main surprise of the election was that for the first time, League won more seats than Berlusconi's center-right party, meaning that Matteo Salvini, League's energetic party leader, is now a prime candidate for prime minister. Complicating matters is the fact that neither Forza Italia nor League collectively have a majority in both Italian parliamentary chambers.
Salvini has also said he would prefer not align with Five Star Movement, making his path to the prime minister's seat more difficult.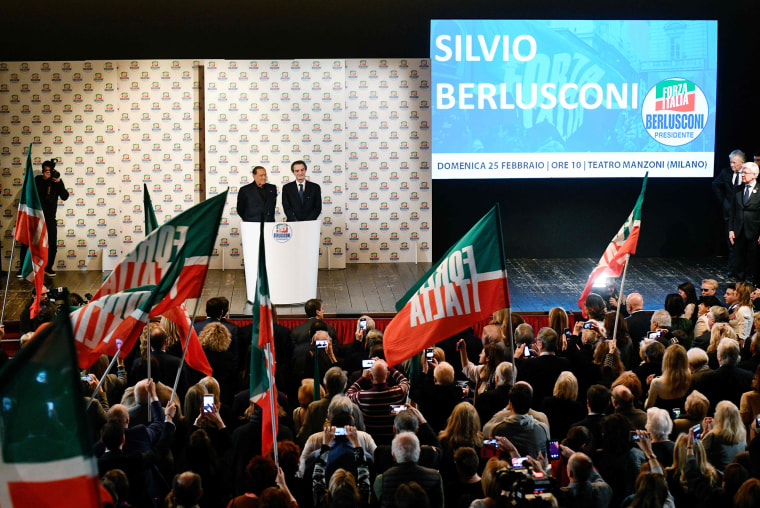 Berlusconi, who is 81 and cannot hold public office until next year because of a tax fraud conviction, is also no serious competition for Salvini. Once considered a threat to the stability of Europe, Berlusconi is now considered a moderate, and in some ways even a friend of the European Union. (Perhaps his moderation cost him in, as his southern support this election lagged.)
Certainly, southern voters are more receptive than ever to the kinds of populist messages espoused by groups like Five Star Movement. The region was hit hard by the economic crisis, and still hasn't recovered fully. In some areas, youth unemployment remains incredibly high. This frustration doubtlessly contributed to the popularity of Five Star rhetoric.
The only true rival to League's Salvini may then be Luigi di Maio, the young and upstart leader of Five Star. Di Maio, 31, was born to middle class parents in one of the poorest regions of the country. After his party's victory, he has made his claim to the prime minister position clear, and has already asked other parties to back his leadership. Many suspect that if Matteo Salvini feels his own chances are slim, he too may, eventually, back the younger leader.
What is more clear is how the old guard parties have been sidelined in this battle between radicals. The Democratic Party, Italy's main center-left party, was beaten badly. It lost its traditional power base in the center, the so called "red zones," and also failed in both the north and south as well. In power since 2013, the party is now primarily supported by the well-educated urban elite, and its share of the vote has fallen to less than 20%.
All of which is to say, outsiders would be forgiven for worrying about the political situation in Italy right now. But in reality, there is some reason for hope yet. It's likely that a populist coalition government would be a weak government, and Italy is an old and conservative country, wary of change. The Italian government is also a complex machine — much more cumbersome than its American counterpart — and even more difficult to manipulate. This is especially true for newcomers.
Unlike the United Kingdom, Italy is not an island and its economy is deeply intermingled with the European one. Salvini and League can be eurosceptics if they want, but their northern industrial base, which relies on exporting machines and parts to Germany, doesn't really want to hear about tariffs or breaking free of the EU.
So while Bannon is right to claim that what's going on in Italy a triumph of populism, he may have ultimately overestimated the power the populists actually wield. Thee country that has already elected Berlusconi three times is unlikely going to be the country that breaks the EU apart.
Davide Maria De Luca is a political journalist with Il Post, based in Milan, Italy. He tweets at @DM_Deluca.