On Sunday night, Janet Jackson was honored with the Icon Award at the Billboard Music Awards in Las Vegas. Jackson also performed during the TV award show — her first televised performance in nine years. It was a career-affirming moment for the 52-year-old star, who has racked up an astonishing number of hits over her decades-long career. But the moment was especially powerful because Jackson has long been something of an overlooked singer in this arena. The night was a reminder that Janet Jackson is so much more than her famous last name — or her infamous wardrobe malfunction.
Indeed, carving out your own lane in music in the late 1980s was already difficult enough without being the baby sister of Michael Jackson. Yet Janet Jackson managed to do that and more. From "Control" to "Rhythm Nation" and "That's the Way Love Goes" to "If," her music embodied the strong female ethos that much later would become a staple of singers like Kelly Clarkson or Beyoncé.
Musically, however, Jackson has rarely garnered the critical acclaim her many accomplishments warrant. Jennifer Lopez — whose debut album came out more than a decade after Jackson's first hit — was chosen as the first female recipient of the Icon Award, which was founded in 2011. In 2008, Madonna was inducted into the Rock and Roll Hall of Fame; Jackson is still waiting on her invite.
Janet Jackson's underrated discography may be related to her relatively soft-spoken exterior — Madonna, one of very few contemporary peers, has the kind of presence that's impossible to ignore. And yet it is Jackson who is one of just four artists (alongside Bruce Springsteen, Barbra Streisand and U2) to land number one albums in the 1980s, 1990s, 2000s and 2010s, a fact Bruno Mars noted while introducing her on Sunday. Surpassing Madonna's record, Jackson has had 18 consecutive songs break the top 10 on the "Hot 100" singles chart and is the only artist in Billboard history to have three different albums — "Control," "Janet Jackson's Rhythm Nation 1814" and "janet" — to spawn at least five top 10 hits on the "Hot 100" chart. She's also amassed more than 100 total number ones.
But while numbers don't lie, they don't tell the whole story either, especially when it comes to the impact of "Rhythm Nation," her 1989 follow-up to "Control." In an era of high-profile youth activism, be it in support of Black Lives Matter or gun control, it's important to remember those who paved the way. Jackson was among the first artists of her era to ground herself in the mission of advocacy.
"Rhythm Nation was a transformative work that arrived at a transformative moment," wrote Joseph Vogel in 2014 to mark the album's 25th anniversary. "Released in 1989 — the year of Spike Lee's 'Do the Right Thing,' protests at Tiananmen Square, and the fall of the Berlin Wall — its sounds, its visuals, its messaging spoke to a generation in transition, at once empowered and restless."
Though a commercial success, generating seven singles in the top five of the Billboard Hot 100 (and in the process surpassing a record set by her brother Michael's massive hit "Thriller"), Vogel argued that the profound impact of the youngest Jackson's music has been largely forgotten today.
But her words and dance numbers still speak volumes to those who pay attention. During her Billboard performance, for example, her dancers represented all sizes and shapes, as well as races, gender and sexual orientation. It was a powerful, if subtle, form of representation.
Racism and gender equality have long been issues at the core of Jackson's activism. Indeed, accepting her award at the Billboard podium, Jackson lent her voice to the #MeToo movement, proclaiming "women have made it clear that we will no longer be controlled, manipulated, or abused. I stand with those women and with those men equally outraged by discrimination who support us in heart or mind."
As a young black woman in the 1980s, Jackson brought much needed diversity to what was then a relatively white chorus. "Until the 1980s, feminism was dominated, by and large, by middle class white women," Joseph Vogel noted. Whereas Jackson stood largely alone as a black feminist voice in the highest echelons of music, Vogel observed that she had plenty of company in literature. Michelle Wallace's bestseller "Black Macho and the Myth of the Superwoman," Alice Walker's Pulitzer Prize-winning, "The Color Purple" and Nobel Prize winner Toni Morrison's "Beloved" were all published during the 1980s.
Of course, it's hard to talk about Jackson's career today without mentioning her 2004 Super Bowl appearance. The inadvertent wardrobe malfunction, for which Jackson profusely apologized, impacted her career more negatively than it did fellow performer Justin Timberlake's. Despite the tremendous strides made in gender equality since Jackson's breakthrough album "Control," Timberlake's triumphant performance at this year's Super Bowl is a reminder that double standards still persist.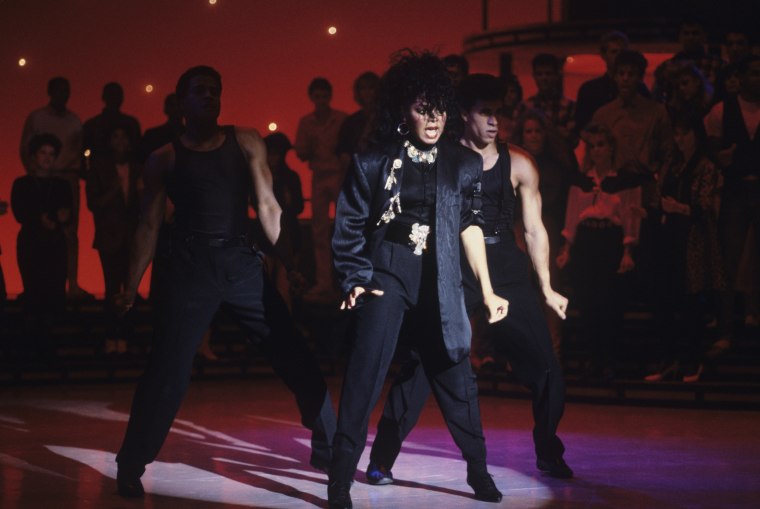 And what's truly ironic about the incident is that Jackson has spent much of her career showing considerably less skin than her peers — far from a provocateur, in her early years, she often performed fully covered from the chin down. When she finally began baring more skin, it was more a declaration of sexual independence instead of a play for attention. (For her Billboard Music Awards performance, she wore a gold sweater dress with matching thigh-high sneakers that barely revealed the top of her legs.)
If her brother Michael earned his critical acclaim on the basis of mesmerizing talent, Janet's iconic status is built on her own journey to self-discovery. As a black woman, in this industry and in this world, Janet Jackson has achieved impressive feats against substantial odds. It's impossible to forget that she gave birth to her first child almost two years ago at the age of 50. And at this stage in her life, even as a wealthy single mother, she's still touring. At the end of the day, Janet Jackson has always forged her own path. And in doing so, she's become an icon to many women for more than just her music.
Ronda Racha Penrice is a freelance writer and cultural critic. Her work has appeared on The Root, NBC BLK and the Atlanta Journal-Constitution.