Lady Gaga is without a doubt the most captivating pop star alive. I say this not just because of her Grammy-winning vocals, chart-topping hits or unique persona. It's because when every other performer on the planet zigs, she zags.
Gaga's new song "Stupid Love" — released late Thursday ahead of her upcoming album set to drop later this year — is a magnificent return to pop form. It's proof that while she didn't invent the pop music wheel, most of her peers are riding bikes while she's driving a Tesla.
Gaga's new song "Stupid Love" — released Friday ahead of her upcoming album set to drop later this year — is a magnificent return to pop form.
To start, the single is quintessential Gaga — a sledgehammer beat, slick production, powerhouse vocals and an epic music video that feels like it was conceived via some zany pop star Mad Libs. ("Neon Mad Max alien raver Burning Man goddess punk? Sure, let's go with it.") In typical Gaga fashion, the song's release was as theatrical as she is — a demo version leaked earlier this year, and spread like wildfire. Name another artist who's unreleased tracks are performed by drag queens at gay bars and played at New York Fashion Week.
For most other artists, this kind of leak would be a career-defining moment. For Gaga, it was just another January. But the song takes on new significance when you look at the years leading up to its release. This might be the hardest-earned mainstream pop hit in music history, which makes listening to it all the sweeter. Its very existence proves that Gaga isn't just one of the most talented artists alive, but also far and away the most versatile chameleon in the pop music jungle.
The last time Gaga released a true pop album, Billie Eilish wasn't even in middle school, Taylor Swift was still technically a country artist, and Beyoncé hadn't released her surprise album yet. 2013's "Artpop"might be a cult favorite (Little Monsters clamor #JusticeForArtpop to this day), but its messy rollout and critical reception forced Gaga to go back to the pop music drawing board. There was a concert in space that never took place, performative vomiting on stage at South By Southwest, and an ill-conceived collaboration with R. Kelly that has since been removed from streaming services. The Artpop era was a tough period to be a Gaga fan — and perhaps an even tougher time to be Gaga.
One of Gaga's greatest strengths has always been her ability to manipulate and play with audiences, masking her raw talent (she attended the Tisch School of the Arts at NYU) with over-the-top theatrics. In the age of social media, where 15 minutes of fame have practically come down to 15 seconds, it's very easy to get people's attention. But it's much, much harder to get people to stick around.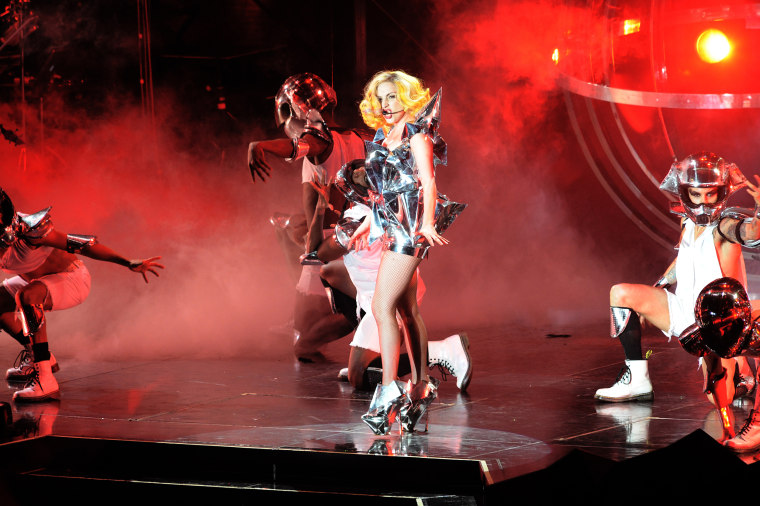 With Gaga, you came for the circus (in her case, dying on stage at the VMAs or arriving at the Grammys in an egg), and stayed for the performance. But after a string of successes in "The Fame," "The Fame Monster" and "Born This Way," style had overwhelmed substance. Gaga was at a career crossroads: Where does a pop star go when people have grown tired of the very thing they're known for?
Some performers might have reacted to this by playing the next chapter safe. Not Gaga. She made a series of bold decisions that only she could get away with. She dug herself out of a hole in the most unorthodox way possible, which is actually exactly what makes Gaga, well, Gaga. Meanwhile, the myth of Gaga only grew stronger.
"Cheek to Cheek," a record of jazz standard collaborations with Tony Bennett, was just Gaga's first step in redefining herself as a performer. She went on to perform an acclaimed "Sound of Music" tribute at the Academy Awards, an electric Super Bowl halftime show performance, and then landed two Oscar nominations — best actress and best original song — for "A Star is Born," winning the latter. That's like a greatest hits list of entertainment industry achievements, except she accomplished it in roughly half a decade.
By adding those accomplishments to her already sterling resume, she rewrote the rules of what it means to be a 21st century pop star (namely, rules aren't meant to be broken — they're there to be destroyed). Chasing No. 1 singles? That's for run-of-the-mill pop artists.
Which brings us back to "Stupid Love." After a several-year hiatus from typical pop stardom — she's become an actress, a jazz artist, an activist and a makeup guru in the meantime — she's back with a disco banger that will be played at pride festivals, middle school dances, and everywhere in between. It's the type of song that you won't be able to escape, but it makes you feel so giddy, why would you want to?
Only Gaga could do the least surprising thing a pop star could do — release a four-on-the-floor earworm — and catch us all off guard. Just when you thought she'd moved on from her hit-making days, she's back with an increasingly rare phenomenon in the streaming era: a true pop music event. And you know what the best part is? Whatever comes next will be just as amazing.